Where to spend December 24 and 25 if you don't celebrate Christmas
Barbecue and blues, drag shows, gambling and more.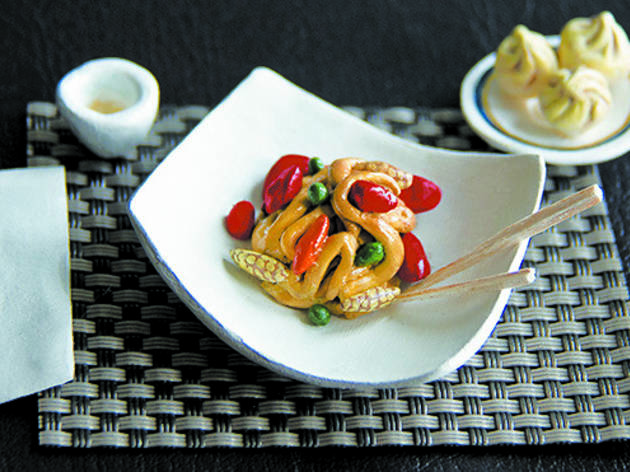 Whether you're atheist, Jewish or so sick of Mariah Carey's holiday album that you're boycotting Christmas this year, there's plenty to do on December 24 and 25 that has no affiliation with the birth of Jesus or the jolly fat man:
Trade the figgy pudding and roasted chestnuts for piping-hot nan, flaky samosas and sizzling tandoori chicken. Most of the Indian restaurants on Devon Avenue are open for business Christmas Eve and Day, including Viceroy (2520 W Devon Ave, 773-743-4100) and Uru-Swati (2629 W Devon Ave, 773-262-5280). Finish with Indian sweets and chai tea at Tahoora Sweets & Bakery (2345 W Devon Ave, 773-743-7272).
On a Christmas Eve visit to the Art Institute, you can literally thank Jesus for sparing you the usual crowds. Browse on your own or hit up the Modern Wing highlights tour (2–3pm; free with admission), which covers artists like Andy Warhol, Picasso and Matisse. 111 S Michigan Ave (312-443-3600). 10:30am–5pm; $18.
Do movie theaters ever close? Big openings Christmas week and just before include Quentin Tarantino's Django Unchained; Zero Dark Thirty, director Kathryn Bigelow's nail-biting chronicle of the hunt for Osama bin Laden; and the star-studded Les Misérables.
Tally up what you imagine most people spend on Christmas gifts. Now withdraw that sum from your bank account and head to the Midwest town that never sleeps: Hammond, Indiana. There, Horseshoe Casino is open 365 days a year. Choose from 1,500 penny slots, but we think less-crowded tables are the perfect excuse to learn how to play baccarat. 777 Casino Center Dr, Hammond, IN (219-473-7000).
Going out for Chinese food on Christmas Eve or Day may be a well-known Jewish tradition, but whatever your faith (or lack thereof), it's one worth appropriating. For a traditional dim sum experience, hit Cai (2100 S Archer Ave, #2F, 312-326-6888). For a casual, modern dinner, try Chi Café (2160 S Archer Ave, 312-842-9993). It's BYOB, allowing you to replicate the fun of opening too much wine at Christmas dinner—without having to deal with your drunk relatives.
If you're too lazy to trek to Chinatown (wimp!), Hub 51 hosts its 4th annual Hubukkah–The Chosen Party, which plays to the Chinese-food-on-Christmas-Eve tradition by adding its sought-after chicken egg rolls, usually available Sundays only, to the menu. Savor the noticeable lack of a pricey prix fixe meal, holiday-themed cocktails and Christmas music. 51 W Hubbard St (312-828-0051). Open until midnight; reservations recommended.
Live blues, barbecue chicken and ribs, and boozy cocktails like electric lemonade? The "holidays" sound a lot more interesting at Kingston Mines, whose Christmas Eve and Day shows, Carl Weathersby and Vance Kelly & the Backstreet Candy Lickin' Blues Band, respectively, are just $12. 2548 N Halsted St (773-477-4646).
The December 25 menu at the Kit Kat Lounge and Supper Club ($40 for a martini, turkey with all the fixins and dessert) is the closest you'll get to a traditional Christmas dinner, but a drag performance by one of Kit Kat's resident divas sure wouldn't fly at your in-laws'. 3700 N Halsted St (773-525-1111). Shows start at 7:30pm.
---
I am a Jew who loves Christmas By David Tamarkin
Here's why. First: the gifts. By the time Christmas comes around, Hanukkah is often over, so all my gifts have already been given—leaving me with nothing to do but receive. * The cake. I am obsessed with bûche de noël, and Christmas is the only excuse to make one. And who has the time to bake a cake on Christmas if not me—someone who's not trimming a tree or stuffing a turkey or leaving out milk and cookies for a mythical fat man? * The lights. Hanukkah is all about light, so what's not to like? (Note: white lights only. Colored Christmas lights are so tacky!) * The hosting. Despite what you've heard, Christmas is not lonely for the Jews—it's lonely for Christians with no place to go. That's where we come in. There's something very fulfilling about making a holiday you don't celebrate special for somebody else. Oy vey, am I a sappy Jew?