Where to volunteer on MLK Day
Volunteer opportunities on Monday 18.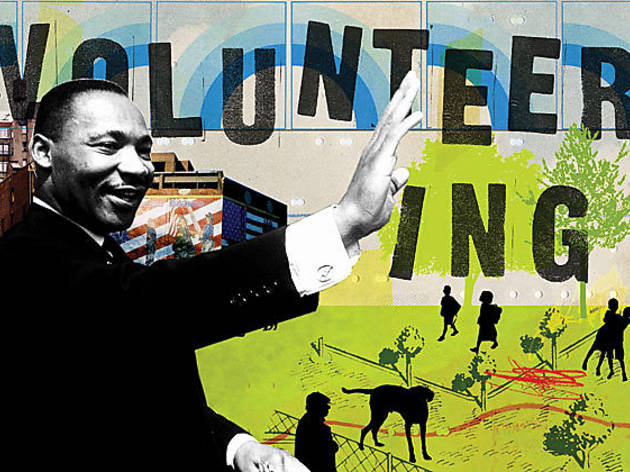 PEOPLE & PETS
Literacy Fair with One Brick
Spend your day off with budding young readers by joining One Brick volunteers in reading books, hosting literacy games, and arts and crafts, or assembling family literacy kits. The events, which take place from 8am–1pm, are part of the Martin Luther King Jr. Day Literacy Fair, sponsored by Northwestern University Settlement House's Project YES!
Pet therapy and bingo with Chicago Cares (312-780-0800)
Shoo pets off the couch and put them to work through Chicago Cares. On Monday 18, cats and friendly dogs can brighten a senior's evening at Lakeview Nursing and Rehabilitation Center in Lincoln Park. Make the rounds with your pet, or enjoy conversation and a rousing game of bingo. All volunteers must first sign up and zip through Chicago Cares's online orientation. Kids ten and older are welcome with a parent. The org's Celebration of Service in honor of King takes place Saturday 16 (registration fills early, so be sure to check the website or e-mail first at cos@chicagocares.org).
Felines Inc. (6379 N Paulina St, 773-465-4132)
Stop by this no-kill shelter from 12:30–6pm to help socialize shy kitties or give the longhairs a good brushin'. A quick orientation session is required. Youth volunteers are also welcome if accompanied by an adult.
Edgewater service projects (meet at 48th Ward office, 5533 N Broadway; or 47th Ward office, 4237 N Lincoln Ave)
State Sen. Heather Steans and other local politicians sponsor a day of spiffing up this Far North Side 'hood, as well as Lincoln Square, from 9am–3pm. Projects include helping seniors winterize their homes and painting rooms at a local school. R.S.V.P. with Jen Walling at jen@heathersteans.com or 773-769-1717.
---
FOOD, GLORIOUS FOOD
Common Pantry (3744 N Damen Ave, 773-327-0553)
Chicago's oldest continually operating food pantry often struggles to recruit daytime volunteers. Lend a hand from 10am–1pm unloading, stocking and sorting 3,000 pounds of food that will feed 320 families in January. Call or e-mail commonpantry@hotmail.com to take a shift.
Humboldt Park Social Services (2120 N Mozart St, 773-342-6210)
Fill the bellies of more than 80 hungry Chicagoans by serving up a warm meal in the soup kitchen from 3:45–6:15pm Monday–Friday or 2:45–5:15pm Saturdays. Operations and finance director Noemi Avelar says interested individuals or groups could also take on other projects around the facility. E-mail navelar@hpsschanginglives.org for more info.
MGR Foundation's Traveling Food Circus (1160 N Larrabee St, 773-313-0075)
Youth and adult volunteers will bag healthy food for hungry families at this weekly Monday gig in River North through CareTeam, MGR's volunteer service program. Trader Joe's and Whole Foods donate the food; you sign up online and provide the elbow grease from 11am–12:30pm.
Franciscan Outreach Association (1645 W LeMoyne St, 773-278-6724)
Set the table, pour coffee or roll up your sleeves and scrub some dishes from 4:45–7pm as the soup kitchen serves dinner to more than 125 homeless or low-income neighbors. If that's not your thing, sign up to greet clients during the day as they arrive to do laundry or shower. Volunteers must schedule a shift in advance online. Youths over age 15 or over 12 with an adult are welcome. Call Christine Curran or e-mail chris@franoutreach.org for more info.
---
ON YOUR OWN
LifeSource, Chicagoland's Blood Center (877-543-3768)
Your one-hour trip to the blood bank may save a life. Where else can you make that kind of difference and score free cookies? LifeSource operates 22 donor centers and daily mobile blood drives throughout the Chicago area. Visit the LifeSource website for eligibility requirements and locations.
Bottomless Closet (312-527-9664)
Lakeview Pantry (3831 N Broadway, 773-525-1777)
Make a day out of streamlining your pad, junk the damaged or tragic gear and donate the rest of it to these worthwhile orgs. Bottomless Closet accepts gently used professional women's clothing every second Saturday of the month beginning February 13 and is always starved for sizes 0–4 and 14 and up. Other clothing donations (especially winter coats) can be made to Lakeview Pantry.
Computers for Schools (3053 N Knox Ave, 773-545-7575)
Give your outdated or extra computer equipment a new life. Computers for Schools is open for drop-offs from 8:30am–4:30pm Monday–Friday. No worries, porn buffs—every donation gets its hard drive wiped.