Whorrid, a Polish-American death-metal band
A half-Polish local metal band is all-awesome.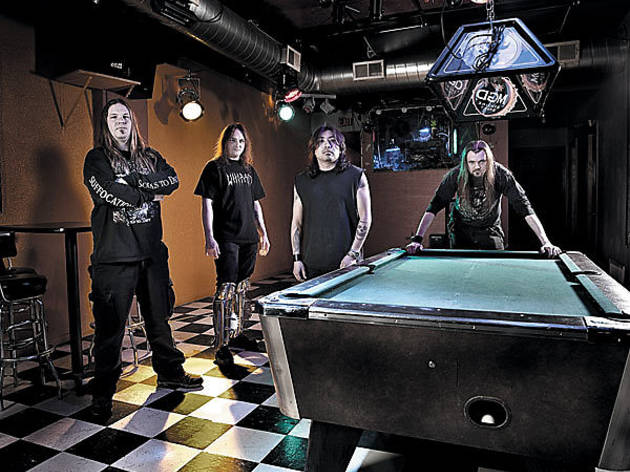 By

Bianca Jarvis. Photographs by Jimmy Fishbein
|
If you're going to get trashed with a Polish-American death-metal band, Portage Park's White Star Sports Bar (3049 N Cicero Ave, 773-685-5971) is a good place to do it. Sports bar is something of a misnomer for this Czech-owned neighborhood dive: Blood-red walls adorned with paintings of skulls, devils and surreal faces make a perfect macabre environment for the weekend metal shows that pack the bar with black-clad Eastern European and American headbangers. There's no metal show tonight, so the bar is crowded with young Czechs and Poles from the neighborhood, listening to a mix of Eastern European and American rock on the jukebox, and nibbling on a spread of kielbasa and sauerkraut laid out in giant foil containers on a table by the wall.
The four long-haired members of Chicago metal band Whorrid—tall Polish guitarist Andrew Rafacz, 35; goateed Polish bassist Jarek Badzioch, 31; Guatemalan-American singer Ivan Galdamez, 30; and quiet, hulking "Chicago mutt" drummer Brian Wimmer, 30—are crowded around two tiny, black bar tables as they quaff giant mugs of Czech Krus˘ovice beer and down round after round of Jägermeister shots. "We'll drink anywhere that has Jägermeister and pretty women," Rafacz proclaims. Jäger's sponsorship of metal tours has made it the headbanger's drink of choice (the false rumor that the German liqueur contains deer blood also amps up the appeal). Drunken metal mayhem is the order of the evening: When Galdamez accidentally shatters his beer mug during a particularly violent toast of "Nasdrovia salud!" (a multilingual homage to the band's Polish and Guatemalan roots), the bartender promptly brings him another one on the house, then checks that nobody's hurt.
The band is dressed down in black jeans and T-shirts for a night of drinking, but image is important when it comes to their live shows. "I think European bands try harder to give good shows than American ones," Rafacz claims. "Everyone in our band has their own style. Ivan wears a leather vest, Jarek's bass strap is made from an iron chain, and I have my leg armor," he explains, referring to the vicious-looking spiked metal plates he wears over his black leather pants at shows. Wimmer wows fans with some jagged metal of his own—a custom-made Whorrid logo on his drum kit.
Signed to Chicago's Rotting Corpse Records, Whorrid plays death metal, a genre known for its morbid lyrics and surly vocals. Galdamez screams/sings about death and despair on its 2006 debut album, Infecting the Soul, with a growl that sounds like Cookie Monster on a meth-induced rampage. Because metal is far more popular in Eastern Europe than it is in the U.S., Polish immigrants make up many of the fans and musicians in the Chicago scene. But the city hasn't always given death metal a warm welcome. On several occasions, Whorrid has had to move its shows to different venues to escape pressure from the Polish Catholic community that perceives their music as anti-Catholic.
Despite their dark image, the band members get downright goofy when drunk, showing off tats and threatening to whip out their junk for a size comparison. Girl-crazy Galdamez scopes a cute blond sitting by the jukebox and tries to persuade Badzioch to hit on her. But Badzioch is too busy declaring his love for skiing and singing the chorus of Abba's "SOS."
"Some people think that we're not truly death metal because we laugh and smile," Rafacz says. "But we like to have a good time. That's what Whorrid is all about."
Whorrid's second album, Time Heals Nothing, drops in early March. Catch the band March 15 at the Pearl Room in Mokena (19081 S Old LaGrange Rd, 708-362-4121).