Your guide to the Games
From July 15–22, the Gay Games will feature some 12,000 athletes-from weekend warriors to world-class competitors-participating in 30 events around the city. Avoid overload with our day-by-day picks for can't-miss sporting events.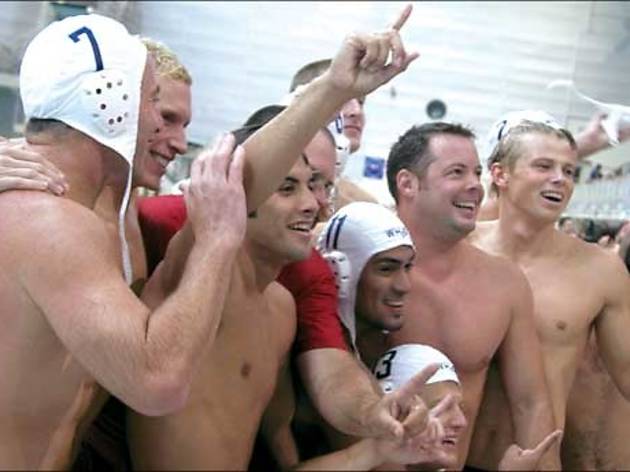 How to get tickets
If you've already purchased tickets, they are available for pick-up at will call at the Chicago Hilton (720 S Michigan Ave) on Friday 14 (from noon–8pm) and Saturday 15 (from 8am–3pm); and at event locations on Saturday 16 to July 21. If you need to purchase tickets, they are available through these Hot Tix locations: Chicago Tourism Center (72 E Randolph St), Water Works Visitor Center (163 E Pearson St) and North Shore Center for the Performing Arts (9501 Skokie Blvd, Skokie). Additionally, some events sell tickets at the door the day of—for more information, call the Gay Games ticketing department at 773-433-8001, or go to www.gaygameschicago.com.
Day 1: Saturday 15
Kick off opening day by rising and shining to watch the International Rainbow Memorial Run (77th St and South Shore Dr in the Rainbow Beach parking lot, 7am, free). It's a symbolic journey of the Rainbow Flag—i.e., the Games' Olympic Torch—as it arrives from its trip from San Francisco to Africa, Australia and now to Chicago.
The Opening Ceremonies (Soldier Field, 1600 S Lake Shore Dr, 8pm, $50–$150) officially signal the beginning of the Games. Soldier Field will be filled to capacity as teams from around the world march gaily into the stadium. New York acrobatic troupe AntiGravity will light the flame, and out former NFL player Esera Tuaolo will sing the national anthem. He'll be followed by a zillion famous guests, including Mayor Daley, Margaret Cho, Andy Bell of Erasure, Megan Mullally, Kate Clinton and Greg Louganis.
Day 2: Sunday 16
The sporting competitions officially begin, with hundreds of multisport athletes at the lakefront for the triathlon (Lake Shore beachfront from Foster Ave to 31st Street, 6am, free). These folks will be at it all morning (starting with the swimming, at Balbo and the beach), but our advice is to show up with a latte and muffin around 9am as they run down the lakefront path toward the finish line. The race ends at the southeastern edge of Hutchison Field, so plan accordingly.
Alternatively, you could head out to the 'burbs, where the rowing competition (300 Lakeshore Dr, Crystal Lake, 11am–7pm, free) won't be the only event making waves. Apparently, some people think The Gays don't deserve to row their own boats, so they'll arrive en masse to protest the competition. Show up to support the athletes and moon some fundies.
If you choose to stay in the city, the don't-miss event of the afternoon is the cheer teams competition (Millennium Park Great Lawn, east of Michigan Ave between Randolph and Monroe Streets, 2–4pm, free). For the first time, this is an officially sanctioned event, which means those freakishly large smiles cheer-leaders always sport will be that much wider.
Day 3: Monday 17
Begin your week by playing the field—track and field, that is (Hanson Stadium, 5501 W Fullerton Ave, 9am–5pm, $15 for a six-day pass). Unlike other competitions, which will grind out preliminary rounds today, track and field will be in full swing. The day features such fun-to-watch events as the pole vault (heh heh), the steeplechase, the 4x400 relay and the high jump. But best of all, check out Dolores "Hurlin' Curly" Faber. Who's that? She's a 73-year-old masters-level shot-put competitor who took first in her age division this year at the Empire State Games, an Olympics-style amateur competition in New York state.
Day 4: Tuesday 18
Watching astoundingly built people strike a pose in their underthings is among the most popular events at every Gay Games, so grab your tickets now for the physique competitions (Northwestern University Welsh-Ryan Arena, 2705 Ashland Ave, Evanston; preliminaries 9am–5:30pm, finals 6:30–11pm; $10–$40). The event has a staggering number of diverse categories, including one for men older than 70, but don't be put off by that—Jack La Lanne is 91, and that dude could totally kick your ass.
Day 5: Wednesday 19
Start out with the beach volleyball competitions (North Avenue Beach, 1603 N Lake Shore Dr, 9am–5pm, free). Games or no Games, watching or playing volleyball on the beach is a sanctioned way to check out ripped hotties jumping around in the sand. Otherwise, try dropping your anchor (metaphorically) at Belmont Harbor to watch one of the sailing events from shore (Belmont Harbor, Belmont Ave and Lake Shore Dr, 8am–6pm, free).
Day 6: July 20
All eyes will be on the water polo medal games (University of Illinois at Chicago Flames Natatorium, 901 W Roosevelt Rd, 9am–9pm, $10). Personally, our eyes will be fixed squarely on West Hollywood's sexy and brainy WH2O squad.
We're guessing the costumes will be pretty fabulous at the Figure Skating Champions Ice Show (McFetridge Park, 3843 N California Ave, 6–9:30pm, $50). Most of the week's newly minted winners will present an exhibition show featuring a special guest performer (sorry, we're sworn to secrecy). And we're warning you now: Bring a jacket or sweater, 'cause baby, it's cold inside.
If you see a single aquatics event this week, make it the Pink Flamingo Aquatics Show (University of Illinois at Chicago Flames Natatorium, 901 W Roosevelt Rd, 7–10pm, $25). It's basically men and women running around in their swim gear, performing nutty skits in and out of the water for audience approval. We wouldn't miss it for the world.
Day 7: July 21
All of the sports that had their preliminary rounds earlier in the week go for the gold on this, the final day of formal competition. Our advice is to pick your favorite sport and stick with it all afternoon. We'll be watching our personal faves: basketball (University of Illinois at Chicago Physical Education Building, 901 W Roosevelt Rd, 8am–5pm, $10), soccer (University of Illinois at Chicago Soccer Fields, 901 W Roosevelt Rd, 8am–6pm, $10) and tennis (men's and women's singles and doubles, and mixed doubles at multiple venues; see www.gaygameschicago.com for details, 9am–7pm, $10).
Day 8: July 22
Sniff, sniff. Is it over already? It is, save for one final blowout—this afternoon's closing ceremonies. You'll definitely want to be there, as Chicago passes the torch (i.e., financial burden) to 2010's host city, Cologne, Germany. The phenomenal list of entertainers includes Cyndi Lauper, BETTY, Kristine W, comedian Ant, the DC Cowboys, Chicago Rocks with Chuck Panozzo and Dylan Rice, and many others (Wrigley Field, 1060 W Addison St, 3pm, $50–$90).
We got Games
Montreal's Outgames (it spun off from the Gay Games after a tiff) begin a week after ours, but you're better off in the Windy City. Here's why.
By Cliff Doerksen and Jason A. Heidemann
1. Better artery-clogging eats Montreal's iconic junk food is poutine, a greasy mush of french fries topped with white cheese curds and gravy. Meanwhile, Chicago has hot-dog joints like the Weiner's Circle and Superdawg. Our run-it-through-the-garden dog is positively heart-smart in comparison.
2. The government won't tell you what to listen to In Chicago, radio content is determined by a mixture of payola and popular taste. Canada has the same corrupt system—plus a 35 percent affirmative-action quota for Canadian artists. Ever listen to French-Canadian hip-hop? It's been known to induce seizures in American listeners.
3. We're a bigger sports town Who are the Montreal Alouettes? They're Montreal's football team, a member of the (snicker, snicker) Canadian Football League. And how about Montreal's NBA team? Wait, it doesn't have one. And baseball? Last year, the World Series trophy came to the South Side, and didn't the Expos abandon Montreal a couple of years ago?
4. We're nicer You wouldn't think that it's possible for a city of this size, but it's true. Visitors here will find even the most jaded urbanite helping them navigate the El or steering them toward the best Chicago-style pizza. As for the French-Canadians, even other people in Canada think they're mean.
5. We have beaches As in gay beaches (Hollywood Beach), sporting beaches (North Avenue Beach) and downtown beaches (Oak Street Beach)—all part of 29 miles of city coastline attached to the sixth-largest freshwater lake in the world. Montreal, on the other hand, is hemmed in by the St. Lawrence, which is pretty stinky.