Winter getaways from Chicago
Escape traffic, close quarters and other urban irritations for these quaint and quirky getaways in the Midwest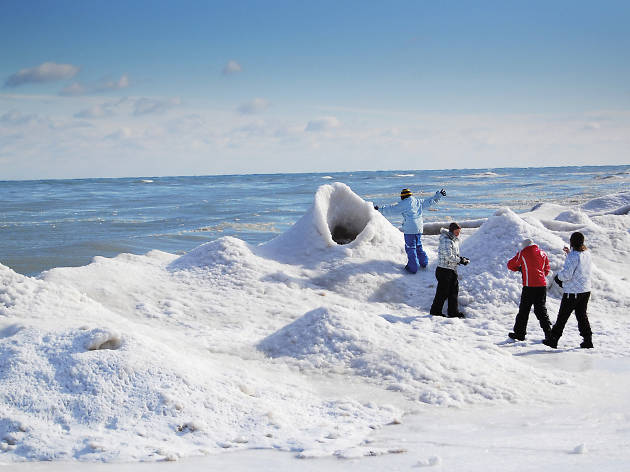 Easy winter getaways from Chicago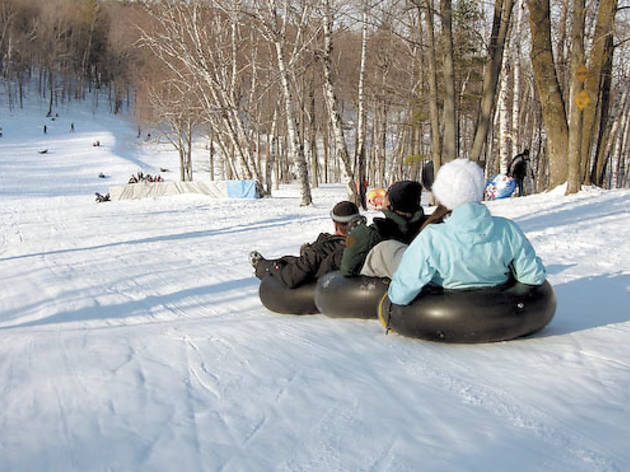 Photograph: Courtesy Door County Visitor Bureau
3 hrs, 45 mins

Peninsula State Park in Door County offers enough winter adventure to please a whole car full of people suffering from cabin fever. You can cross-country ski across 16 miles of groomed trails (there's even a warming house), go snowshoeing or winter hiking, or try your luck at some ice fishing. The park also has 17 miles of scenic snowmobile trails and, for an activity everyone can enjoy, some serious sledding and snow tubing over at the park's golf course. The February Fish Creek Winter Festival (February 5–7, 2016) has been attracting visitors from across the region for almost 30 years. The event never fails to entertain crowds, with ice sculpture carving, winter games, live music, fireworks and more. But you can also browse Door County's many adorable shops and art galleries year-round. Stop by the family-owned Door County Coffee & Tea (5733 Highway 42, Sturgeon Bay) for a homemade lunch and a warm mug of gourmet coffee, loose leaf tea, chai or cocoa. For something a bit stronger, Door County Distillery (5806 WI-42, Sturgeon Bay) offers small-batch vodka, gin and brandy. Stop by in winter on Saturdays from 10am–5pm or try a tasting at Door Peninsula Winery's wine bar next door. For dinner, The Cookery focuses on local suppliers, so produce, cheese, meat and other ingredients (including kombucha), appear in dishes like smoked whitefish spread, burrata with cherry salsa and broiled whitefish with pesto. The cuisine makes it one of the fancier spots in town, but the vibe is casual.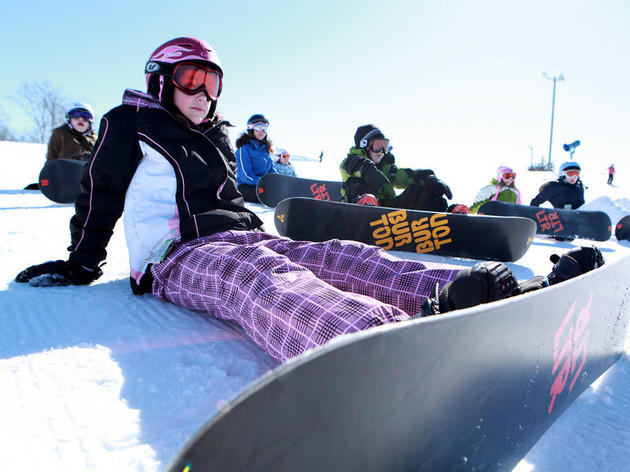 Photograph: Chestnut Mountain Resort
3 hrs, 30 mins

A short drive to Galena brings you to all kinds of unexpected sites, from the Blaum Bros. Distilling Co. (take a tour to discover the family company's bourbon, gin, vodka and other products) to the Ulysses S. Grant Home (500 Bouthillier St, 815-777-0248). Most people visiting Galena in winter head straight to Chestnut Mountain Resort (8700 W Chestnut Rd, 800-397-1320) for a day of skiing. The seven-acre winter terrain draws skiers and boarders of all levels for its 19 slopes. Two Sunkid conveyor belts, two quad chairs and four triple chairs zip you to the top of the mountain as fast as you go down. Galena also has plenty to do for non-skiers, with local wineries like Galena Cellars Vineyard (4746 N Ford Rd, 815-777-3335), quaint coffee shops and lots of boutiques. You can go on a bald eagle–spotting tour on select dates in February, or earlier in February, go wild as part of the Galena Mardi Gras Pub Crawl (February 5, 2016) or the Grub Crawl, Parade, Masquerade Ball & Snow Sculpting (February 6).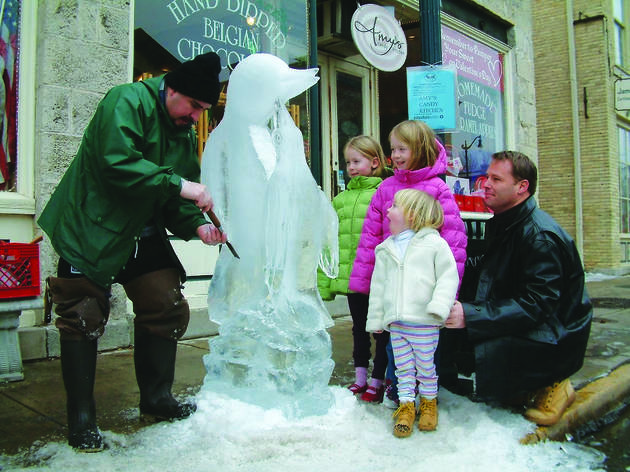 Photograph: Courtesy Visit Milwaukee
1 hr, 30 mins by car or Amtrak
For an easy, breezy escape, visit Milwaukee in winter. Annual festivals like Mitten Fest (February 6, 2016; 2599 S Logan Ave) offer up live music, rare beer releases and plenty of arts, while the Cedarburg Winter Festival (February 21 & 22, 2016) includes quirky contests like ice carving and ice golfing. You're bound to have a good time (unless you're prone to falls) at Slice of Ice, the outdoor skating rink in the heart of downtown at Red Arrow Park. Forget about chilly temps with a visit to the Domes, a.k.a. the Mitchell Park Horticultural Conservatory (524 S Layton Blvd, 414-257-5611). These three eye-catching spheres have plant life you might not be used to seeing, like cacti or a kapok tree. You'll also find the indoor winter farmers market with more than 50 local vendors here. Love beer? Check out Lakefront Brewery, a Milwaukee staple since 1987. More of a light lager lover? Take a free, one-hour MillerCoors brewery tour. Or tour Pabst Mansion to see what life was like as a beer baron in the 1890s. This city also has a bounty of art, as evidenced by the ultramodern Milwaukee Art Museum, where you can get in from the cold and feel refined. Perched on the lake, the beautiful venue is home to 30,000-plus pieces of art, from Van Gogh to O'Keeffe to Pollock. Beginning in mid-January through February, the adventurous can hitch a ride on a dog sled in Whitnall Park or at McKinley Marina (414-967-9677). Rides for all ages run on Sundays from 11am to 1pm, weather permitting. The Schlitz Audubon Nature Center is also transformed in winter with ice and snow along the shoreline depending on the weather. You can cross-country ski or just take in the changing landscape.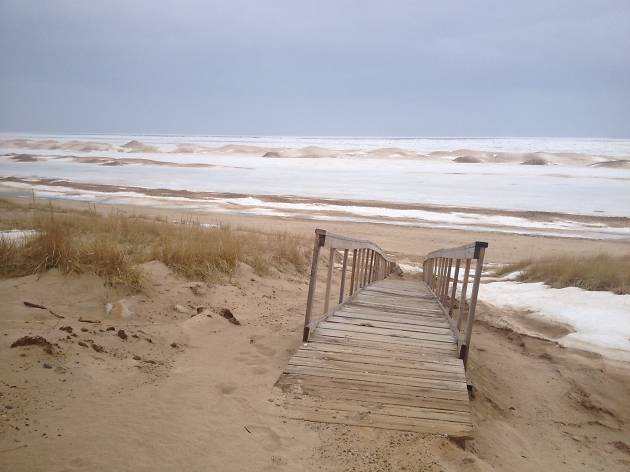 Photograph: Laura Rote
2 hrs, 10 mins by car

In winter, Saugatuck is a sleepy tourist town on Lake Michigan that you can essentially have to yourself. Stroll along the harbor's quiet boardwalk at sunset, or take a snowy hike at Saugatuck Dunes State Park, about a 10-minute drive away from the small town in Holland. Back in Saugatuck, a walk along the frozen lake in winter is nothing short of memorable (the blue-white combination of ice and sand makes it seem like you're on another planet). When it's time to get warm, head to Wally's Bar and Grill (128 Hoffman St, 269-857-5641) for some pub grub and a pint or two. You'll have no trouble finding things to talk about here either. Depending on the night, this laid-back bar has live music. Plus, to say the decor is quirky (there's a stuffed ferret and a dummy in a hang glider, among other wall hangings) is to put it mildly. You can continue to sample beers at nearby Saugatuck Brewing Company (2948 Blue Star Hwy, Fennville), where tours are offered year-round on Saturdays. The local brewery is another known spot for live music.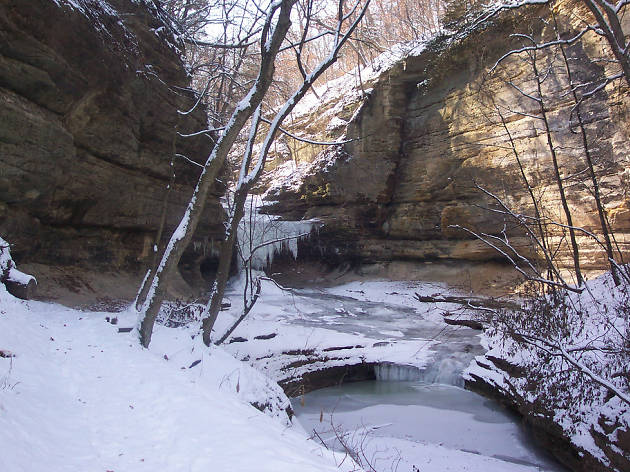 Photograph: Curtis Abert / Flickr
Starved Rock State Park, IL
1 hr, 30 mins by car
It might not occur to you to check out the region's state parks in winter, but you should. Starved Rock State Park is a particular beauty, with ice formations (waterfalls at other times of year) in the park's canyons. Go for a winter hike and you'll be sure to get an eyeful. Just keep in mind before you go that the trails themselves can be icy—you may want to invest in some snow cleats. The park also allows ice climbing in winter if conditions allow. Just call the park office (815-667-4726) to confirm and sign in when you get there. If you prefer to stand on solid ground, rent a pair of cross-country skis and head over to nearby Matthiessen State Park (815-667-4726) December through March. Again, just call ahead to check conditions.
More to explore