Travel to Maui, Hawaii
If time and money are no object, fly to Maui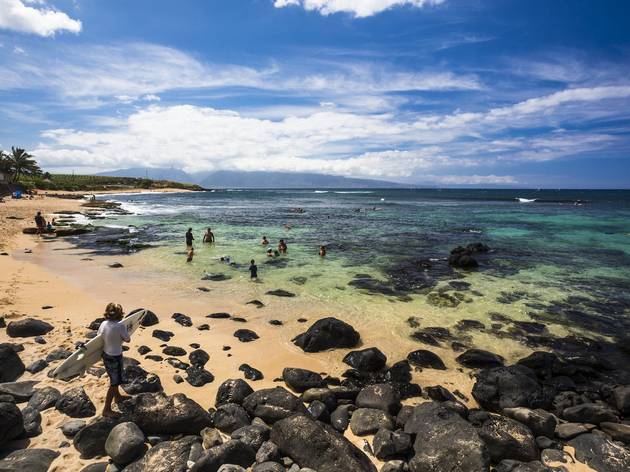 RECOMMENDED: Nearby weekend getaways from Chicago
Everything is better in Maui. The water, the mountains, even the trees—mammoth banyans and bendy palms—are more striking than elsewhere. Take, for example, Lahaina's famous banyan: imported from India in 1873 when it was just 8 feet tall, it now swallows an entire city block and rises 60-plus feet above the nearby harbor. No wonder everyone wants a photo.
Lahaina itself is the perfect day trip from the island's more insular (though luxurious) resorts. While you'll find bars, souvenir shops and art galleries, a stroll down Front Street will also take you to historic stops like the stone, two-story U.S. Seamen's Hospital (1833), along the Lahaina Historic Trail (lahainarestoration.org). Commissioned by the king (Lahaina was the capital of the Hawaiian Kingdom in the early 19th century), it once catered to sailors as a shop and inn and was a place where the king could "indulge in activities not condoned by the missionaries."
Lahaina was a whaling village in the mid-1800s, and you might still see a humpback in the area—if you miss spotting one on your whale-watching tour, you will have plenty of champagne to drown your disappointment (yes, most tours include champagne). Before you hit other parts of the island, make time for a laid-back lunch at Maui Brewing Co. (4405 Honoapiilani Hwy, 808-669-3474, mauibrewingco.com) and pick up a six-pack of Big Swell IPA or Coconut Porter on your way out.
About 10 minutes from Lahaina are Ka'anapali and Kapalua, two of the island's popular resort areas, with all of the upscale lodging options you can imagine, from the Ritz to the Westin. Rent a car and drive east to the beautiful, isolated town of Hana, being sure to stop at the Honalua Store (502 Office Rd, 808.665.9105, honoluastore.com) for picnic supplies. Order from the window inside and get local favorite, Saimin—saimin noodles with soup, topped with fish cake, eggs, Spam—yes, Spam—and green onions.
The drive from Lahaina to Hana takes roughly three hours along winding, steep roads—with a serious lack of guardrails. Allow for more time so you can do it slowly, stopping along the way to ogle waterfalls and refuel at food trucks.
Just 20 minutes north of Kahului Airport, you'll reach Ho'okipa Beach, a haven for windsurfers. Travel east and you'll eventually come upon Haleakala National Park and Haleakala Crater (nps.gov/hale), home to Maui's highest peak (10,023 feet above sea level). The visitor center recently underwent renovations and was set to re-open in December.
At the park's edge, you'll find a lush path to the pools of Ohe'o (nps.gov/hale). Step carefully across wet rocks and climb into one of the many tiered pools (they look like giant stairs) for a dip. Ten miles farther and you've reached Hana at last. It's the end of the road, population 1,200—an unspoiled Hawaiian oasis complete with a black-sand beach, verdant green hills and a local community virtually untouched by the development found elsewhere in Hawaii. Aloha. This is bliss.