Bret Harrison on Breaking In | Interview
We chat with the Breaking In star about his new show, working with Christian Slater and chatting with fans on Twitter.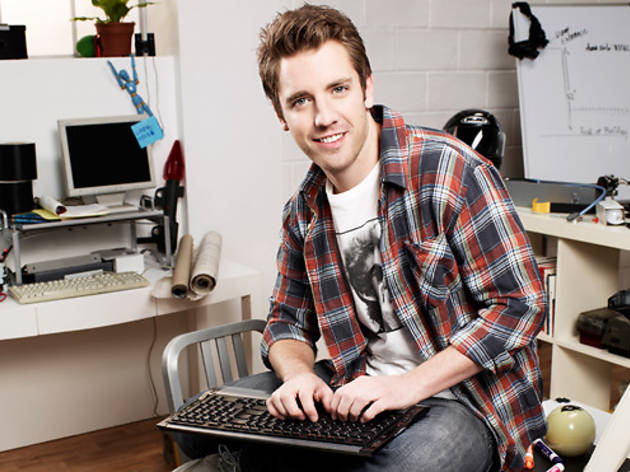 After starring roles in the short-lived television shows like The Loop and Reaper, Bret Harrison returns to the small screen in the comedy, Breaking In. Harrison plays Cameron, a computer hacker drafted into the ranks of a quirky private security firm. Part spy adventure, part office comedy, the show offers up a unique brand of oddball humor. Harrison sat down with us to talk about what we can expect from his new show.
Was it intimidating to work with Christian Slater after watching him when you were younger?
It was crazy. My relationship with Christian Slater is like him and Marisa Tomei in Untamed Heart. True Romance was right when I was beginning to become a fanboy of movies. People forget that he's worked with some of the biggest directors in Hollywood. He's worked with Francis Ford Coppola, Quentin Tarantino, John Woo. The guy is a pro and it's such a pleasure to get to hear some of the stories that he has of being in the business for years. I think that's one of the hardest things to do in this business is to continue to work and not completely fizzle out and he's managed to do so.
The pilot episode features a fairly conventional heist plot with the stealing of a car, but some upcoming episodes have been teased with a Comic-Con setting and a NASCAR setting. It seems like they're really embracing the different quirky places that this concept can go.
We're doing a Comic-Con Goonies episode where the show kind of escalates into some version of Goonies. We're hired to protect Goonies 2: The Legend of Sloth to make sure that there's not another Wolverine moment. We have a 21 Jump Street episode coming up where Steven Tyler is rumored to be playing at the prom and that sounds like a lot of fun. And then we have a Talladega Nights/NASCAR episode where Jimmie Johnson, NASCAR superstar, shows up and we're working with him. It's fun! I love it! It's like a little mini movie every week. It's shot like a movie. We have movie directors directing these episodes.
On that same note, it seems like there are a lot of great opportunities for interesting guest stars. I know Alyssa Milano is set to appear.
Yeah, that's huge. There's kind of a love triangle. I don't want to give too much away. We're hired to protect this old lady's house and we come to realize this "old lady" is actually Oz's (Slater's character) old lady.
Similar to your previous show, Reaper, this show combines action/adventure elements and comedy. Do you find that particularly appealing?
I think the majority will take place in the office and the action kind of drives the plot. I think the action is more eye candy and it's just a fun way of not necessarily being stuck in the office the whole time and it makes it a little more Fox-friendly, a little more fast-paced, if you will.
You have some really great, but short-lived shows under your belt (The Loop, Reaper). How do you stay positive about new projects with that history?
I worked on a sitcom for five years called Grounded for Life and I've been a part of shows that have gone for a long time and I've been a part of shows that have been very short-lived. Reaper was two years and that was the perfect amount for me, under the circumstances, working where I was working. I would love for this thing to go for seven years but if that's not happening, I would be like the audience. If I'm not laughing and having fun then, probably, the rest of America's not. And so far, so good. We're having a really good time.
You're pretty active on Twitter (@Bret_Harrison), do you enjoy that interaction with the audience?
Yeah, I really do! It's a really good way to stay involved with your fans. I'm very open to constructive criticism. This show is so collaborative, I don't see what's wrong with being collaborative with fans and seeing what people like, what people don't like and then relaying that over to the showrunners. So, please, follow me on Twitter.
You appeared in a Funny or Die video promoting a fictional CW series written by Bret Easton Ellis that was hilarious. What was that experience like and how did differ from the TV work you normally do?
It was great! We shot it in a day. It reminded me of doing things that you do when you first get into this business. When you're a kid, you do a song and dance for your parents and you get the camcorder set up. It's the same kind of thing, I think. I thought that was one of the coolest things I got to be a part of, seriously. It was so dark and I love that. And also, because I was involved with a CW series for a couple of years, it was kind of fun to poke fun at the network; all in good humor.
We actually featured you on our "Get Lucky" cover in 2006 when you were promoting The Loop, which was unfortunately canceled shortly after that. So, did you we jinx you or did you "Get Lucky," after all?
Hey man, I got lucky because I'm back here again, promoting a new show. That's one of the coolest things about being an actor is to fill the shoes of a different character every couple of years. I'm having a good time. I love it.
Breaking In premieres Wednesday 6 at 8:30pm on Fox. Read our interview with Christian Slater.