Camp: TV Review
NBC's frothy summer soap has bit of an identity crisis.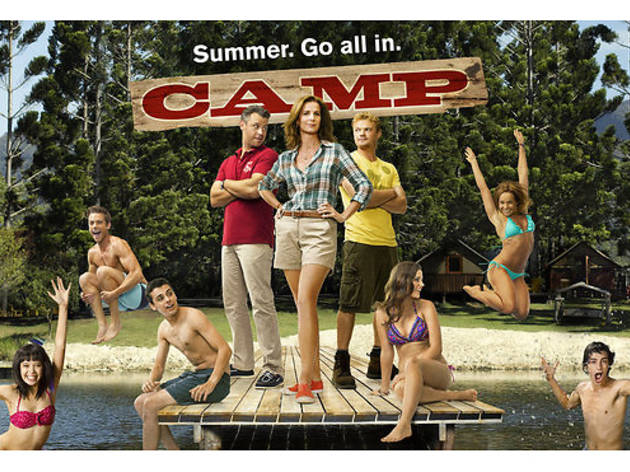 While most broadcast networks fill out their summer line-up with reality shows and re-runs, NBC is offering up a bubbly scripted dramedy about life at camp. It's charming, if a little dull.
Little Otter Summer Family Camp is an outdoor escape for kids and, occassionally, their parents. Camp owner and operator Mack (Rachel Griffiths) is happy to throw herself into another season of fun as she recovers from her recent divorce, but she's also being pressured by rival camp owner Roger (Rodger Corser) to sell her business. Newbie campers Kip (Thom Green) and Marina (Lily Sullivan) are there at the behest of their parents, with hopes that recent demons can be exorcised via kayaking and Capture the Flag. Mack's son, Buzz (Charles Grounds) is hoping to use the summer to expand his sexual horizons, and camp sweethearts Sarah (Dena Kaplan) and Robbie (Tim Pocock) rekindle their seasonal romance.
Despite being shot on location in Australia with a native cast, Camp is set in an unidentified U.S. location with the young cast forced to slap on American accents that can be a bit wobbly. Also a bit shaky is the definition of Little Otter as a family camp, as several of the attendees are being sent there without parents. It seems to serve as an excuse for Mack to have a few adults around to chat with about her sexual exploits. And this is where the show gets even more confusing. There's an air of wholesome family fun to Camp that completely goes out the window when Mack bones a guy in his car, begging the question, "Who is this show for?" While Green and Grounds make for charming young leads and Griffiths plays bumbling well, the show's tonal identity crisis is a problem and the truckload of soapy, will-they-won't-they plotlines can't fix it.