Double take: Sherlock Holmes: A Game of Shadows and Sherlock | On Demand
Two new visions of the great detective compete for your VOD patronage.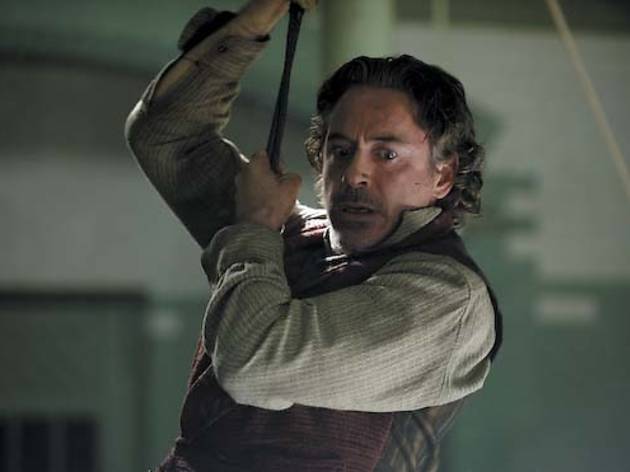 The great Sherlock Holmes has finally met his match—and his name is Sherlock Holmes. Two very different visions of Arthur Conan Doyle's famous detective can soon be seen in living rooms everywhere. Though both are essentially revisionist takes—one modern in spirit, the other in setting—it's clear which of the two captures the neurotic, cerebral essence of Holmes.
Here's a clue: It's not the one with slow-motion fisticuffs. In Guy Ritchie's Sherlock Holmes: A Game of Shadows, Robert Downey Jr. reprises his role as the titular sleuth, reconfigured (again) as a puckish, unshaven macho eccentric. As in Ritchie's 2009 original, the emphasis is more on brawn than brains; Holmes spends as much time meting out surgically precise beatdowns as he does solving crimes. Downey remains a quick-witted delight, especially when sparring with sidekick/quasi–soul mate Watson (Jude Law), but Ritchie has reduced one of literature's great thinkers to a Victorian-era action hero. Once Mad Men's Jared Harris shows up as the diabolical Professor Moriarty, we might as well be watching a James Bond movie—or, worse still, a Pirates of the Caribbean sequel.
Perhaps Ritchie's dumb-fun approach could only sustain a single feature. Or maybe dumb fun just looks inadequate stacked up against the impossibly clever machinations of Masterpiece's small-screen Sherlock. Back for a second season, Steven Moffat and Mark Gatiss's British series transports the Baker Street detective to present-day London, where he uses contemporary technology (cell phones, social media) to aid his investigations. Faithful despite its 21st-century flourishes, the show benefits from a star-making performance by Benedict Cumberbatch, who plays Holmes as an Aspergian, virginal savant, miles removed from Downey's dashingly charismatic interpretation. When Sherlock finally squares off against Moriarty (a scarily sociopathic Andrew Scott), it's a true battle of wits. A Game of Shadows looks elementary by comparison. (Sherlock Holmes: A Game of Shadows arrives on VOD, DVD and Blu-ray Tue 12. Season two of Sherlock is available on Amazon Instant Video, pbs.org and VUDU.)