Killer Women: TV review
ABC's new show about a female Texas Ranger is doing nothing to add to this well-worn genre.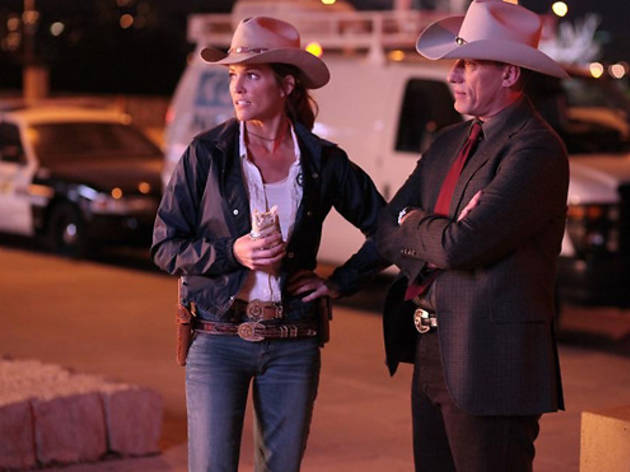 Why ABC decided to premiere a show about a rule-breaking, cowboy-hat-wearing, gun-slinging law enforcement official on the same night and at the same time as FX's Justified will never be known. Yes, Killer Women's protagonist is a lady, but she doesn't pale in comparison to the Elmore Leonard–created Raylan Givens because of gender. No, it's because the show comes of as painfully unoriginal and dated.
RECOMMENDED: Winter TV premieres
Molly Parker (Tricia Helfer) is one of the few female Texas Rangers. While some are convinced she got the job via Affirmative Action, it's clear that she's worthy of the title. The opening episode of Killer Women finds Molly digging deep into a seemingly open and shut murder case, convinced that the presumed killer has a connection to a high-powered Mexican drug cartel. While she may be great at her job, Molly's personal life is a bit of a wreck. She's currently living with her brother (Michael Trucco) and his wife (Marta Milans) while she tries to divorce her abusive husband (Jeffrey Nordling). She's also having an affair with a DEA agent (Marc Blucas), which comes in handy when her case requires assistance from his agency.
Several of Killer Women's cast members have come from genre shows with huge cult followings, including Helfer and Trucco's time on Battlestar Galactica and Blucas's turn on Buffy the Vampire Slayer. Comparisons to the depiction of kickass ladies from those shows are therefore inevitable, and savvy though Molly may be, she's no Buffy or Starbuck. Additionally, the procedural aspect of the plot is boring and lifted from a 1980s cop show. Molly's friendly back-in-forth with her boss (Alex Fernandez) is one of the more promising relationships in the show, but that dynamic's been done better in both Justified and The Bridge.
While Killer Women is trying to bring some gender equality to police procedural, it can't hit any of the right notes and ends up having more in common with ABC's stable of late-night soaps.