Margaret vs. Margaret: Extended Cut | On Demand
Which version of Kenneth Lonergan's film is preferable?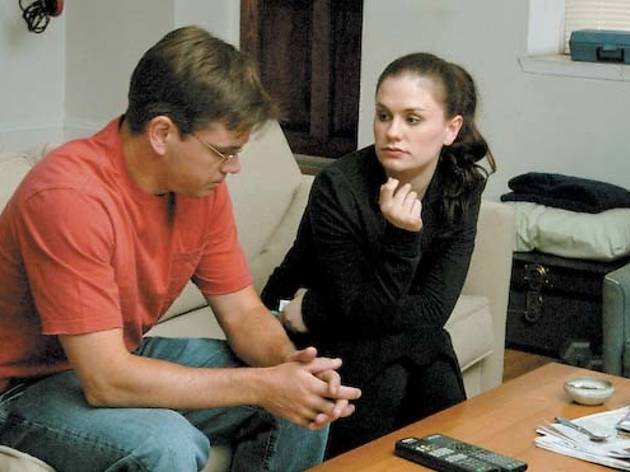 For devotees of Kenneth Lonergan's Margaret—shot in 2005, caught in legal limbo since 2008, unceremoniously released last fall and miraculously resurrected afterfans and critics campaigned for it—a longer version always seemed like a holy grail. (Lonergan was obligated to limit his theatrical cut to 150 minutes.) Huzzah! The film is now available for home viewing in two versions, the original and an "extended cut" that runs just over three hours. But the latter is exclusively on DVD, and only in the combo pack sold through Amazon. If you opt for VOD, which is showing the theatrical edition, what are you missing?
Not as much as you might think. The extended cut fills in some major gaps: Darren (The Newsroom's John Gallagher Jr.), the would-be boyfriend of protag Lisa Cohen (Anna Paquin), comes into fuller focus. First Lisa rebuffs him in a diner scene; later, in the best addition, a school drama teacher halts rehearsal for a group-therapy session, and Lisa resolves grievances with both Darren and best friend Becky (Sarah Steele). Elsewhere, with a few extra lines, Matt Damon's math teacher becomes a richer, less sympathetic character. We finally learn whether Lisa is telling him the truth in their last scene.
But the new Margaret is not simply augmented; it's been overhauled, in ways more detrimental than not. Often opting for different takes, Lonergan audaciously experiments with a new sound design, drowning out crucial dialogue with peripheral voices or traffic noise. While this strategy fits with Lonergan's notion that Lisa is ultimately dwarfed by the metropolis around her, a few moments of din would have gone a long way; employing the technique pervasively, the writer-director distracts from many of his best lines. He also replaces most of Nico Muhly's score with city sounds, silence or opera, altering the dramatic pitch of several scenes. Each version illuminates the other, but I'd give the edge to the theatrical cut. In that one, it's easier to see the masterpiece amid the clamor. (The theatrical cut is available on VOD and Blu-ray; the extended cut is on DVD in the combo pack sold through Amazon.)