MVP: Rooney Mara in The Girl with the Dragon Tattoo
The Social Network starlet reinvigorates Lisbeth Salander.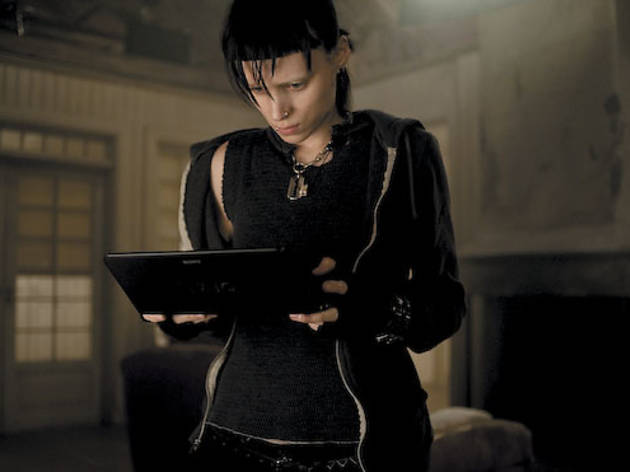 In David Fincher's sleek, muscular reinvention of The Girl with the Dragon Tattoo, 26-year-old Rooney Mara disappears behind battle-armor black leather and a smattering of metallic facial accessories. Yet it's Lisbeth Salander, the eponymous hacker heroine she plays, who gets the real makeover. Mara inherited the role from Noomi Rapace, who provided Salander's trademark sullenness—a haunted, perpetual funk—in the 2009 Swedish adaptation of Stieg Larsson's international best-seller. Mara summons a much fiercer tempest of suppressed emotion, one that Entertainment Weekly's Owen Gleiberman aptly described as "rage chilled into silence."
The big revenge scene, blood-curdling where the original was just depressing, gains its terrible and triumphant power from Mara's half-bemused malevolence. (When she claims to be insane, we believe her.) The actor's real contribution, though, is a sometimes comical strain of neurotic energy. In the same way costar Daniel Craig lent James Bond a human dimension in 2006's Casino Royale, Mara finds small ways to make this iconic avenger into an honest-to-God character. She evinces a vulnerability, accentuated by her diminutive frame, that lights a fire at the center of Fincher's chilly genre exercise.
This warmth proves especially valuable once Salander and disgraced investigative journalist Mikael Blomkvist (Craig) fall into an unlikely affair. Rapace played their first sexual encounter as an act of hungry desperation. Mara, by contrast, initiates the tryst with a casualness ("You need to stop talking") that's at once funny and strangely, forcefully erotic. We see, in the melting away of her protective fury, the possibility of a healthy romantic relationship for this damaged wild child. Look past its thoroughly mediocre mystery, and Dragon Tattoo becomes Mara's movie—the unexpectedly touching story of a broken woman reassembling herself. (Available on VOD, DVD and Blu-ray Tue 20.)