Rectify, Season 2: TV review
Sundance's lyrical series returns for another season of moody, emotional drama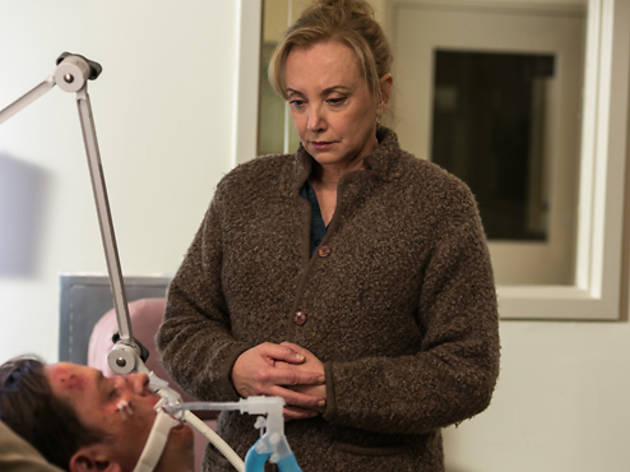 Premieres Thursday, June 18 at 8pm on Sundance.
Summer television is often made up of trashy melodramas and goofy reality shows, the type of light and frothy entertainment that you can lazily dip into on a rainy evening. Amidst that cloud of confection emerges Sundance's Rectify, with its slow pacing and lingering silences, making for an engrossing piece of counter-programming. In its first six-episode season, the cable network's first original series exhibited a patient but riveting form of character-driven storytelling that continues in its second year.
RECOMMENDED: Summer TV premieres
Its been seven days since Daniel Holden (Aden Young) was released from death row and now he sits in a hospital bed, in a medically-induced coma after being beaten badly by a group of men certain that he should still be in jail. Daniel's lack of consciousness makes room for a little more focus on his family, including Teddy's (Clayne Crawford) strained relationship with his wife, Tawney (Adelaide Clemens), over her interest in his recently released stepbrother. Doting sister Amantha (Abigail Spencer) finds it almost too easy to slip back in to caretaker mode by permanently squatting in the hospital and avoiding going back to her new Atlanta apartment. We don't lose Daniel completely, though, as we travel into his comatose mind where he's reunited with former death row neighbor Kerwin (Johnny Ray Gill), and begins to unpack the complicated realities of being back in the world for the first time.
The relaxed and hands-off feel of Rectify's plotting is unlike anything else on television. In one of his dream conversations with Kerwin, Daniel says that every day of his week-long release has felt like a lifetime, and the pacing of the series matches that feeling, even when Daniel isn't around. There's no rush to resolve any loose ends in the plot regarding the crime Daniel was sent to prison for as the attention moves to the one perpetrated against him at the end of last season. Still, the inevitability of a retrial looms as former prosecutor and now Senator Roland Foulkes (Michael O'Neill) still has every intention of sending Daniel back to prison. Spencer, Clemens and J. Smith-Cameron continue to be radiant as the three women struggling to protect and fight for Daniel's newfound freedom in their own unique ways.
It will be interesting to see what Rectify does with an extended ten-episode season, but if the first three are any indication, it will continue to be a profoundly engrossing character study, brimming with lyrical beauty.