The Girl | Movie review
HBO's look at Hitchcock and Hedren fascinates as a backstage drama.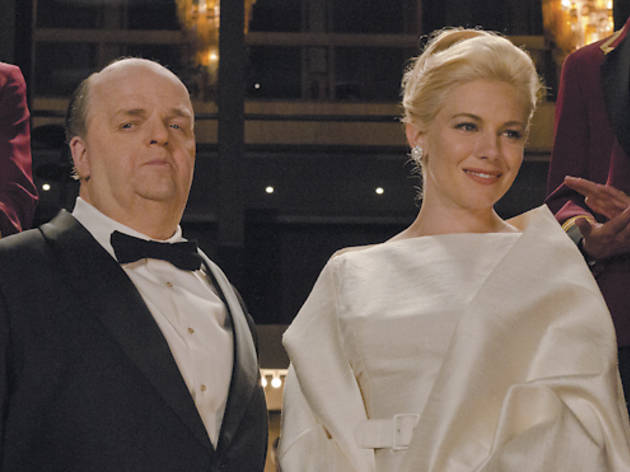 There are some figures so public it's impossible to embody them onscreen: rock stars, presidents, Drew Peterson. But few are as daunting as Alfred Hitchcock. By virtue of his girth, mannerisms and rapport with his audience—it's hard to think of another director so recognizable a showman—Hitch has no ready-made analogue. Anthony Hopkins, seemingly cast for his initials, appears to have given up on strict imitation, judging from trailers for next month's Hitchcock. But despite the enormous challenge, Toby Jones pulls off a creditable bit of mimicry in The Girl, HBO's new movie about Hitch's collaboration with Tippi Hedren (Sienna Miller, easily slipping into Hedren's hairstyles and throaty intonations).
There's an inherent interest in trying to understand what biographer Donald Spoto called "the dark side of genius." To the extent The Girl (based on Spoto's 2008 Spellbound by Beauty) remains intriguing, it's in showing us the master at work. By all accounts smitten with the "fascinating new personality" advertised in posters for The Birds, Hitch taunted Hedren with live avian attacks during the shooting of the attic finale. By Marnie, he'd allegedly moved into overt sexual harassment, offering his star a choice between acquiescing and having her career ruined. (Indeed, Hedren has said the scene in which her frigid thief is raped by husband Sean Connery was the reason Hitch wanted to make the film.)
Almost inevitably, The Girl can't resolve the tensions at the heart of a great artist. Director Julian Jarrold doesn't do much with the screenplay's conceit that Hitchcock was molding a human being à la James Stewart in Vertigo. At its best, The Girl is an eminently watchable backstage drama, offering its spin on how the auteur acted on the set while tiptoeing around his relationship with wife Alma (Imelda Staunton), who Hedren claims knew about his infatuation and declined to stop it. From a dramatic point of view, The Girl is most invested in detailing Hedren's perseverance; as her Marnie walks down the train platform, away from her tormentor's camera, there's a sense of genuine escape. (Premieres on HBO Sat 20; available on HBO on Demand Sun 21.)