The Mindy Project | TV Review
NBC's new global crime drama attempts to dress up a tired concept with an international setting.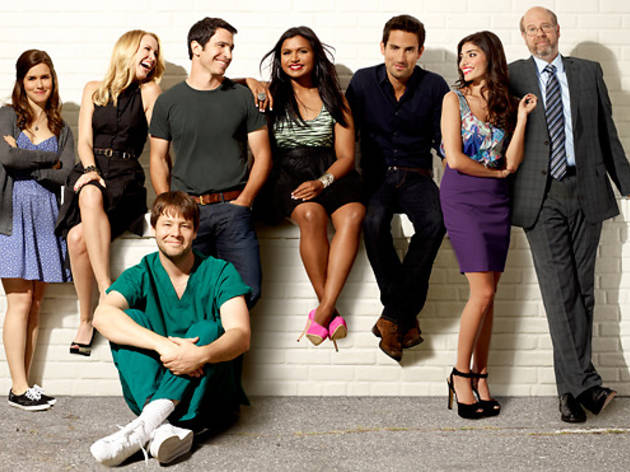 After eight years as a writer and actress on The Office and a stint on the New York Times best-seller list, the only thing surprising about Mindy Kaling getting her own sitcom is that it took this long. Kaling brings her peppy, pop-culture marinated wit to the story of an aimless young doctor looking for love and, like her character, she seems very determined to please.
Kaling plays Mindy Lahiri, an OB-GYN whose ideas about love and relationships have been formed through a lifetime of watching romantic comedies. Unfortunately, Mindy's romances haven't resembled a Nora Ephron script as much as she'd prefer. In the pilot, she tells the doomed tale of her previous relationship, while handcuffed in a police department after having drunkenly crashed a bicycle into a family pool. This behavior was the result of having to watch her ex marry another woman. Feeling like she's hit bottom, Mindy commits to changing her life. Kind of. She has a great deal more enthusiasm than she does follow-through.
Like HBO's Girls, The Mindy Project takes the tired immature manchild story and puts a feminine spin on it. Of course, like Hannah from Girls, Mindy struggles with being both hilariously discombobulated and completely un-relatable. Mindy's shortcomings and flaws are often quite funny, but in a late scene during a blind date things go a bit far as she becomes cartoonishly self-involved. As both a writer and performer, Kaling has a tough time balancing Mindy's likeability with her natural insensitivities. However, as someone who spent years writing for Michael Scott, this seems like an equation she should be able to solve.
One major shortcoming of the first episode is that very little time is given to the supporting cast. Rather than get to know Mindy's colleagues and friends, we're treated to a pair of failed match-ups with guest stars Bill Hader and Ed Helms, who we're unlikely to see again soon, given that they'll be busy on other TV shows. This is unfortunate because The Mindy Project has a deep bench of talented actors, including Chris Messina, Anna Camp and Stephen Tobolowsky. Messina's turn as Mindy's bitter fellow doctor, Danny, gets the most attention and he's able to do quite a lot with his limited screen time. It will be interesting to see how these characters are fleshed out in future episodes and if, like its lead-in New Girl, it becomes more of an ensemble show.
For all its flaws, The Mindy Project has an infectious energy and unique comic voice that make a winning combination. If Kaling can invest in building out the world of the show and balance Mindy as a character, the show has a bright future.
The Mindy Project airs Tuesday nights at 8:30pm on FOX.