Tomas Alfredson on Tinker, Tailor, Soldier, Spy | Interview
The Swedish filmmaker scores a new triumph with Tinker, Tailor, Soldier, Spy.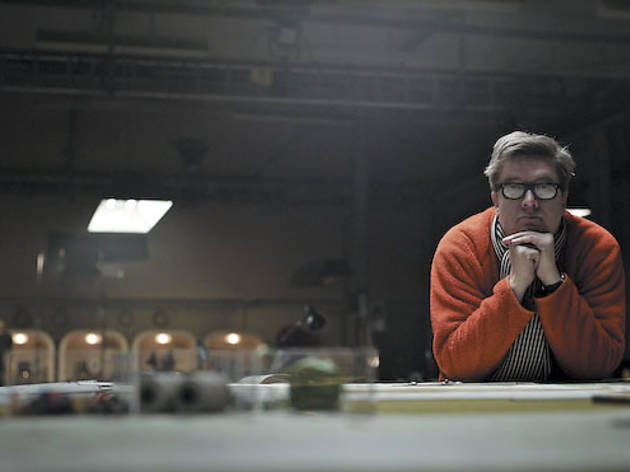 He chilled bloodstreams with his 2008 wintry horror fable Let the Right One In. Yet for Tomas Alfredson, there are things out there much more frightening than ageless child vampires. Like, say, table reads.
"It was a little scary for me to imagine them all sitting together," Alfredson, 46, says of the powerhouse cast he assembled for last year's gorgeously remote, densely plotted espionage drama Tinker, Tailor, Soldier, Spy. The Swedish writer-director's latest feature—and his first in English—boasts a who's who of British character actors, from Oscar-winner Colin Firth to ubiquitous up-and-comer Benedict Cumberbatch. Leading that first read-through must have been daunting for someone with no experience directing international movie stars.
The upstart auteur conquered his self-doubt. "It's impossible to do a film like this if you question yourself too much," Alfredson says with impeccable English. "So even if you're not the right person, you have to play that you're the right person."
Pretending to be someone you're not has become a key theme in the director's work, which features both incognito bloodsuckers and undercover double agents. Alfredson's adaptation of John le Carré's 1974 Cold War thriller, about the hunt for a mole in the upper echelon of British intelligence, cements his standing as one of the world's most exciting new filmmakers. Arriving on VOD this week, Tinker, Tailor is as slippery and complicated as its source material. Some have said it's maybe too complicated.
"People who know Le Carré's work would be disappointed if [the movie] was dumbed down or made to please an audience," Alfredson says, dismissing claims that the picture is an impenetrable muddle. "It would be strange to make a comedy that wasn't funny. This is a spy movie, so it should be tricky."
We're in a Chicago hotel room. It's November of last year, and Tinker, Tailor has just begun to trickle into American theaters. Next to Alfredson is a large cardboard standee of the film's poster. The eyes of star Gary Oldman leer at me from behind Coke-bottle lenses. The actor will go on to score an Oscar nomination—his first, unbelievably—for portraying iconic, buttoned-up intel officer George Smiley.
"The hardest thing in the casting was figuring out who would play Smiley," Alfredson says. Alec Guinness famously occupied the part in a beloved BBC miniseries from the late '70s. Alfredson needed to find an actor who could offer a fresh spin on the role while remaining true to Smiley's fundamental averageness. "He had to play an uninteresting man without actually being uninteresting," Alfredson notes. "He had to be a chameleon."
Once Oldman signed on, the cast came together quickly. "We got 95 percent of our first choices," the director says. One of the second choices was upcoming Dark Knight Rises villain Tom Hardy, who took over the critical part of Ricki Tarr when fellow it-lister Michael Fassbender opted to star in X-Men: First Class instead.
Alfredson recalls a pep talk he got from Le Carré himself: "He said, 'Please don't do the book. It already exists. It's a great book. I'm very proud of it, and people like it, too. If you make a crappy film, the book will still be good. So why do the book?' It was fantastic and very inspiring." And, it would seem, the perfect cure for the pre-production jitters.
Tinker, Tailor, Soldier, Spy arrives on VOD, DVD and Blu-ray Tuesday 20.