TV Review: Ringer
Sarah Michelle Gellar returns to television in Ringer, but Buffy it's not.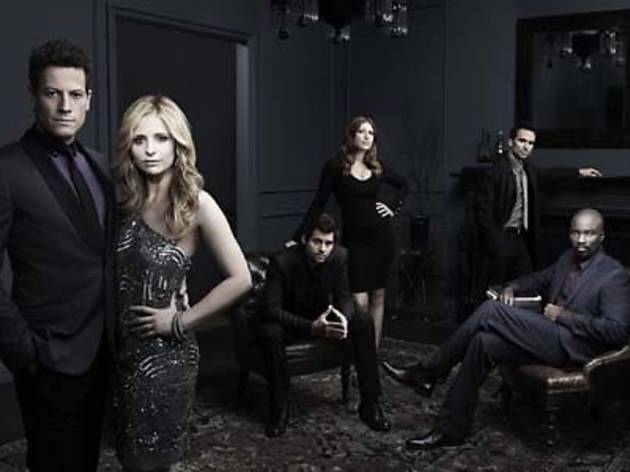 In her interview with Entertainment Weekly, Sarah Michelle Gellar described her new show Ringer as "Cruel Intentions meets Buffy." That description's more than a little misleading, though. While Gellar's new characters—she plays a dual role as identical twins—may share the blonde hair and pint-sized frame with the iconic vampire slayer, that's where the resemblance to Buffy Summers ends. If anything, Ringer's twin-swapping melodrama is more reminiscent of Gellar's first major television home at All My Children.
Ringer begins by introducing Bridget Kelly (Gellar), a former stripper and prostitute, as well as a recovering alcoholic. On top of that pile of sad sackery, Bridget witnessed a crime boss murder a fellow exotic dancer and has agreed to testify against him to avoid serving her own prison sentence. In desperation, Bridget ducks her police escort to meet up with her identical twin sister Siobhan (also Gellar). Despite sharing the same face, the sisters don't appear to have much in common. While Bridget's life is in shambles, Siobhan is dripping with money and appears to have the perfect life. Things take a turn when the gals take an afternoon boat trip. After waking up from a little snooze, Bridget finds Siobhan has disappeared in the middle of the water, conveniently leaving behind her wedding ring. Following the breadcrumbs, Bridget assumes her sister's identity and steps into her life, hoping to avoid her troubles with the law and the mob. Of course, she quickly begins to learn that Siobhan's life wasn't as perfect as it looked from the outside.
While Gellar's doing a lot of the heavy lifting in the Ringer pilot, she is surrounded by an impressive (and very attractive) supporting cast. The line up of chiseled jaws includes Lost's Nestor Carbonell as an FBI agent trying to track down Bridget, Ioan Gruffudd (Fantastic Four) as Siobhan's husband, Kristoffer Polaha (Life Unexpected) as Siobhan's boy toy (as well as her best friend's husband) and Mike Colter (The Good Wife) as Bridget's NA sponsor and confidant.
Despite the incredibly beautiful cast, stunning clothes and high-class setting, Ringer struggles to escape the maudlin melancholy of its main character. The show wants to be a tense noir, but in the hands of Bridget, it does nothing but drip with melodrama. Hopefully, the show's creators Eric C. Charmello and Nicole Snyder (Supernatural) will allow Bridget to share the load a bit in future episodes or at least allow her enjoy herself a little. Watching a self-hating shell of a human being stumble through an impersonation of her filthy rich sister without ever stopping to smell the roses is fun for no one and it makes Ringer one hell of a slog.
Ringer premieres Tuesday 8pm on CW.