Best new restaurants in Wicker Park
Jerry's SandwichesThis sophisticated sandwich shop has swank digs, a well-stocked bar (including around 150 American craft beers), and a menu that...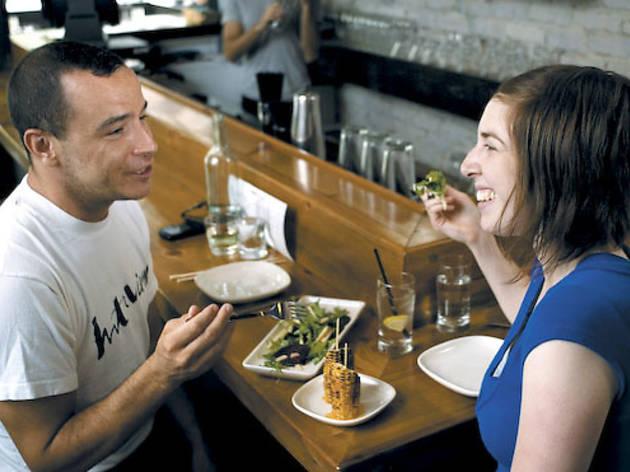 Jerry's Sandwiches
This sophisticated sandwich shop has swank digs, a well-stocked bar (including around 150 American craft beers), and a menu that includes burgers, a fish-of-the-day sandwich and apps. Of the latter, the massive portion of hummus is a garlic-lover's dream, and of the burgers, surprisingly, it's the veggie version that takes best in show, loaded with black beans, fresh corn, cauliflower, roasted red peppers and eggplant. 1938 W Division St (773-235-1006). Lunch, dinner. Average main course: $11.
Mana Food Bar
At this shoebox-size meatless mecca, global vegetarian fare is gobbled up by lanky diners lounging on chunky wood stools and in dark booths under dim lights. With prices somewhere between Green Zebra and Flying Saucer, two people will spend around $50 to leave full, so to leave both full and satisfied, choose wisely. We recommend sampling among small portions of chilled sesame noodles, mushroom saute over creamy polenta and the brown rice-mushroom sliders. 1742 W Division St (773-342-1742). Lunch (Sat), dinner. Average small plate: $7.
Milk & Honey
This sunny joint helps kick-start the day with baked goods and specialty coffees, but it's the basic sandwiches gussied up with impeccable ingredients that get us in the afternoon. Our favorites: the BLT made with extra-thick bacon and the juicy, rosemary- and thyme-encrusted roast beef. The weekend crowd can be a bitch, so be prepared to either fight your way to the front of the line or just head home with a bag of the café's signature granola. 1920 W Division St (773-395-9434). Mon–Fri 7am–4pm; Sat 8am–5pm; Sun 8am–4pm. Average sandwich: $7.
Native Foods Cafe
Vegan takeover! This meatless chain from California is taking Chicago by storm, beginning with this Wicker Park outpost. Salads are big enough to allay even the proudest meat-eater's fear of leaving hungry, and don't skip surprisingly good desserts like the peanut-butter parfait and cheesecake with granola crust. Don't be surprised to see exuberant "Chef Tanya" checking in on tables, making sure you "keep enjoying!" 1484 N Milwaukee Ave (773-489-8480). Lunch, dinner. Average main course: $10.
Prasino
This sustainably built, gluten free–friendly, all-day restaurant (which has two locations in the suburbs) touts itself as a place to indulge in "sustainable dining." In case you're wondering whether sustainable intimates healthy, the answer is no: Lobster gets piled on a creamy half of an avocado and dredged in butter, while in the "Paris," eggs Benedict ham, Brie, poached eggs and hollandaise collide on a croissant. The food is crowd-pleasing, and a nice wine list with some cool biodynamic producers perks up meals. 1846 W Division St (312-878-1212). Breakfast, lunch, dinner. Average main course: $21.
Seadog Sushi Bar
When and why "sushi" and "sexy" became one and the same is a mystery best solved by the canoodling couples in the corners of Coast, Mirai and this dimly lit newcomer. While a brisk carryout business drops in and out, wine-toting diners benefit from the almost eerily sweet service while sharing signature maki like the "Triple S": a spicy, crunchy roll filled with sweet potato and topped with salmon. 1500 W Division St (773-235-8100). Dinner. Average sushi roll: $10.
Tozi Korean BBQ
At first glance the menu here seems identical to every other Korean joint—bowls of bibimbap, chapchae noodles and grilling tableside. But a few twists give this spot the edge it needs to survive in this apparently tough (possibly cursed?) location. Big, fat, housemade mandoo dumplings are stellar, with skins so thin they're almost transparent. And the entire barbecue lineup, including tender short rib and well-marbled pork neck, is available as "tapas" at lunchtime. 1265 N Milwaukee Ave (773-252-2020). Lunch, dinner. Average main course: $17.