Best yoga studios and salons in Wicker Park
The best yoga studios and salons in and around Wicker Park offer traditional and unexpected services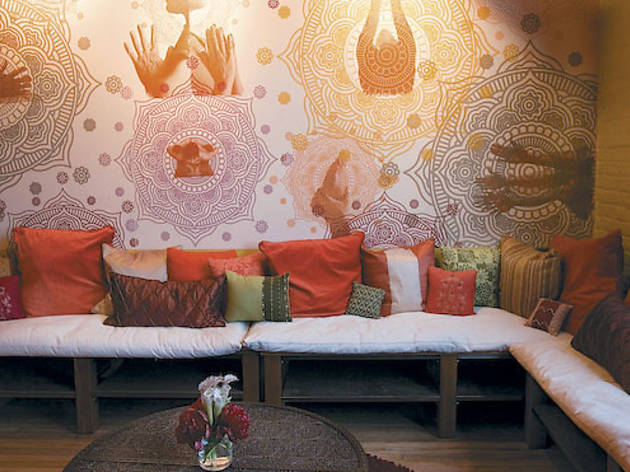 Bikram Yoga College of India-Chicago
This center follows the same philosophy as its sister studios in Lincoln Park and the South Loop, but offers an airier, crisper environment. Revel in the ambience created by wood floors, large windows and not much else. No need to traipse around with a yoga mat in tow—there's a rack of hanging rentals, available for a buck. Individual classes cost $17 each. 1344 N Milwaukee Ave (773-395-9150).
Juko Nail & Skin Rescue
Manis, pedis, waxing and lash treatments are on offer at this little gem in Wicker Park, where the staff is friendly, the vibe is happy and the services top-notch. Grab a pal (or a few) on a Monday or Tuesday for the $34 mani-pedi deal (regularly $40); only groups are eligible for the weekly deal. 2130 W Division St (773-772-2990).
Ruby Room
The steam shower (a shower that doubles as a steam room) alone warrants a splurge on one of the Ruby Deluxe suites at this spa's neighboring B&B, but the king-size beds, topped with pillow-top mattresses and feather beds, and a minimalist yet inviting aesthetic lend a sense of luxury to each of the eight rooms. You won't find a phone or TV in this joint; a stack of books (think a primer on healing crystals), a CD player and Wi-Fi access provide the only in-room entertainment. It's bring-your-own everything as far as food goes, with a shared mini fridge for basically storing your booze. 1743–45 W Division St (773-235-2323).
Salon Moka
Japanese pictures, prints and decorations are plastered on the walls, a nod to the owner's Japanese heritage, making the otherwise bare-bones salon and spa a little more Zen. Like the menu of hair services, spa treatments stick to the basics: massages, waxing, manicures, pedicures and facials. 1259 N Milwaukee Ave (773-292-4100).
Winchester Club Barbers & Hairdressers
Glass Coca-Cola bottles, black-and-white wall art and a vintage cash register set a laid-back, retro vibe at this old-school-style barbershop. Prices are reasonable: Beard trims will set you back only $10, a blowout with styling for ladies is a mere $30, and cuts for kiddos are $21. P.S. Your dog is allowed inside, too. 1925 W Division St (773-687-9057).
Yogaview
This studio's name is a play on the Buddhist expression "right view," the internal perspective that yoga gives you. Stop by Sundays for the weekly donation class and you won't even have to break the bank to incorporate a good mind/body workout into your routine. 1745 W Division St (773-342-9642).