Buzzy restaurants in Wicker Park and Bucktown
Birchwood KitchenNo matter what the weather's like outside, it is always sunny at this café. Lunch sandwiches—wine-braised pot roast on a...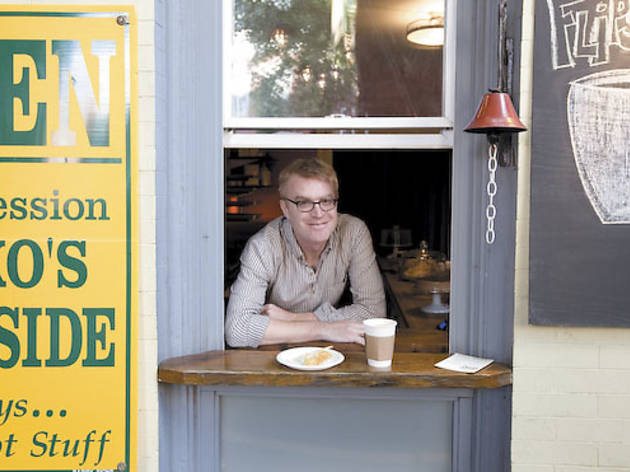 Birchwood Kitchen
No matter what the weather's like outside, it is always sunny at this café. Lunch sandwiches—wine-braised pot roast on a baguette, grilled goat cheese with curried cauliflower on sourdough—feature next-level flavor combinations. Burger nights, weekly specials and an outstanding weekend brunch are perfect excuses to drop in for every other meal, too. 2211 W North Ave (773-276-2100). Brunch (Sat, Sun), lunch, dinner (Tue–Fri) (closed Mon). Average sandwich: $8.
Francesca's Forno
Though its space and menu were recently rehauled, Francesca's Forno looks awfully familiar. While the menu exhibits an adventurous spirit here and there (corkscrews of pasta tossed with sliced octopus), things are mostly played safe. And most of the time (exception: the pasty gnudi), Francesca's is good at safe. Which is why getting the braised pork shoulder with soft polenta or the breaded veal cutlets with caper brown butter sauce is a good idea. Can you spread it on bread? Order it. 1576 N Milwaukee Ave (773-770-0184). Brunch (Sat, Sun), dinner. Average small plate: $8.
Le Bouchon
Yes, it's small and crowded, and you'll have to wait at the bar for a bit even with a reservation. But it's the closest thing Chicago has to that adorable little bistro in Paris. Regulars have their never-fail favorites: the flaky, caramelly onion tart; the robust onion soup with a gluttonous amount of Gruyère; the butter-topped steak flanked by perfectly crisp frites; the hard-to-find seared veal kidneys with mustard sauce; the feeds-two duck à l'orange; and the simple profiteroles. Only snootier waiters could make for a more French experience. 1958 N Damen Ave (773-862-6600). Lunch, dinner (closed Sun). Average main course: $19.
Miko's Italian Ice/Miko's Flipside Café
You'd think that a seasonal Italian-ice shop run out of the basement window of a two-story house would be easy to miss, but thanks to the legions of fans who fill the sidewalk with their strollers and leashed-up dogs, there's little chance of sidestepping it. We swoon over fleeting flavors like peach and black raspberry, but watermelon and lemon are just about as worthy of a detour. In the winter, the space transforms into a charming temporary hideaway for cold-weather necessities like pour-over coffee, grilled smoked-Gouda-and-cheddar sandwiches and double-chocolate cookies. 1846 N Damen Ave (773-645-9664). Lunch, dinner. Average baked good or ice: $3.
Ripasso
Anyone familiar with Terragusto, Theo Gilbert's previous restaurant (whose two locations are now closed), will be walking down memory lane at the restaurant's newest incarnation in Bucktown. Our fondest recollections: the rich, savory onion custard called sformato and the delicate, squash-filled "pope's hat"–shaped pasta in brown butter. To set the experience apart, stick with the beautiful housemade pastas and take advantage of the well-executed cocktails. 1619 N Damen Ave (773-342-8799). Dinner (closed Mon). Average main course: $16.
Sublime Sushi
Do toasted pine nuts go with raw tuna and mango? How about cilantro with truffle oil and white tuna? At this cute sushi spot outfitted with natural-wood tables and stylish industrial-metal chairs, the answer is: as long as you can roll it all together, of course. Dozens of fun maki amalgams make up most of the menu here, rounded out by a basic but fresh selection of sashimi (tuna, salmon, yellowtail) and a couple of salads (crunchy seaweed in sesame-oil vinaigrette). While matching ingredients for the rolls is up to the sushi chef, the BYOB policy means you're responsible for the other important pairing, so don't forget to pick up a bottle of wine. 2009 N Damen Ave (773-772-8744). Lunch, dinner. Average maki: $8.
TipsyCake
Want a cake shaped like an iPhone? A Rubik's Cube? A bag of Cheetos? Aussie pastry chef Naomi Levine is your woman, and this bakeshop is her laboratory for monumental fondant-wrapped special-occasion cakes. If you're still waiting for the moment when you need a cake shaped like a hot dog, TipsyCake also offers a small selection of brownies, petit fours and a wonderful confection called the Famous Caramel Slice—a layered bar of chocolate ganache and caramel. A generous and affordable daily afternoon tea appeals to all ages with traditional Australian scones, ample sugary sweets and enough sandwiches to constitute a meal. 1944 N Damen Ave (773-384-4418). Mon–Sat 10am–7pm. Average pastry: $3.