Make a day of it
There's enough going on in Wicker Park & Bucktown to keep you busy from morning 'til night.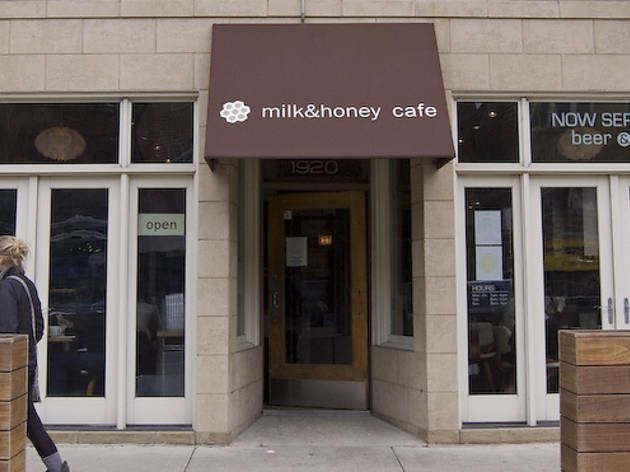 Start off your Wicker Park/Bucktown day with a little fuel. Caffeinate at Filter (1373–75 N Milwaukee Ave, 773-904-7819), where the coffee comes with a pleasantly cruisy atmosphere—you might find someone to spend the day with. Or try the luxurious brunch at Milk & Honey (1920 W Division St, 773-395-9434), whether that means huevos rancheros (weekends only), thick slices of French toast or a bowl of the famous oatmeal.
Grab a cozy cardigan or a sexy Twinkle dress at Trillium and a plaid button-up and skinny tie for your fella at Penelope's (1913 W Division St, 773-395-2351). You'll need it when you hit the neighborhood nightlife scene later.
Browse the neighborhood's numerous galleries, like the upscale moniquemeloche or the edgy Roots & Culture Contemporary Art Center. After a day of exploring, treat yourself to a Detox Soak pedicure at Spa Soak, or an easy-on-the-wallet massage at Spa Forever.
Grab a pre-dinner drink (and bypass the late-night lines) at the Violet Hour (1520 N Damen Ave, 773-252-1500). If the bar's corridor is already packed, just head across the street for a whiskey at Big Star (1531 N Damen Ave, 773-235-4039). Done with dinner but not quite ready to hit the bars? Stop by HotChocolate (1747 N Damen Ave, 773-489-1747) to sample chef-owner Mindy Segal's incomparable desserts. Round out your evening with a little clubbing. If you want to chill out with a touch of class, try Danny's. If you're in a more raging, party-the-night-away mood, Debonair is open 'til 3am on Saturdays.