Shopping in Wicker Park and Bucktown
Asrai GardenWalking into this floral boutique offers a breath of fresh air, literally. Far from your average florist, Elizabeth Cronin decks the space in...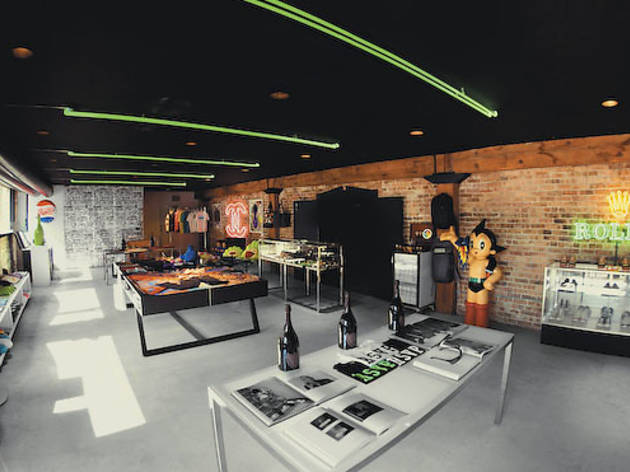 Asrai Garden
Walking into this floral boutique offers a breath of fresh air, literally. Far from your average florist, Elizabeth Cronin decks the space in everything from wild flowers to extraordinary succulents, mixed in with home decor à la faux stuffed moose heads and citrus-scented candles. 1935 W North Ave (773-782-0680). Mon–Sat 10am–7pm; Sun noon–5pm.
Carhartt
Hipsters continue to embrace blue collar–flavored Americana, and that extends to workwear brand Carhartt. It's clear the company doesn't mind the association. The family-owned, Michigan-based company is known for its rugged and durable apparel—think heavy-duty jeans, overalls, jackets, work boots and more. And while we don't know too many construction workers living (or shopping) in Wicker Park, we certainly know plenty of residents in the 'hood who dress the part. 1518 N Milwaukee Ave (773-278-5218). Mon–Sat 11am–7pm; Sun noon–6pm.
Chrome
You can find Chrome bags in a handful of Chicago shops, but this Wicker Park outpost carries the complete collection. In addition to the popular bags, the store features footwear and cycling apparel. Shoppers wanting a unique bag can build one at the store's Chrome Customs sewing station. Stop by the shop for the Third Thursdays monthly music series, bike and skate video viewings, and alley-cat races. 1529 N Milwaukee Ave (773-661-0077). Mon–Sat 11am–8pm; Sun noon–6pm.
The Edit
Store owner Morgan Gutterman fills her Bucktown shop with a carefully curated collection of women's apparel and accessories. Look for denim from DL1961, flirty dresses by Naven and more. The shop also offers personal shopping, one-on-one styling and private parties. 1917 N Damen Ave (773-252-3350). Tue–Sat 11am–6pm; Sun noon–5pm.
LUSH
Next time you need a quick gift, head to this British-born bath and body confectionery. All its delicious candy-colored products are made by hand from all-natural ingredients in small batches, making them as effective as they are attractive. The superscented bath bombs are a cult favorite, and at around $5 each, you can afford a little indulgence for yourself as well. 1727 N Damen Ave (773-227-3946). Mon–Sat 10am–8pm; Sun 11am–6pm.
RSVP Gallery
Looking for cool? You'll find it at this lower-level Bucktown shop. RSVP is like an indie product blog come to life, stocked with plenty of covet-worthy items—many of them exclusive to the store. Hard-to-find styles include Phillip Lim's men's line, Comme des Garçons BLACK and the Just Don hat Jay-Z wore in the "Otis" video. And now that you know where to find them, scoop up these übercool products before they sell out. 1753 N Damen Ave (773-770-6666). Mon–Sat noon–7pm; Sun noon–5pm.
Vividbraille
In 2003, Brock Willsey launched VividBraille as a T-shirt line. The brand has since expanded and is housed in this Bucktown shop. In addition to VividBraille, other men's and women's lines featured in the store include Yuketen, Naked and Famous, Gnrl Qtrs, Chaser, Red Wing, Field Notes, Duluth and more. 2064 N Damen Ave (773-772-8536). Tue–Sat noon–8pm; Sun noon–5pm.
Wicker Park Inn
Details like exposed brick walls and a woodburning fireplace lend the five rooms in this family-run B&B that cozy feeling of staying at, well, someone's home. If the continental breakfast isn't a must, you can opt for more privacy in one of three neighboring apartments that the B&B also owns (just make sure to bring your earplugs if you sign up for the Blue Line as you'll hear the El all night long). Bonus: The inn offers complimentary day passes to the nearby Wicker Park Fitness. Rates start at $139. 1329 N Wicker Park Ave (773-645-9827).