Wellness | Wicker Park/Bucktown Guide 2013
[Old-school faves] Art + Science The latest offerings at this popular Wicker Park salon include something for the fellas. A barbershop in the back of Art +...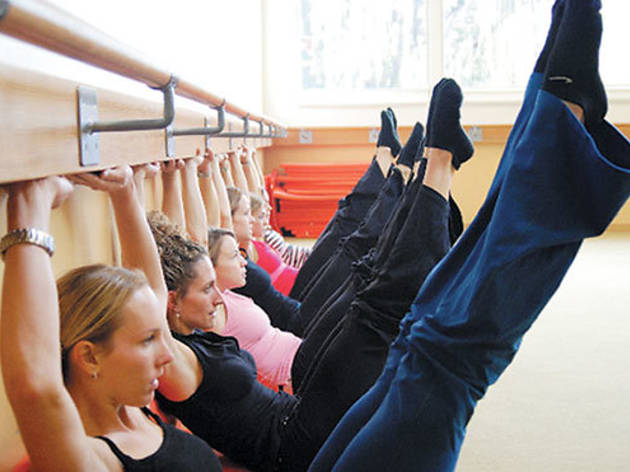 [Old-school faves]
Art + Science The latest offerings at this popular Wicker Park salon include something for the fellas. A barbershop in the back of Art + Science features a team of barbers offering men's haircuts ($45) and other services such as beard trims ($18), beard shaves ($35), full shaves ($45) and complimentary neck trims. You'll also find other salon services, including hair cuts, coloring and waxing within the main space. 1554 N Milwaukee Ave (773-227-4247). Tue–Thu 10am–9pm; Fri 10am–8pm; Sat–Sun 9am–6pm.
Ruby Room It's a healing sanctuary, a spa, an elixir bar, a yoga studio, a crystal bar, a hair salon, a meditation studio, an educational laboratory, an apothecary and a makeup-to-lifestyle-products retail space all rolled into one 10,000-square-foot space. The biggest difference between Ruby Room and most other spas is that its treatments skew more to your energetic system with such offerings as intuitive-energy healing, chakra cleansing, crystal-energy healing and astrology. Owner Kate Leydon may have created a spa dynasty, and from the briskness of business here, it looks like she has plenty of followers. 1743–1745 W Division St (773-235-2323). Store: Sun–Fri 10am–7pm; Sat 9am–7pm.
Trim If there were such a thing as a pain-free Brazilian wax, you'd find it here. Alas, no such thing exists, but Trim comes pretty damn close. Before mercilessly ripping out your hair, the aestheticians rub oil on your skin, softening it prior to waxing. We tried it once, and now we'll never let anyone wax us before applying the much-needed oil beforehand. It makes the difference between a hair-raising nightmare and a painful but manageable treatment. The spa offers a multitude of hair-removal services, from full face threading to back waxing. 1629 N Milwaukee Ave (773) 276-8746). Mon–Thu 9am–10pm; Fri 9am–9pm; Sat 9am–6pm; Sun 10am–6pm.
[Modern classics]
Circle Salon The significance of the name of this Wicker Park salon is twofold. It applies as much to its environmentally sensitive ethos—a corrugated cardboard and twine display case by local designers the Mighty Bearcats showcases the zero-impact product line Davines—as it does to the social-networking hub the salon intends to become. In addition to offering cuts, waxing, makeup application and services such as extensions, the salon features one-on-one lessons on everything from brow shaping to blow-drying. 2135 W Division St (773-715-1026). Tue–Thu noon–8pm; Fri 10am–8pm; Sat 9am–5pm.
The Dailey Method This fitness studio among the trendy shops in Bucktown combines ballet barre work, core conditioning, stretching and orthopedic exercises in classes offered, uh, daily. The combination of exercises works on toning, strengthening and lengthening, and each class lasts just an hour. 1714 N Damen Ave, second floor (773-904-8913). Hours vary.
Karen Marie Salon For Chicagoan Karen Marie Vanoni, deciding to be a hair colorist was a no-brainer. "I was always into hair and art," she says. After 15 years of working at the top salons around town, this master colorist struck out on her own by opening Karen Marie Salon in November 2009. At the laid-back Bucktown shop, Vanoni works with like-minded artists who not only share her passion for great hair but for the environment, too. The shop incorporates elements such as ecofriendly hair products, plus it donates all its hair clippings to Matter of Trust, which uses them to soak up oil spills around the world. 1859 N Milwaukee Ave (773-227-4003). Tue, Sat 10am–6pm. Wed–Fri 11am–8pm.
Kelly Cardenas Salon This Paul Mitchell–concept salon has that stark, yet cool vibe thanks to the black salon chairs, bright white walls and black hair dryers hanging from the ceiling. Services include hair cuts, colors, blow drys, hair extensions and more. The salon also has an outpost in Las Vegas. 1909 W North Ave (773-342-4474). Tue noon–9pm; Wed–Fri 11am–9pm; Sat 9am–4pm.
Lustre Skin Boutique This adorable Bucktown spa is all about facials. Treatments begin with questions about how often you're outside, and what hair, skin-care and makeup products you use. Your therapist uses this info to blend products from the all-natural skin-care line from Hungary called Éminence. For example, sweat-clogged pores are cleansed with a Lime Stimulating Masque; sunburned skin benefits from Sour Cherry Whip Moisturizer. The products smell delicious and feel luxurious going on. But the real fun comes when you look in the mirror afterward: Your face is firm and glowing and feels soft and supple. 1755 N Damen Ave (773-278-8777). By appointment only.
Mercury Method The brainchild of fitness expert Lara Hudson features hour-long classes that combine strength training, Pilates, yoga and endurance conditioning in a 98.6-degree room. Classes are on the more affordable side ($16), and new customers can purchase a "first-time only" package of six classes in six days for $6. 1444 N Milwaukee Ave (773-661-2994). Hours vary.
Red Square A massage and a cocktail? That's what you'll find in the former home of Division Street Russian and Turkish Baths, which is making a comeback under the name Red Square. The remodeled space still features sauna and steam rooms ($30 for the day) as well as massages and other spa services. Make a day out of your visit by also spending time in the spa's upstairs restaurant and bar. 1914 W Division St (773-227-2284). Mon–Fri, Sun 8am–11pm; Sat 7am–midnight.
Wicker Park Athletic Club The latest location of the Chicago Athletic Club chain features the usual gym offerings (cardio and free-weight equipment, group exercise classes, yoga, personal training) as well as a few nicer perks: free Wi-Fi, towel service and free parking for members. 1635 W Division St (312-850-4668). Mon–Thu 5am–11pm; Fri 5am–10pm; Sat–Sun 7am–9pm.