Korčula bar guide
Time Out's recommends some great bars and nightspots on Korčula Island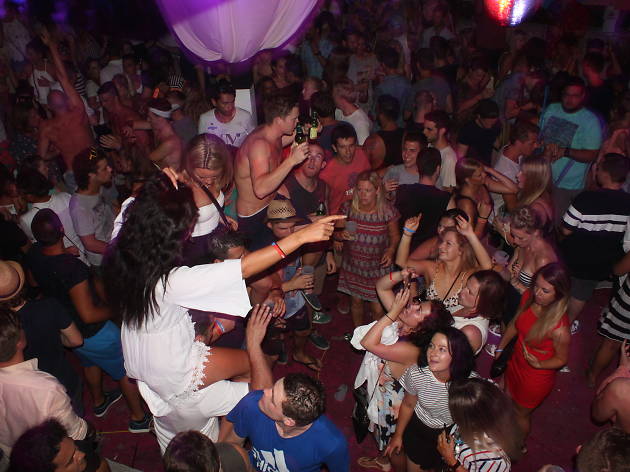 You can find the usual seafood-diners-cum-cocktail bars here, as well as some snazzier nightspots. Late-night options have drastically improved with the arrival of Boogie Jungle, where international deejays spin tunes on al-fresco terraces. Read on for our guide to the best places to drink on Korčula island.
Where to drink in Korčula..
Korčula has been crying out for a proper nightclub for years, and it has finally arrived in the form of Boogie Jungle, a ranch-style agglomeration of buildings on a terraced hillside 3km from town on the Žrnovo road. Opened in 2012 and enlarged in time for the opening of the 2013 season, the club comprises a largely al-fresco series of terraces and awnings with VIP areas, three bars, and plenty of room to circulate and mingle. Surrounded by dense Mediterranean greenery and with the capacity for 1,500 people, it's the ideal venue for a long night of revelry. Palms, cacti, drapes and coloured lights provide the atmosphere, and there's a long list of wines, long drinks and cocktails. International DJs, themed events and festivals provide the peaks to a full summer programme.
Read more
Located right behind one of Korčula's best beaches, Beach Bar Mate augments the usual selection of cold drinks with some highly welcome extras, including home-made herbal syrups, Dalmatian pršut snacks, sandwiches made with home-baked bread, and Mate's own wine.
Read more
Latest addition to the behind-the-bus-station bar crawl, Bili cvitak ('Little White Flower') is a snazzy café-bar decked out in cool blacks and greys, with an outdoor terrace that swarms with drinkers on warm evenings. With a pumping sound system, disco lights and a mirrorball, Bili Cvitak's back room is your best hope for a bop come the summer season. There's a temptingly-priced range of cocktails, and the list of bottled beers includes Leffe.
Read more
Set under the turrets of the 15th-century Zakerjan Tower in the northern fortifications, Massimo is accessible by stairs, then ladder. Standard cocktails in lurid colours come to you by pulley as you take in the view as far as Pelješac. The problem may be getting down afterwards. One of the original destination bars to speak of in Korčula town Massimo faces now increasing competition from the likes of Maksimilijan Garden Lounge & Beach Bar.
Read more
Hidden from the bus station by a cute wedge of park, Servantes offers a decidedly eccentric interior of irregular-shaped mirrors and pebble-dash effects, and a shady, lawn-side outdoor terrace. As well as the usual beers and wines they have a decent list of spirits including kruškovac (pear brandy), orahovac (walnut) and medica (honey).
Read more
You know when you walk in that you've come to the right place for local wine and rakija grappa. The decor is simple: a bar; bar stools; a wall of wine, and a map indicating where the labels come from. Regulars, including the odd Moreška dancer, provide the atmosphere, catching up on gossip over a plate of sardines, pršut ham or cheese with the knowledgeable staff. All the wines are local, from Korčula and Pelješac.
Read more