Croatian beaches are the reason so many flock to Europe's most beautiful coastline. Some feature fine shingle, others sand, and most are made of smooth pebbles. All are lapped by a pristine sea, clean and clear. What you see has been here for millennia, a long, rugged, indented coastline fringed by more than 1,000 islands, almost all unblemished by man, industry or motorboat. The range is astounding: some are pure serenity, while others attract toddler-wielding families seeking play-spots in the sun. On some you'll hear the background buzz of bars and café strips – on others, nothing but the waves.
Facilities around beaches are usually pretty simple – at most a couple of cafés nearby. Some have showers and changing areas. Beach footwear is advisable, both for the stones and the occasional sea urchin you might come across.
Gornja Vala, Gradac
This, the largest beach on the Adriatic coast, sits at the southernmost end of the Makarska Riviera. It's a pallid expanse of alabaster-white pebbles, sheltered from port winds by olive groves and pine trees. The active can play sports here, and the free-spirited can amble down to a nearby nudist beach.
Copacabana Beach
A half-moon of pebbles and gravel set in Seka Bay, Copacabana is Dubrovnik's best family-friendly beach. Studded with luxury white loungers and deckchairs, it offers watersports, paddle boarding and inflatables for the kids. The beachside restaurant offers decent Croatian wine, fresh juices and smoothies. There's even a table service of cocktails to your sunlounger. The sunset boat trip comes recommended, Dubrovnik basking in the golden light of sunset.
Palmižana beach
They may only be an easy taxi-boat journey away from Hvar, but the Pakleni islands are other-worldly. As well as the famed botanical wonderland of Palmižana, there are more verdant beaches on the islands, including Mline and Stipanska, which is nudist.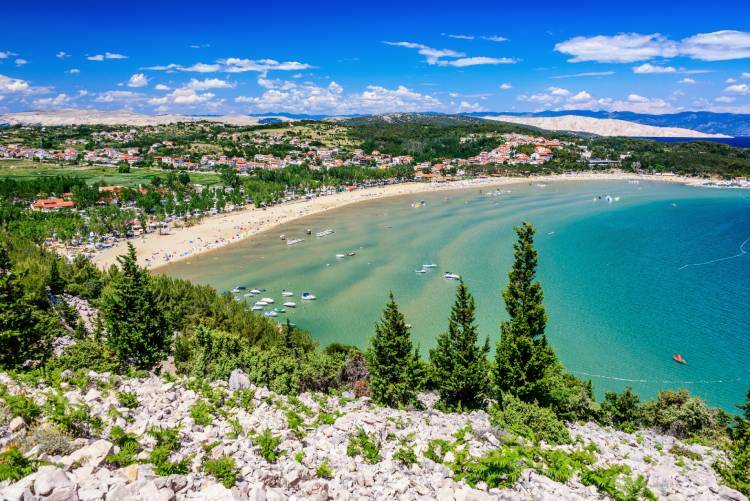 Rajska plaža, Lopar
Rajska plaža ('Paradise Beach') ticks all the right boxes. It's long, sandy and shaded and the water is unusually shallow, meaning that you can paddle without panicking for a whole kilometre – at the end of which you'll reach a little islet. You'll find the beach on the Lopar peninsula, at the northern tip of Rab.
Telaščića Bay, Dugi Otok
On the Zadar archipelago, this nature park is one of the most healthy-looking places you can visit. There are a number of little coves at the cusp of a warm, saltwater lake – it's the natural world's sublime answer to the man-made spa.
Zlatni rat, Brač
This is probably Croatia's most famous beach, and it deserves every accolade it gets. Often referred to as the Golden Cape or Golden Horn because of its distinctive shape, Zlatni rat is a gloriously golden stretch of pebbles that reaches out into the Adriatic, its shape ever altering slightly with the tide. This shifting tongue of shingle, 4km from Bol, is ideal for windsurfers.
Spiaza Beach, Susak
Susak island is the sandiest of all, and Spiaza beach is its majestic, shore-hugging centrepiece. The beach is at the fringe of Susak village, child-friendly because of its shallow bay, which remains at paddling depth for almost half a kilometre. Slightly quieter Bok bay is further east, behind a rocky headland. Both guarantee tranquillity – determinedly peaceful Susak has no roads, cars, or nightclubs. You can reach it by daily ferry from Lošinj or by catamaran from Rijeka.
Bačvice, Split
Split locals love this shallow, shingly bay, a short walk from the city's main bus station. The beach features an art-deco style pavilion lined with cafés and shops, where crowds dine and drink into the evenings. In the shallows, many play games of picigin, a Dalmatian version of water volleyball. While it doesn't offer seclusion, Bačvice is convenient and bags of fun.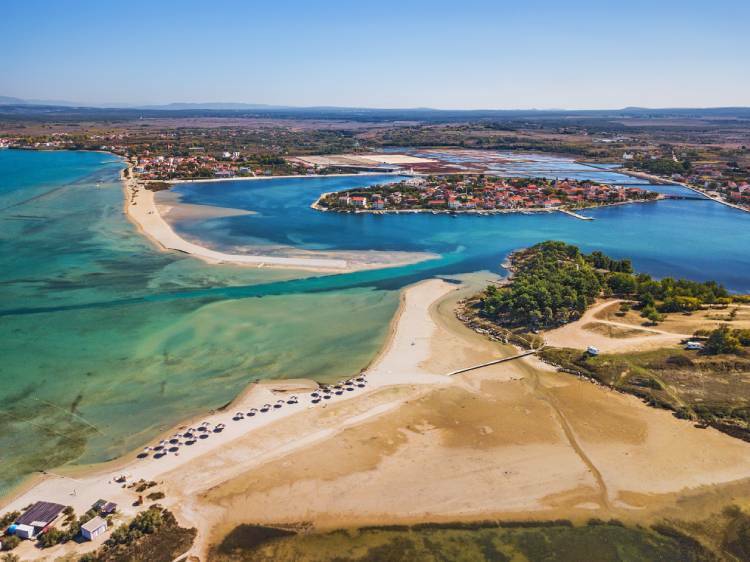 Kraljičina plaža, Nin
Nin comprises 8,000 staggering metres of sandy beach – largely untouched, and visited by only the most committed tourists. Here, beaches have an unusual, dramatic edge: they're backed by grassy dunes, with the medieval town of Nin lurking in the background. Kraljičina plaža ('Queen's Beach') is the area's crowning jewel. It offers a string of beach bars and, as you breathe in the sea air and gaze into the horizon, you'll be entranced by views of the Velebit mountains. A trip to this beach can double up as a mini spa break, too: there's a bank of peloid mud just behind it, which soothes sore joints and muscles.
Proizd, Vela Luka
A ferry takes you from Split to Vela Luka, and a taxi boat completes the journey to the islet of Proizd. A quartet of bathing areas, each a five-minute walk away from the next, is tiled with hot slabs of stone lying in wait for sunbathers. People come here to skinny-dip, snorkel or sizzle on a rock, and make their heady ways back to Vela Luka to feast by the moonlit sea.
This article is sponsored by The Croatian National Tourism Board: 'Croatia Full of Life'