Around the world, the saying goes, "all you need is love". Well in Zagreb, all you need is Ficlek.
Opened in March of 2020, the restaurant has already made its mark on the city's culinary scene as the ultimate champion of authentic, local cuisine.
Ficlek is Zagreb's only eatery that exclusively serves traditional Zagreb classics, from widely beloved štrukli (fresh cheese dumplings) to less-known delicacies such as ajngemahtec (an everything-but-the-kitchen-sink stew loaded with veggies and chicken).
We sat down with Marijana Zlomislić to hear all about the restaurant, including exciting new menu additions and fabulous events.
What to chow down on
"Ficlek is actually an old Zagreb word meaning 'bite', in the sense of 'snack', or 'morsel'", Marijana tells us.
The restaurant's name comes from a key part of its offerings; Croatian-style tapas, or ficleks, if you will.
Ficlek guests are encouraged to come either for a full-on meal, or simply enjoy a drink and/or some of their ficleks. It might be difficult, though, to stop at a beverage when you catch sight (or whiff!) of Ficlek's tapas. Their scrumptious offer includes platters of house-pickeled cucumbers, bell peppers, and chili peppers; and fresh cold cuts from local farms.
Along with the fantastic ficlek selection, the restaurant's menu is chock-full of other hearty goodies, too. Think everything from traditional soups, across rich entrees, to mouthwatering desserts. And earlier this October, it got even better with nine new dishes - or old, if you consider how time-honoured they are as historical Zagreb meals.
"Our entire menu is made up of meals prepared in the same way, with the same ingredients, as the mothers and grandmothers of Zagreb have been doing for ages!", Marijana notes.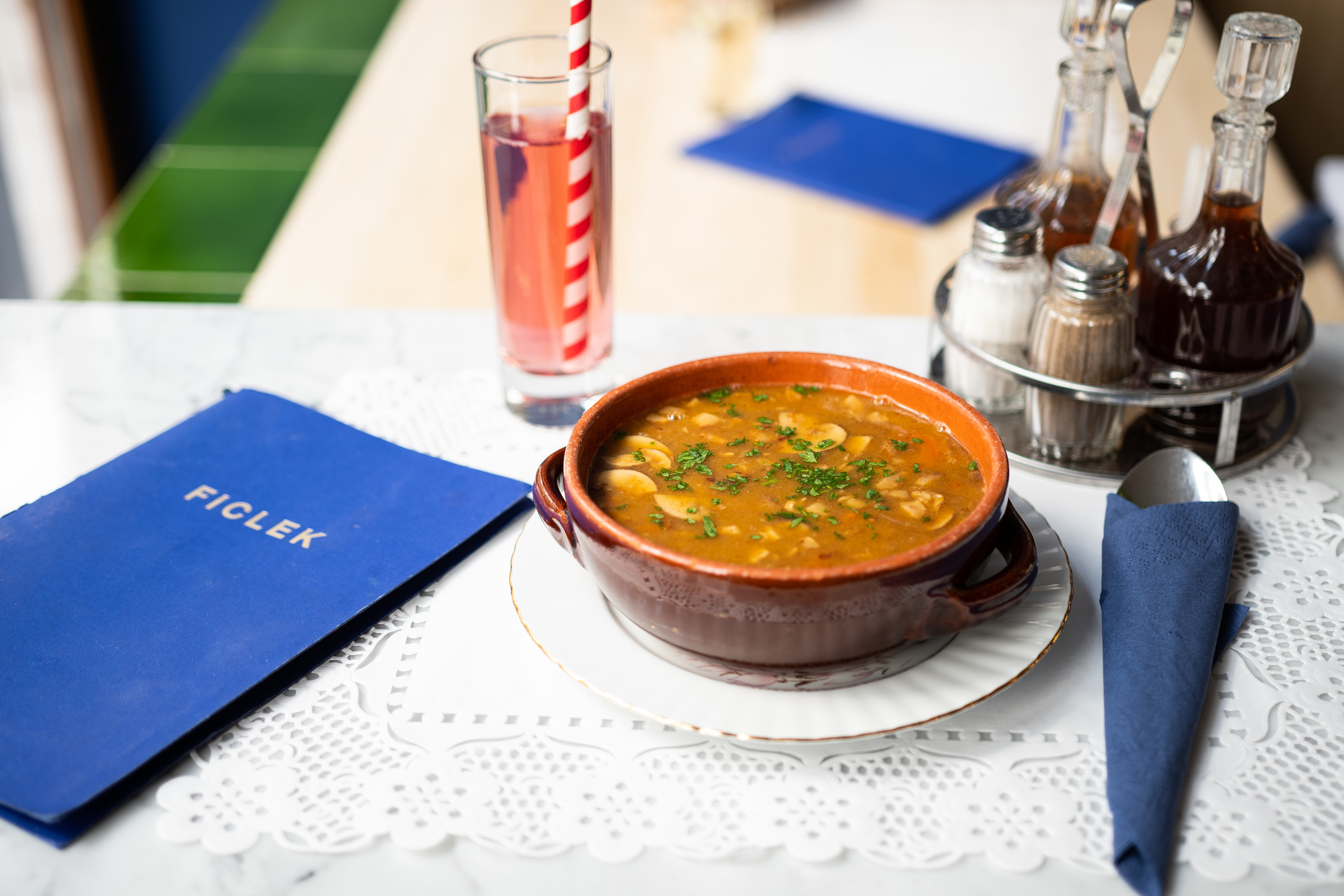 One of the new dishes is Zagorska juha. In courses of Zagreb cuisine, the first order of business is traditionally soup - though this marvel could double as a main meal in and of itself.
This is a rich soup of savoury, smoky flavours enriched with ham, bacon and mushrooms.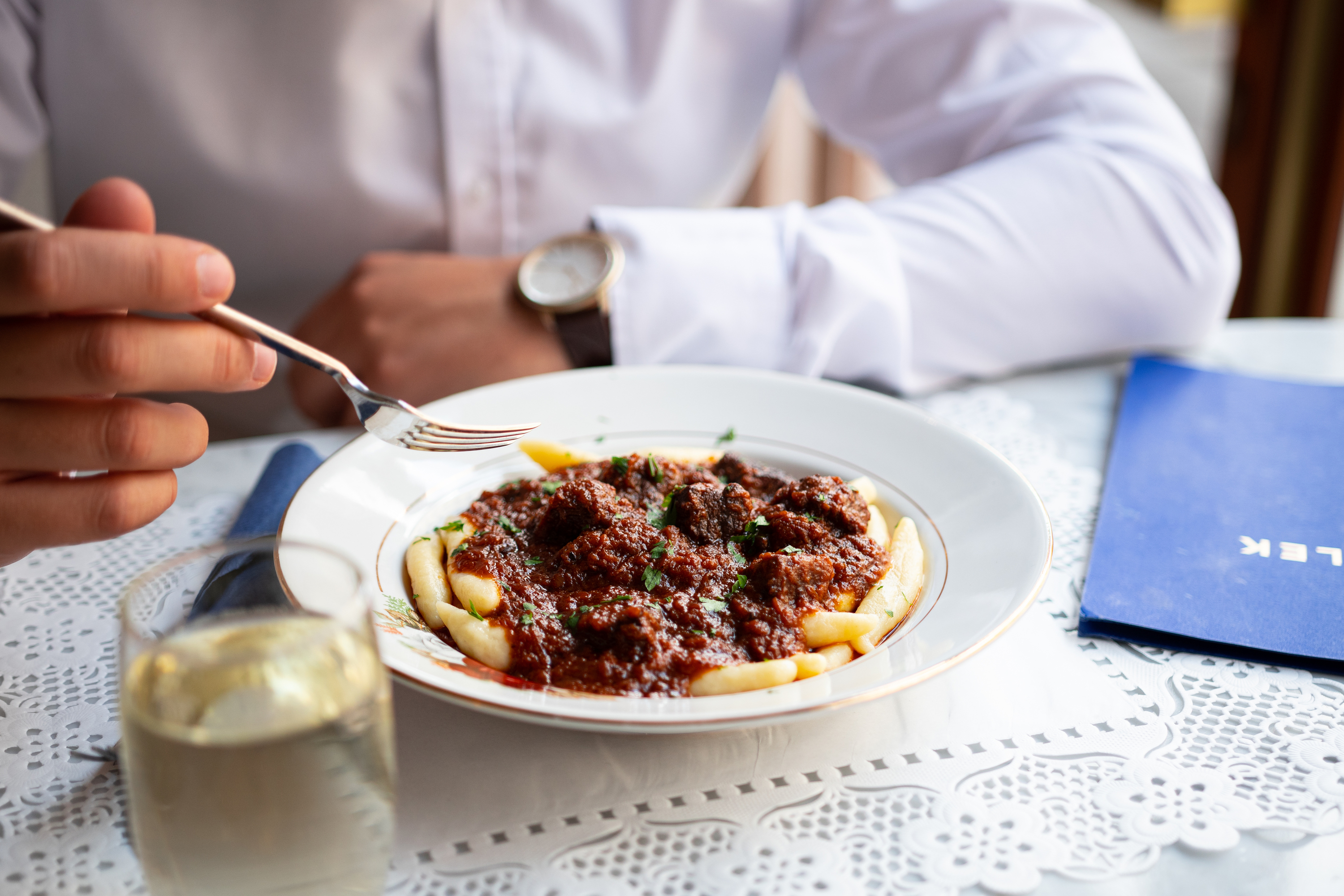 Ficlek's Šufnudle s junećim raguom are to die for. This dish consists of handmade schupfnudel - thick, short noodles - with slow-cooked beef ragout.
You can try this, or any dish you wish, with a selection of Ficlek's sides and sauces. "We work very closely with small, family-owned producers from Zagreb and its surroundings. We procure only the highest-quality products and ingredients. It's very important for us to know where each piece of food comes from.
"For example, our Samoborska muštarda mustard dip is made by the Filipec family", Marijana adds.
Here's a doozy: Grillana teleća jetra.
Veal liver is freshly bought from the minute-away Dolac marketplace, and then prepared on the grill to stay juicy. As an additionally authentic touch, it's served alongside a tasty parsley topping with garlic.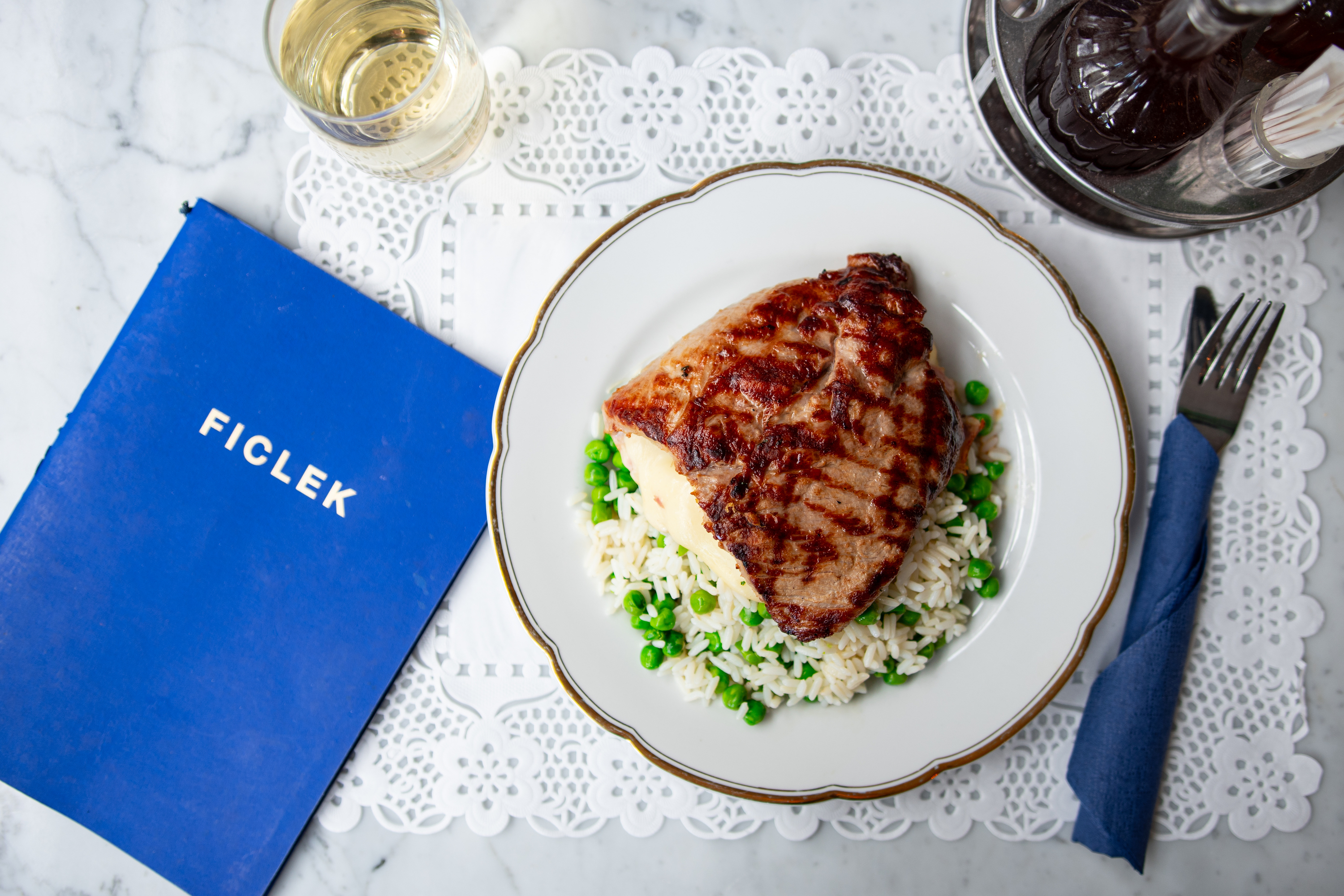 Dimljeni punjeni lungić is the pork-based dish of your dreams. This is the perfect cut of pork loin, stuffed with cheese and ham.
Marijana tells us, "Cheese and ham are bought fresh from Dolac each day. Like everything else, ham is never bought cooked, always fresh - and then carefully made by our chefs right in Ficlek".
The fresh pork loin is briefly smoked for an extra note of flavor.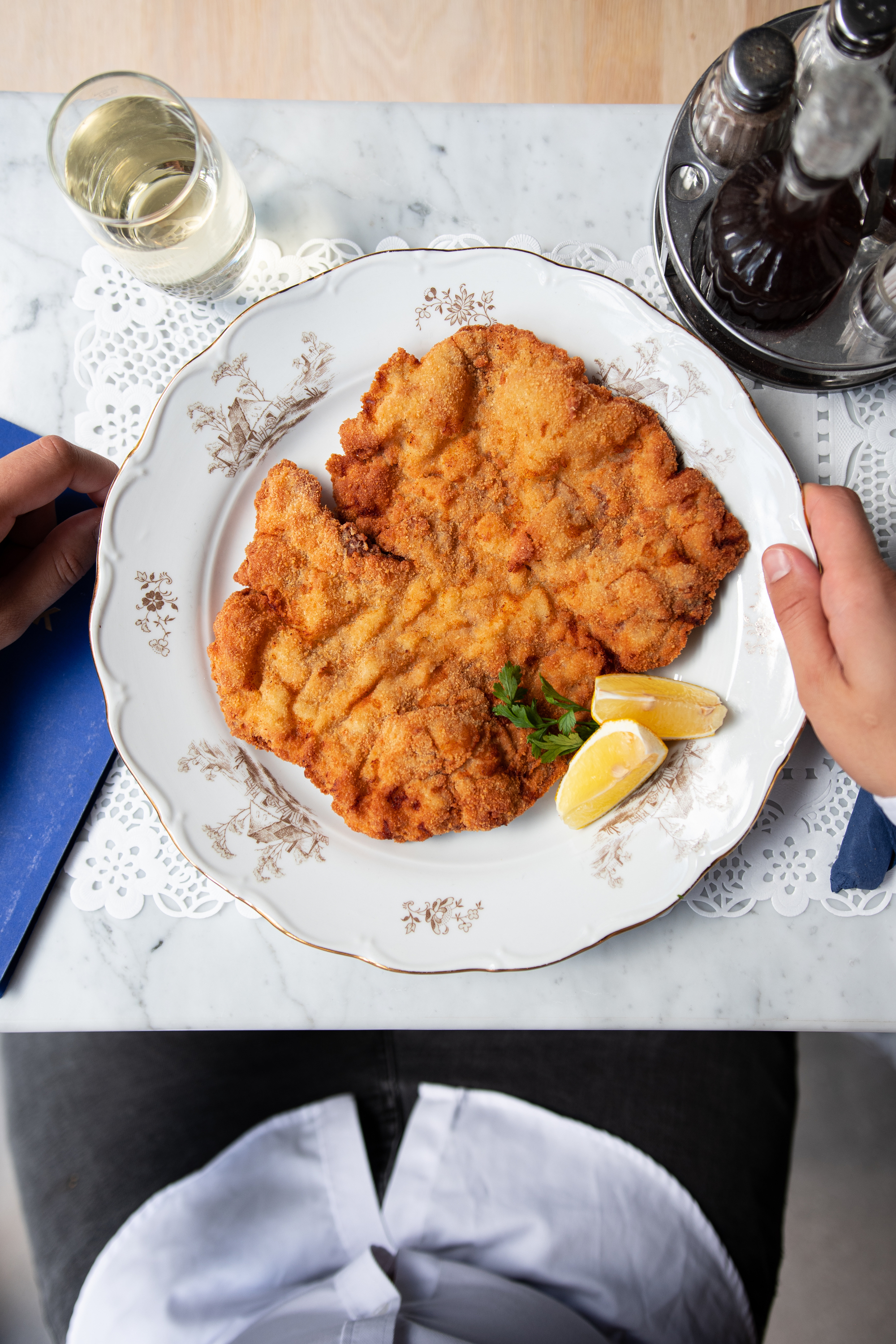 "At Ficlek, veal is veal. There are no fancy masquerades here, just time-tested recipes that have been loved for centuries", Marijana notes.
The mammoth Bečki odrezak is a beloved classic indeed. It's a big, crunchy Viennese steak made from from high-quality veal from Dolac, served with fresh lemon.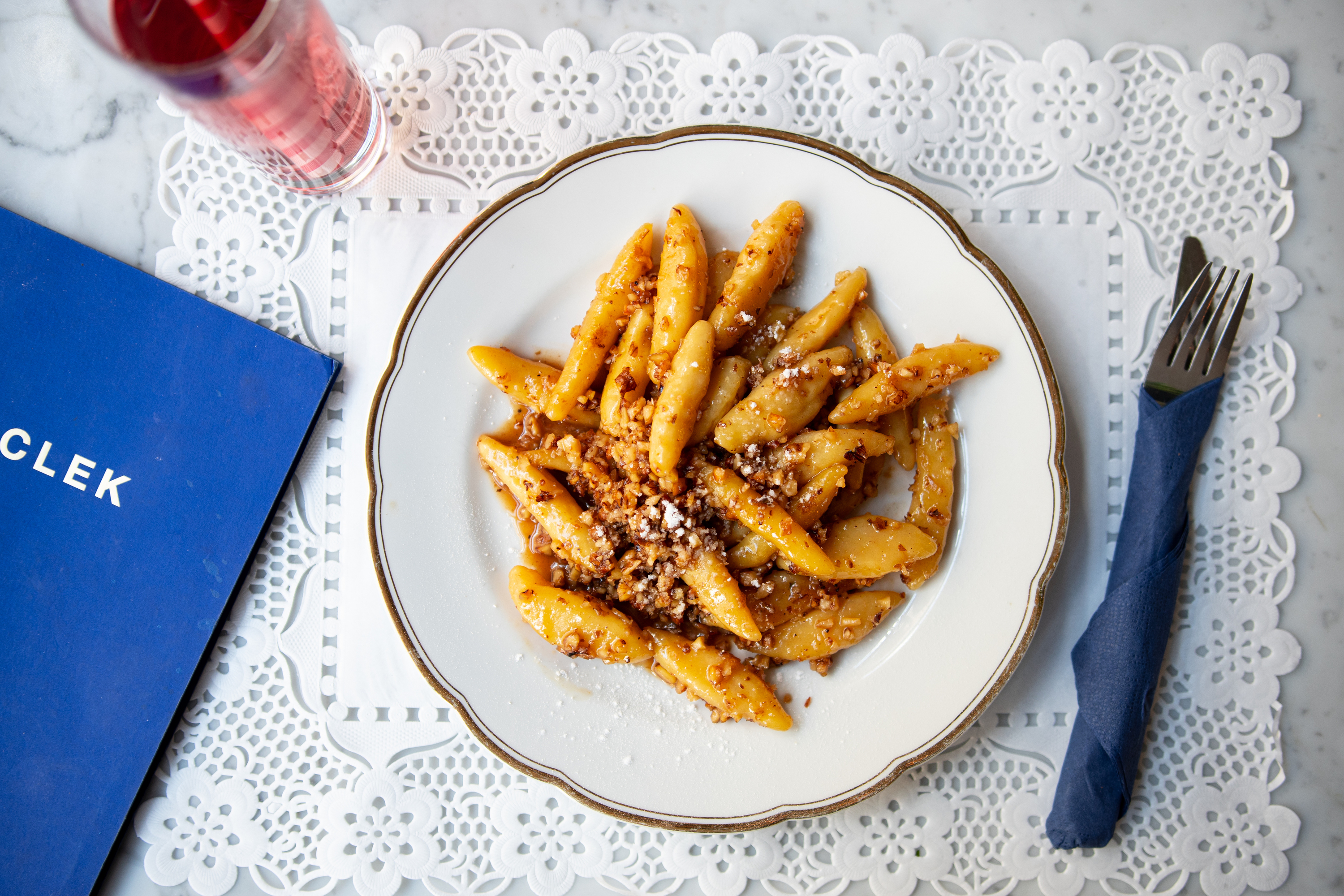 Šufnudle are a truly versatile noodle, managing to be as delicious served sweet as savoury.
Šufnudle s orasima is a dessert with schupfnudel (handmade, obviously) in a nectary sauce with walnuts.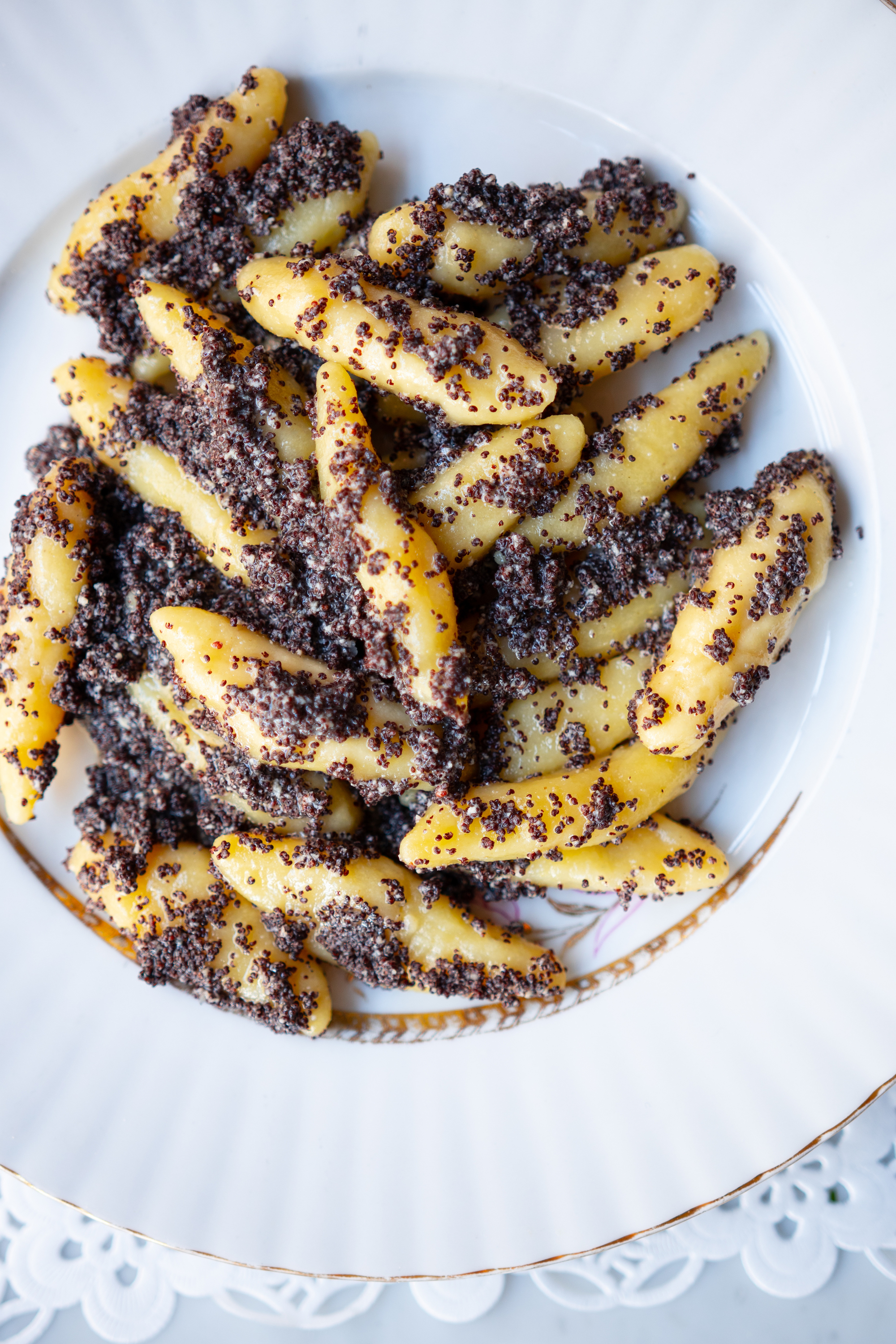 Ficlek can't get enough šufnudle, and once you try them, neither will you.
Šufnudle s makom is also a dessert variety in which the delightfully thick noodles are served with poppyseed sauce, prepared according to the recipe of a local Zagreb mother.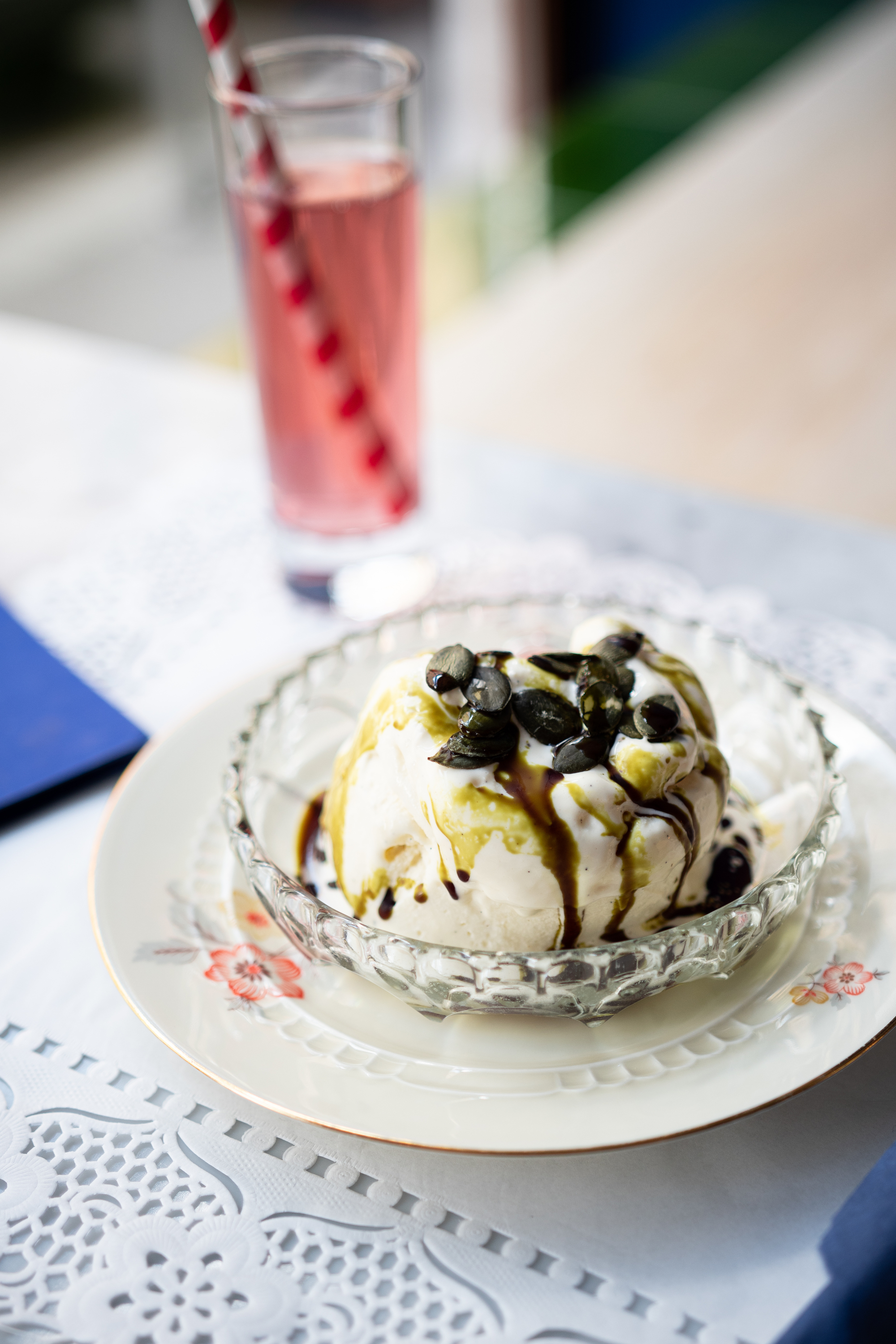 I scream, you scream, we all scream for - Sladoled s bučinim uljem i bučinim sjemenkama.
This absolute delight consists of creamy vanilla ice cream topped with high-quality pumpkin oil and crispy pumpkin seeds.
Nothing but pure pleasure for your final course at Ficlek.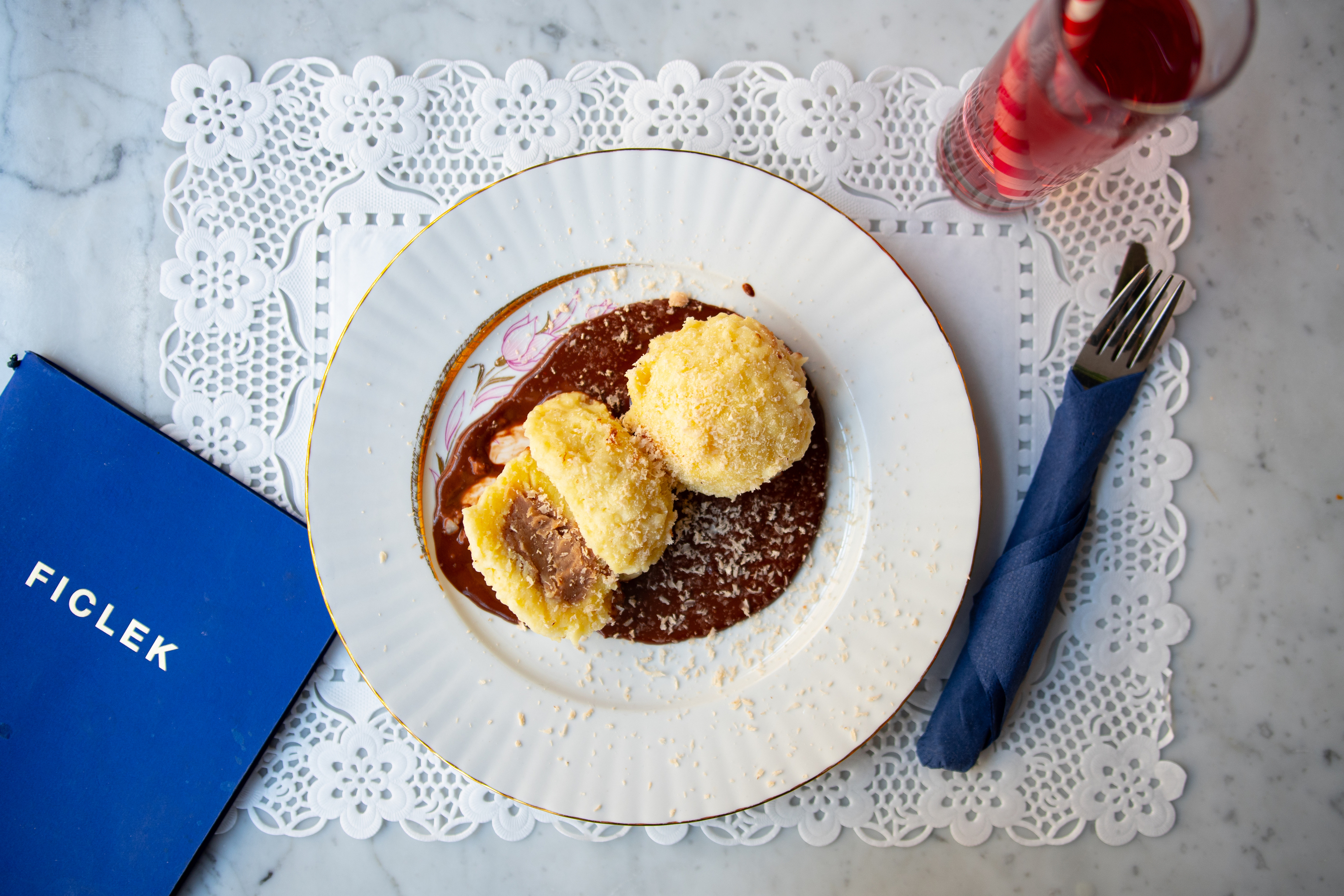 This one will knock your socks off.
Knedle s kestenom i čokoladom is one of the best dishes at the restaurant - and that's saying something. Made with chestnut-filled dumplings in a sea of melted chocolate, this dream dessert is seasonal, so get it while you can!
No matter which dishes choose, you're sure to leave feeling satiated - and satisfied.
To wash it all down, Ficlek offers a drink menu which focuses on quality and deliciousness through and through. It features Medvedgrad Brewery beer, and wines and spirits from microlocal areas (from the surrounding regions of Plešivica, Zagorje, Međimurje and Moslavina), and beyond. Each renowned wine label on the menu was carefully chosen for flavour and excellence.
The non-alcoholic beverage selection is highlighted by non-carbonated and carbonated juices. Marijana comments, "We have the classics Zagreb kids have grown up with for generations. Elderflower juice, raspberry juice, cherry juice...".
Ficlek, a total sensory experience
We've established that your taste buds will be given the red-carpet treatment in Ficlek. But your eyes and ears are in for a real treat here, too.
Ficlek's top-notch ambience was no fluke - a lot of care, time, and love went into its formation.
Marijana explains, "Before the restaurant was established, old books and old cookbooks were researched in depth. We wanted to discover everything about the spirit of dining in Zagreb from the 20th century.
"No detail was too small. We studied what meals were served, how they were prepared, what the interior layouts of Zagreb's restaurants looked like, who dined out and when..."
Decor and ambience
Marijana describes the ambience at Ficlek as being alive with a "pleasant murmur."
"This is a spot where everyone can feel at home. No one is left out here, whether you come in with a group or alone.
"There's a long bar to sit at, an airy layour, and even the kitchen is open and has a seating area in front of it."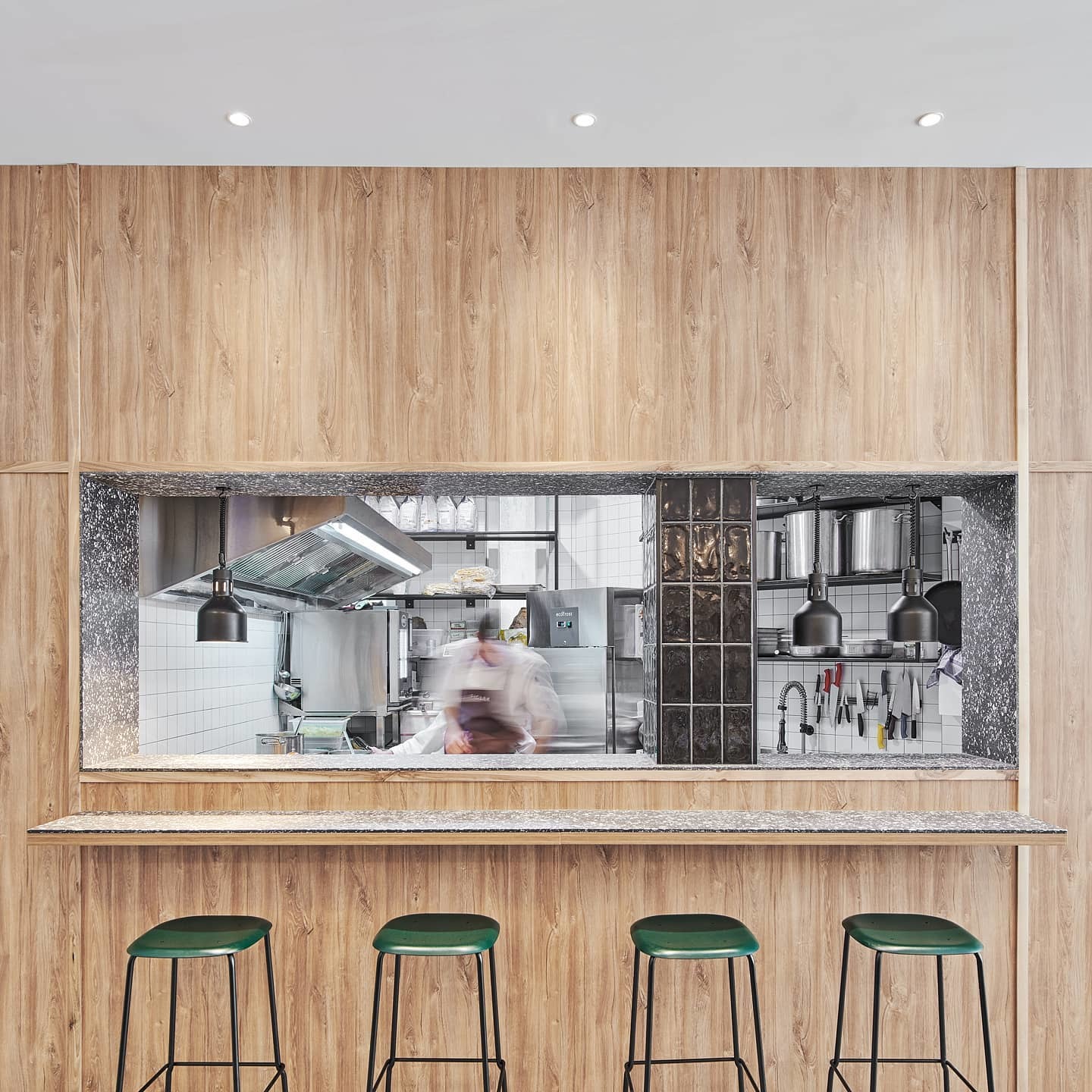 "Ficlek's decor was sourced from vintage shops, flea markets, and local family homes. Think everything including lighting fixtures, old-school salt and pepper shakers, and porcelain plates with flower details, which you could find in any Zagreb grandma's kitchen", Marijana tells us.
"One of our funniest and favorite stories is that of the Viennese steak. As you can see, it's huge! When we started making it, we realized none of the plates we had were big enough to hold it!" Marijana laughs.
"So, we put out a call for donations, asking locals to bring in any large vintage plates and platters they may have. Whoever gave us a plate, got a free Viennese steak!"
Another of Ficlek's crowing jewels is its bar, which is covered with white marble and lined with masonry heater tiles.
Not so long ago, before the era of central heating, Zagreb's families warmed their apartments and houses with tiled masonry heaters. Ficlek's bar is a beautiful nod to these old-school staples of Zagreb homes.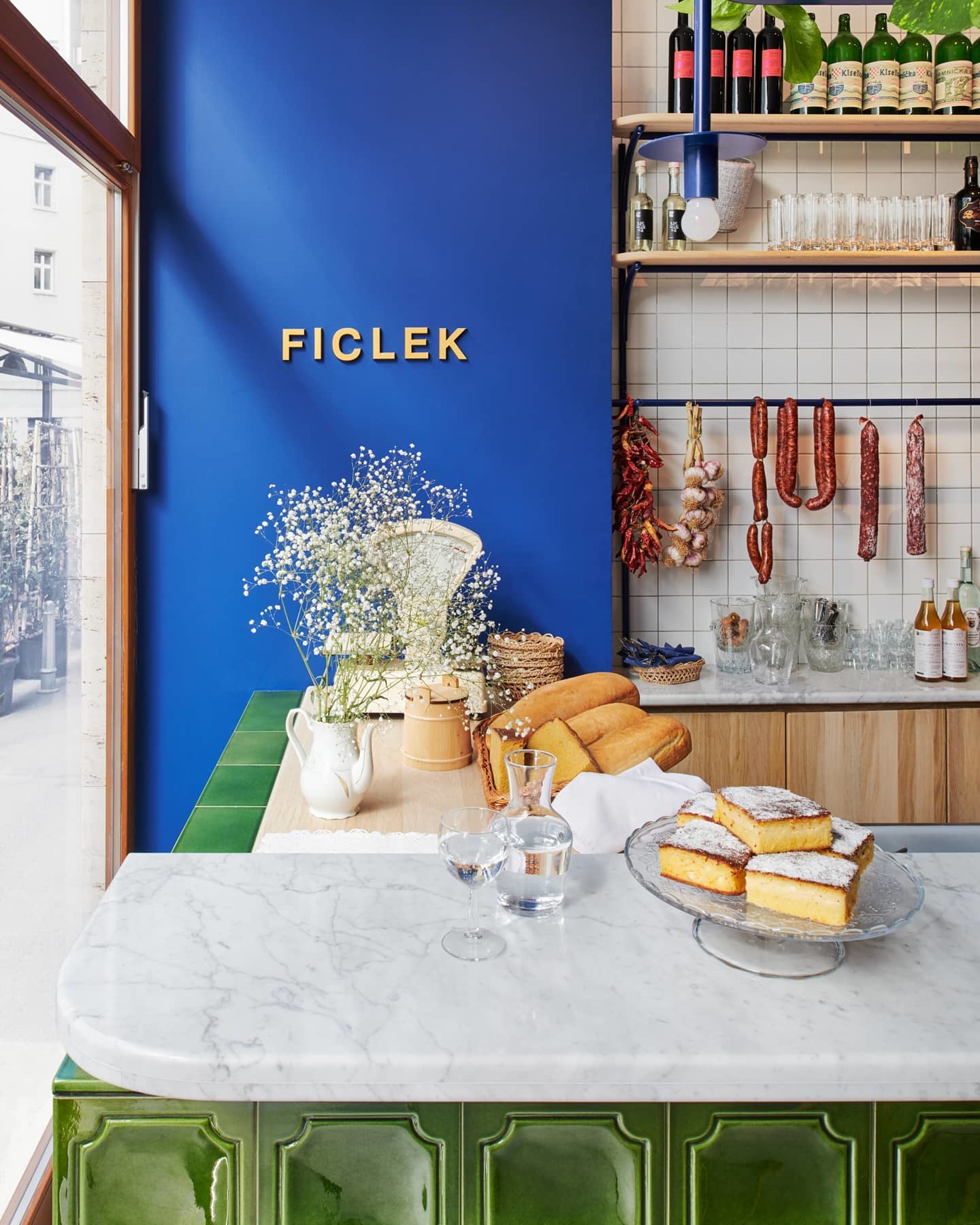 On the atmosphere, Marijana concludes, "Ficlek is informal and cheerful. There's a real 'Sunday supper' feel, like you're enjoying delicious food and relaxing with family".
Of course, the restaurant's beautiful, central location smack between the Zagreb Cathedral doesn't hurt, either.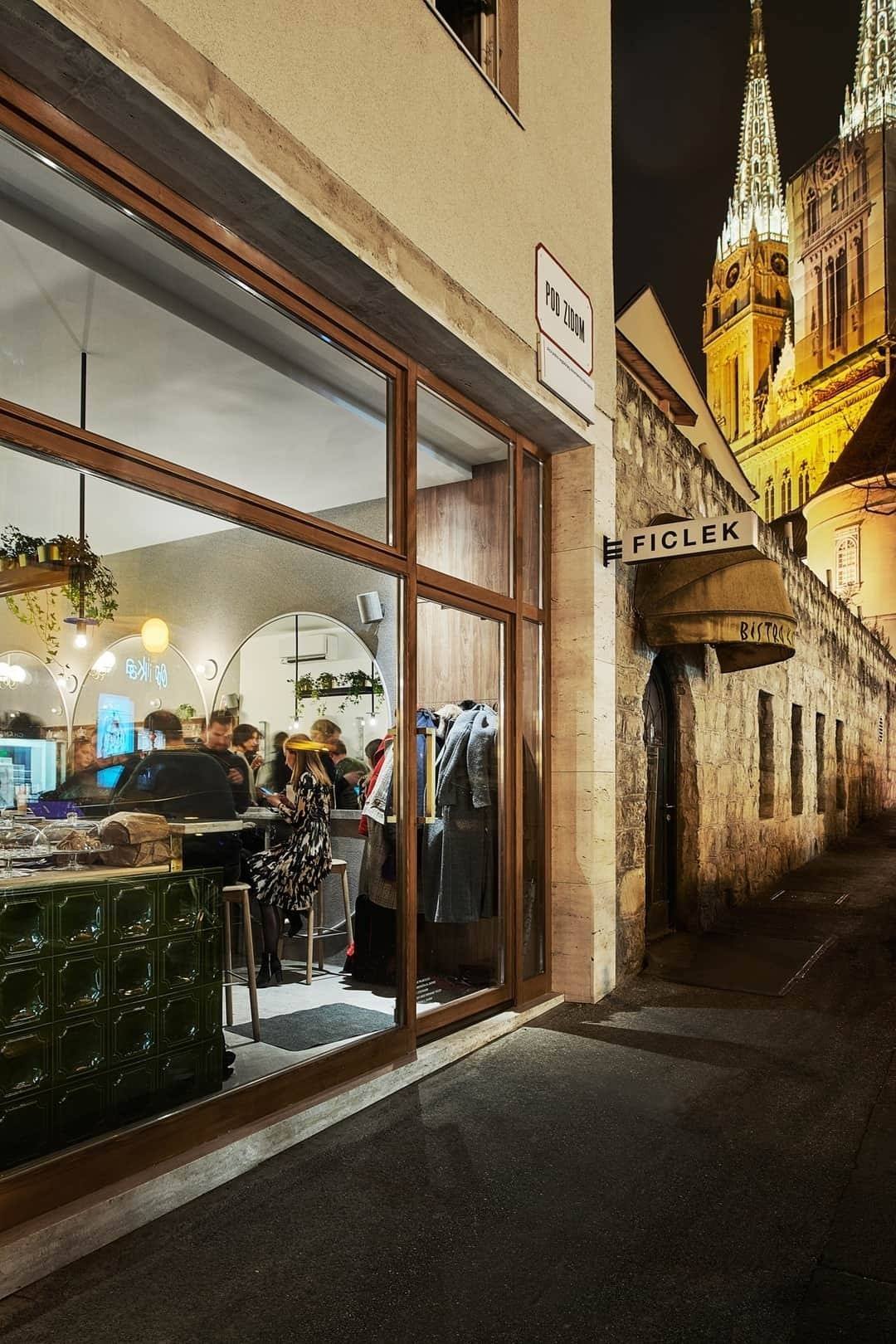 Happy hour at Ficlek
"This is more than just a spot for lunch. Ficlek is alive from morning to night", Marijana says. There's really no bad day or time to visit Ficlek.
But at happy hour, you can make the most out of its high quality beverage menu. Every week from Monday to Saturday, delicious drinks are offered at lowered prices.
"It's the perfect time to unwind after work, or get started on a night out. Kick your feet up with a glass of anything from our Musolini (gemišt made with carbonated raspberry juice) to homemade champagne cocktails", Marijana recommends.
Don't be surprised you get enticed by a ficlek or two while you're sipping on your gemišt. That just means you've truly embraced the Zagreb spirit of pure enjoyment - which, at Ficlek, is the point!
Ficlek truly makes the classic, magic. Find their Facebook page here and Instagram page here (don't forget to keep an eye out for wine and gastro night announcements!)