The incomparable Dubrovnik leaves nothing to be desired for travellers lucky enough to visit. Known - very fittingly - as the "Pearl of the Adriatic", this city is a true triple threat (in the best way), excelling across the fields of culture, nature and - food.
The glory of the Good Food Festival
Over the next few weeks, Dubrovnik will host the fan-favourite Good Food Festival from October 7-10. At the festival, guests will be able to savour the best fine-dining Mediterranean menus around, taste delicious local wine and beer, chow down on mouthwatering street food dishes, embark on gastronomic tours of the city, attend exclusive culinary workshops... And so much more.
This can't-miss event is only made better by the fact that it takes place as part of the city's renowned Restaurant Week (which lasts from October 4-10), allowing guests to relish the best of local and regional cuisine at promotional prices. So, if you've ever daydreamed about washing down a plate of the freshest sea-to-table fish with a glass of Adriatic sun-ripened wine - you've come to the right place.
All those who consider themselves foodies, gourmands, bon vivants - and anyone who just loves eating and drinking - should head to Croatia's southernmost city next month. Back for its eighth edition, Dubrovnik's annual Good Food Festival (which will be held with the necessary epidemiological safety measures in place) somehow manages to get even better and better with each passing year.
Talented chefs across over thirty Dubrovnik restaurants have seen to the creation of marvellous menus tailor-crafted for guests of the Good Food Festival. If this will be your first time in Dubrovnik, you'll have a world-class choice of new, phenomenal restaurants. If you've already been lucky enough to experience the beautiful city, you can take the opportunity to check out new locales or revisit some of your favourites. During the entire week of October 4, visitors can eat their way through the city, popping in and out of the participating eateries.
Along with that, the festival promises a range of top-notch special events that will keep your stomach full, soul happy, and mind intrigued, as you learn firsthand about the genuine gastronomic heaven that is Dubrovnik. Guests can choose from culinary walking tours of the city, attend workshops such as "Rogač na kvadrat" (meaning, carob - which is a local specialty - squared) by master nutritionist Mirna Sarić, take a cocktail class using local ingredients under the guidance of top cocktail masters Leo Bautović, Ivana Vinković, and Mario Saulan, make their own contonjata (a traditional sweet cheese dish) ceramic moulds, and learn about wine from A-Z with a lesson from sommelier extraordinaire Ksenija Matić.
In addition to workshops, you'll be able to enjoy themed evenings, from the restaurant Orsan's "Fisherman's Dinner," across the Tavern Veranda's exclusive lunch "Istrian Gold - the Truffle," to the Sunset Beach Dubrovnik's healthy breakfast with yoga. International offerings include Cuban street food delicacies served up by Oli's Food Factory during the closing weekend, plus an "American Way" dinner at restaurant Urban & Veggie with the tunes of vintage gramophone records dreamily rolling in the background.
Check out the full festival schedule below.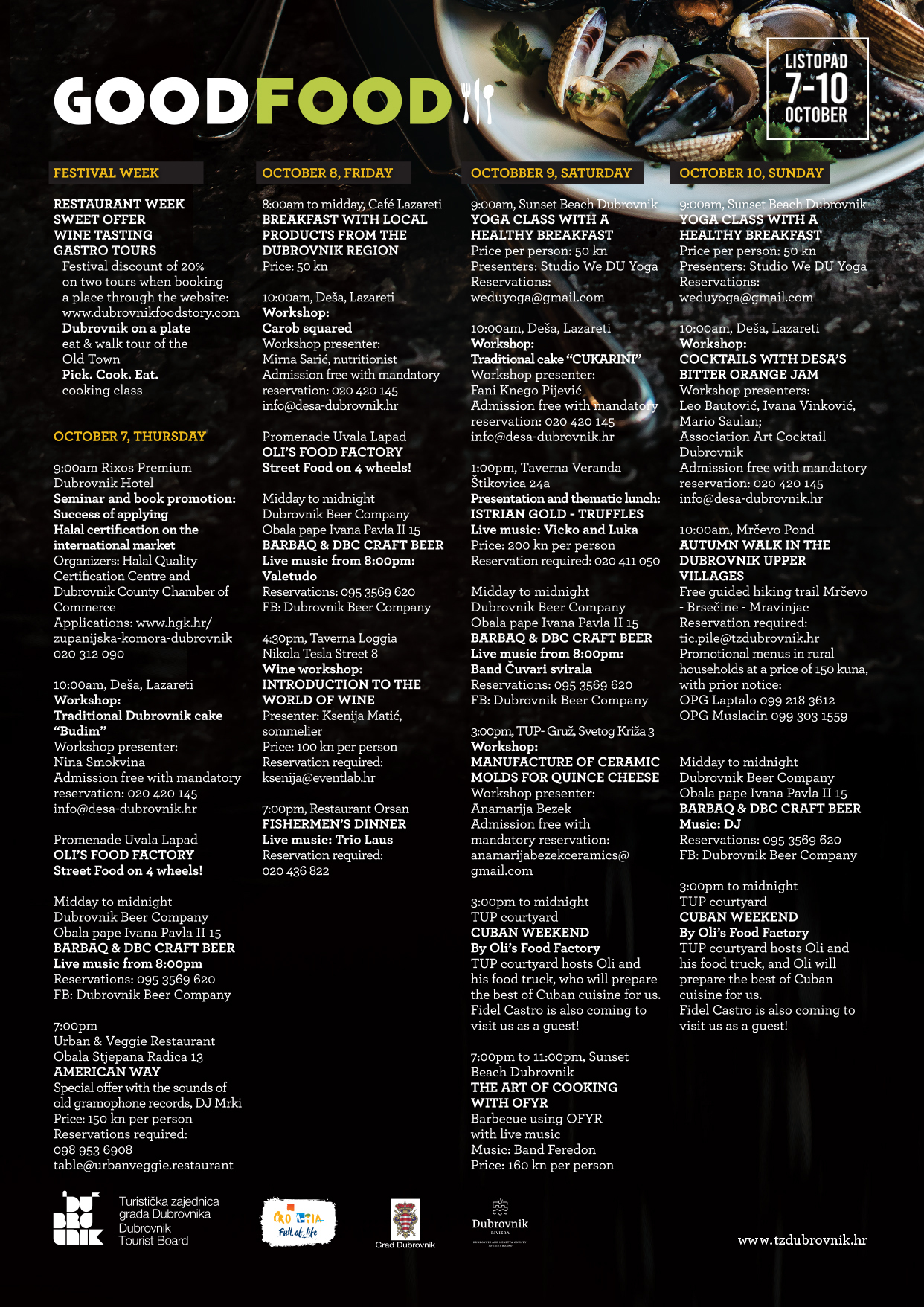 To make things even better, inclusivity and sustainability are also at the forefront of this year's Good Food Festival. The festival will be organized in accordance with the decision on restricting the use of disposable plastics for the City of Dubrovnik and institutions and companies in (co) ownership of the City adopted within the project "Plastic Smart Cities" whose main goal is to reduce or stop the use of disposable plastics in various segments of the social life of the city, as well as better management of plastic waste. There'll also be a seminar on Halal certification co-organised by the Center for Halal Quality Certification and Dubrovnik County.
Dubrovnik's delights
Today one of Croatia's sunniest and prettiest cities, Dubrovnik boasts a centuries-spanning history full of culture, art, science, and architecture. Dubrovnik's archaeological record attests to a past dating to the 7th century AD, though the area was likely settled even earlier. Always prized for its abundance of natural produce, the city was an important mercantile centre during the Middle Ages, gaining its status as the independent Republic of Ragusa in the 14th century and existing as a standalone entity through the 19th century.
During the years, Dubrovnik blossomed, in large part, due to its impressive inhabitants. Indeed, Marin Držić, one of the world's finest Renaissance-era playwrights, Ivan Gundulić, Croatia's most renowned Baroque-era poet, 18th-century physicist and mathematician Ruđer Bošković, and many more big thinkers, all called Dubrovnik home. The influence of such great minds, a community of hard-working citizens, and the luck of being located on one of the most alluring stretches of the Mediterranean coast all contributed to Dubrovnik's status as an unparalleled area of nature and humanity.
This is a place where the wine is constantly flowing,
... the produce is always garden-fresh,
... the just-caught seafood bursts with flavour,
... the meat is as savoury as can be,
... and there's always a delightfully sweet treat to follow it all up.
You'd be hard-pressed to find a place as perfect for a cuisine-focused festival as Dubrovnik.
The city's extensive museums, beaches, stone streets ripe for the strolling, and entrancing architecture ensure that in between bites - and sips - at the Good Food Festival you'll remain ever-satiated, ever-euphoric, and ever-in awe during your Dubrovnik sojourn.
This article was created in partnership with the Dubrovnik Tourist Board.