The first tourism conference following the summer of 2020 is slated for Tuesday, October 6, from 10AM to 2PM. It will feature a range of novel insights, including updated analyses, discussions, best practice examples, and suggestions on how to do business and create new tourism opportunities in the wake of COVID-19.
The conference, called Can Croatian tourism 365? Post-COVID tourism and new opportunities, is an event of utmost importance for the future of tourism in Croatia and beyond. Top experts in domestic and EU tourism will analyze this year's industry results while discussing challenges and opportunities both during and after COVID. Another key topic will be maintaining a sustainable tourism industry all year long.
Ministers from Croatia, Austria, Slovenia, and Spain will present strategic starting points for tourism development in the future. Speakers include the Minister of Tourism and Sports of the Republic of Croatia Nikolina Brnjac, the Minister of Economy and Technology Development of the Republic of Slovenia Zdravko Počivalšek, the Minister of Agriculture, Regions and Tourism of the Republic of Austria Elisabeth Köstinger and the Minister of Industry, Trade and Tourism of the Kingdom of Spain María Reyes Maroto Illera.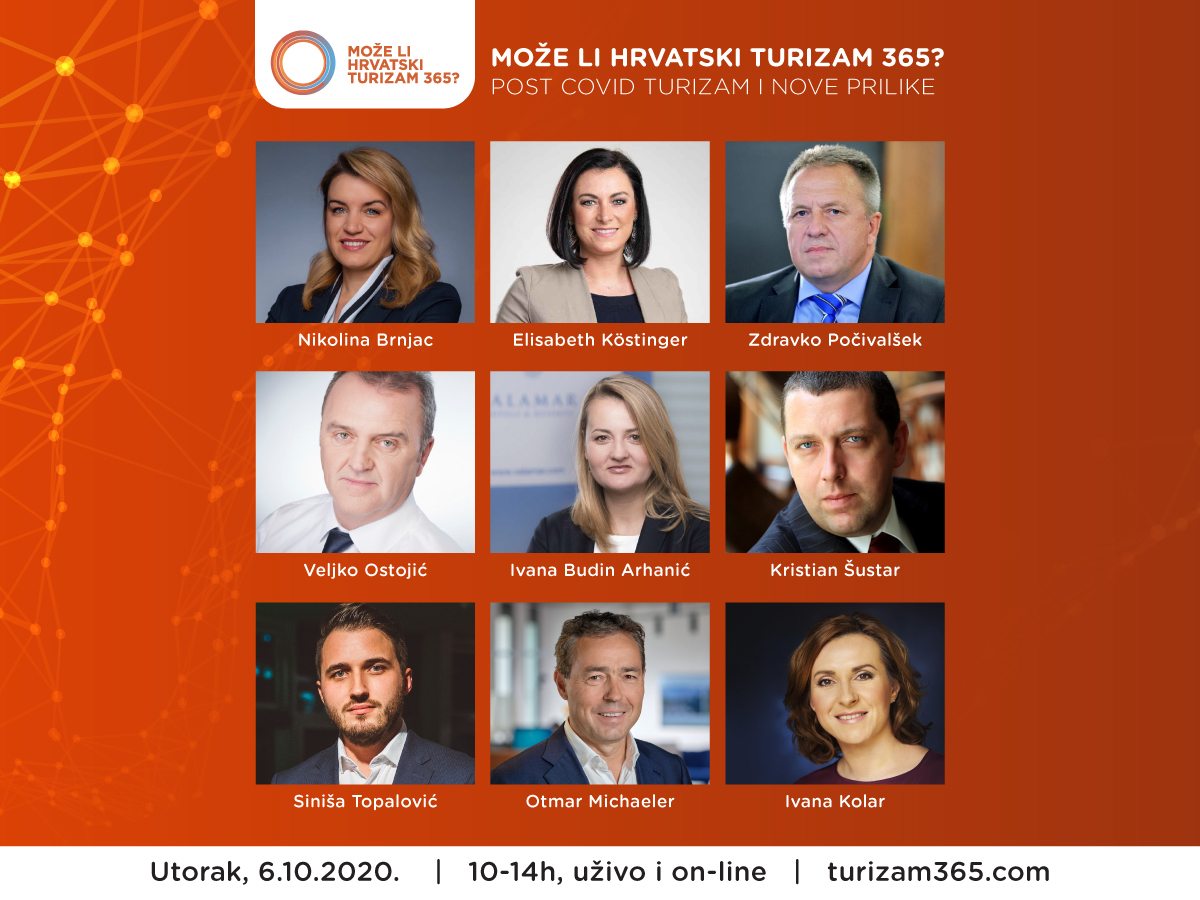 "For the first time ever, we have the opportunity to host four exceptional ministers to discuss the future of tourism. Ministers from Croatia, Austria, Slovenia, and Spain will present the starting points for tourism development post-COVID, with special emphasis on the Mediterranean region and year-round tourism.
In the field of tourism, it is extremely important for us to communicate, discuss, learn from each other, and keep contact within the industry. This year's conference aims to bring current analyses of market situations, stimulate reflection, uncover fresh ideas, and explore positive experiences in light of planning tourism in the future. Year-round tourism can definitely be part of the answer to COVID challenges.
It's time to be creative and brave. And, it's time to see each other again", says Ivana Kolar, conference organizer.
Analyses of the 2020 season and new trends will be presented by Siniša Topalović of Horwath HTL, and panel discussions on business development and the future of tourism will be held by: Otmar Michaeler / Falkensteiner Michaeler Group from Austria, James Chappell / Horwath HTL London from Great Britain, Sandeep Vohra / Roseview Investments & Advisors from Dubai, Veljko Ostojic / HUT from Croatia, Kristian Šustar / Uniline Travel Company from Croatia, Dominik S. Černjak / Jasna Chalet Resort from Slovenia, Nedo Pinezić / Dantes from Croatia, and others. Moderating the discussions will be Mislav Togonal, TV presenter and editor, Ivana Budin Arhanić / Valamar Riviera and Saša Muminović / SLO CRO Business Club.
The exclusive in-person event will be held at beautiful Terme Tuhelj with a limited capacity (there are only 30 registration slots - so act fast!), while an online version will be streamed for free (with mandatory registration).
Delve into post-COVID tourism by joining in on this insightful event here. All information about the conference is available on the official website here. Don't miss out on the opportunity to explore post-COVID tourism opportunities, and gain never-before-seen industry knowledge.
This conference is organized by the tourism consulting company, Julius Rose, with partners SLO CRO business club, Terme Tuhelj, and Skup za Zagorje business club.