Theatre, dancing, jazz, film, folklore, fine arts, classical music... All that and much more are on the menu at this year's Dubrovnik Summer Festival. The iconic event is one of the Croatia's best and most famous - plus, it's one of the oldest festivals in Europe.
Dubrovnik Summer Festival is on this year from July 10 to August 25, though its 71st edition will be a bit different due to epidemiological measures and financial consequences of the ongoing pandemic. Events will be held at reduced capacities and in accordance with COVID-19 measures laid out by the Croatian government.
Nonetheless, as always, the festival promises amazing culture, entertainment, and art aplenty.
Dubrovnik Summer Festival's fantastic programme
Over 40 performances are planned at various venues across the wonderful walled city of Dubrovnik.
The festival's opening ceremony, directed by Marina Pejnović, will take place at Dubrovnik's Old City Port on Friday, July 10. It will include a performance by the Dubrovnik Symphony Orchestra, conducted by Tomislav Fačini. Joining the grand opening are the Croatian Radio and Television Jazz Orchestra, conducted by trombone player and conductor Miron Hauser, pianist Aljoša Jurinić, mezzo-soprano Dubravka Šeparović Mušović and saxophonist Ivan Bonačić. Attendees will also get to see the Festival Drama Ensemble and Linđo Folklore Ensemble.
Terrific theatre
Dubrovnik Summer Festival's theatre programme will be hard to beat.
Among amazing plays will be a premiere of renowned Renaissance playright Marin Držić's Grižula, directed by Saša Božić and Petra Hrašćanec and performed by the Festival Drama Ensemble in collaboration with the Zagreb Academy of Dramatic Art. The play is part of the Future Epics project co-funded by the EU Creative Europe programme. Guests can catch the premiere at Dubrovnik's Gradac Park.
Also planned is Mirrors of Dubrovnik – Three Sprays of Laurel, Wormwood and Heather - a peripatetic play based on poetry from Dubrovnik's past and present. The dynamic play's main scenes will be performed at three different locations. Directing the play is Dora Ruždjak Podolski in collaboration with Marina Pejnović. Guests will take in the work of dramatuge and author Hrvoje Ivanković, who has fused work by artists across history.
Mara and Kata is another play set to take the Dubrovnik Summer Festival stage. The project is inspired by Radio Dubrovnik's legendary 20th-century show At Home With the Gossipmongers. The play is written and directed by Saša Božić and performed by actors Doris Šarić Kukuljica and Nataša Dangubić.
Like with previous years, the youngest festival-goers have something to look forward to, as well. The musical stage play The Golden Book will present fairy tales from Dubrovnik and its surroundings. It will be performed in a fun way - on the playground of Collegium Ragusinum. Co-produced by the Dubrovnik Summer Festival and Marin Držić Theatre, and supported by the Caboga Stiftung Foundation, The Golden Book is directed by Helena Petković, with Ivan Končić authoring the music and Franko Klisović performing it.
A bonus are two productions by the City Puppet Theatre Split: Home Dwellers by Ana Marija Veselčić, co-produced with the Split Art Academy, and Goga the Millipede (based on text by Adrijana Grgičević), co-produced by the Poco Loco Theatre. The two puppet plays will be performed in the Inter-University Centre Dubrovnik's atrium.
Marta and the Seven Fears by the KunstTeatar from Zagreb will be held in cooperation with the Split Summer Festival, along with Up and Up by Dance Ensemble Company from Zagreb in cooperation with the Croatian Dance Network.
European project Future Epics will bring to the play plate Embrace, choreographed by Meleat Fredriksson and produced by the Vytlicke Centre for Performing Arts from Sweden. The show's dancers will explore the 'black' and 'African view' as a way of questioning dominant western values. Another visiting play will be Intimacy, authored by Biljana Srbljanović and Andrej Nosov, and produced by Belgrade's Heartefact Fund. Two more visiting hits will take place in Gradac Park: Bobo Jelčić's Three Sisters (based on Chekhov), performed by the Croatian National Theatre of Zagreb, and Who is Afraid of Virginia Woolf? produced by the Ulysses Theatre and Belgrade Drama Theatre, and directed by Lenka Udovički and starring Rade Šerbedžija.
Fantastic film and art
The festival will also include a screening of the winner of the Pula Film Festival at Dubrovnik's Jadran Open-Air Cinema.
Film screenings and lectures under the name A Taste of Cinema will be hosted at the Bunić-Kaboga Summer Villa.
Guests will be able to enjoy art exhibitions, as well: take in the works of Dubrovnik artists Ivana Dražić Selmani and Viktor Daldon in the Sponza Palace's atrium.
Marvelous music
Distinguished Croatian musicians, many of whom are winners of prestigious international awards and contests, will also grace the Dubrovnik Summer Festival.
The musical programme kicks off on July 11 with a piano recital by Aljoša Jurinić in the Rector's Palace Atrium. One of Croatia's most promising young musicians, Aljoša Jurinić won the prestigious Robert Schumann Competition for Pianists, was a finalist of the 17th International Chopin Piano Competition in Warsaw, was a laureate of the Queen Elisabeth Competition in 2016, and won the Orlando Award for his performance with cellist Luka Šulić at last year's 70th Dubrovnik Summer Festival.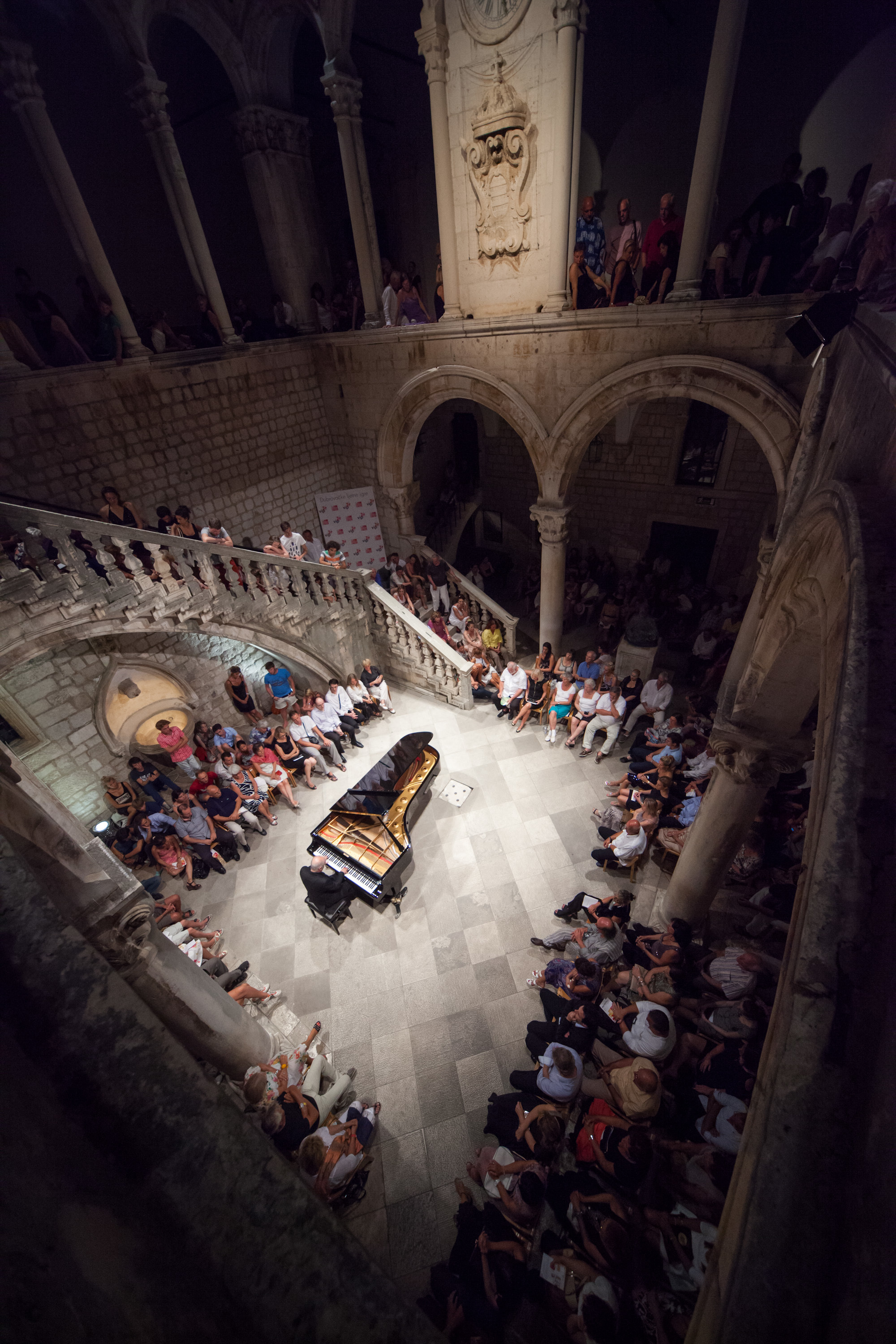 Group act Trio Eusebius, winner of the 16th Ferdo Livadić Competition for Young Musicians, is composed of violinist Eva Šulić, cellist Tonka Javorović and pianist David Vuković. The talented trio will also be featured at the festival. Pianist duo Dalibor Cikojević and Zrinka Ivančić will perform Papandopulo's dance suite Horoscope at the Rector's Palace accompanied by percussionists Karmen Pervitić and Borna Augustinović and dancers Viktorija Bubalo and Šimun Stankov.
Members of the contemporary music-oriented Papandopulo Quartet, saxophonists Nikola Fabijanić, Goran Tudor, Goran Jurković and Tomislav Žužak, will hold a beautiful concert at the stairs in front of Dubrovnik's St. Ignatius Church.
Performing in Gradac Park will be the Dubrovnik Symphony Orchestra and pianist Marijan Đuzel under the baton of young Italian-Turkish conductor Nil Venditti. This performance will include Beethoven's Emperor Concerto and Symphony No. 1.
Also included in this year's festival will be an evening of chamber music fully dedicated to Dubrovnik's musicians. Dubrovnik on a Rock of Music is a collaborative effort between the Dubrovnik Summer Festival and Caboga Stiftung Foundation.
Renowned mezzo-soprano Janja Vuletić and noted guitarist Maroje Brčić will premiere a piece by Zoran Juranić in the Rector's Palace Atrium.
Croatia's rich folk dance and music heritage will be also represented by the Linđo Folklore Ensemble in Gradac Park, as well as the FA Linđo traditional female vocal group, who will be celebrating their twentieth anniversary with a special performance in the Rector's Palace Atrium.
The 71st Dubrovnik Summer Festival will conclude with an epic concert by the Croatian Radio and Television Symphony Orchestra conducted by maestro Ivo Lipanović and world-renowned opera stars soprano Lana Kos and baritone Željko Lučić. The festival's closing concert is supported by Mastercard and will take place in front of the Dubrovnik Cathedral on August 25.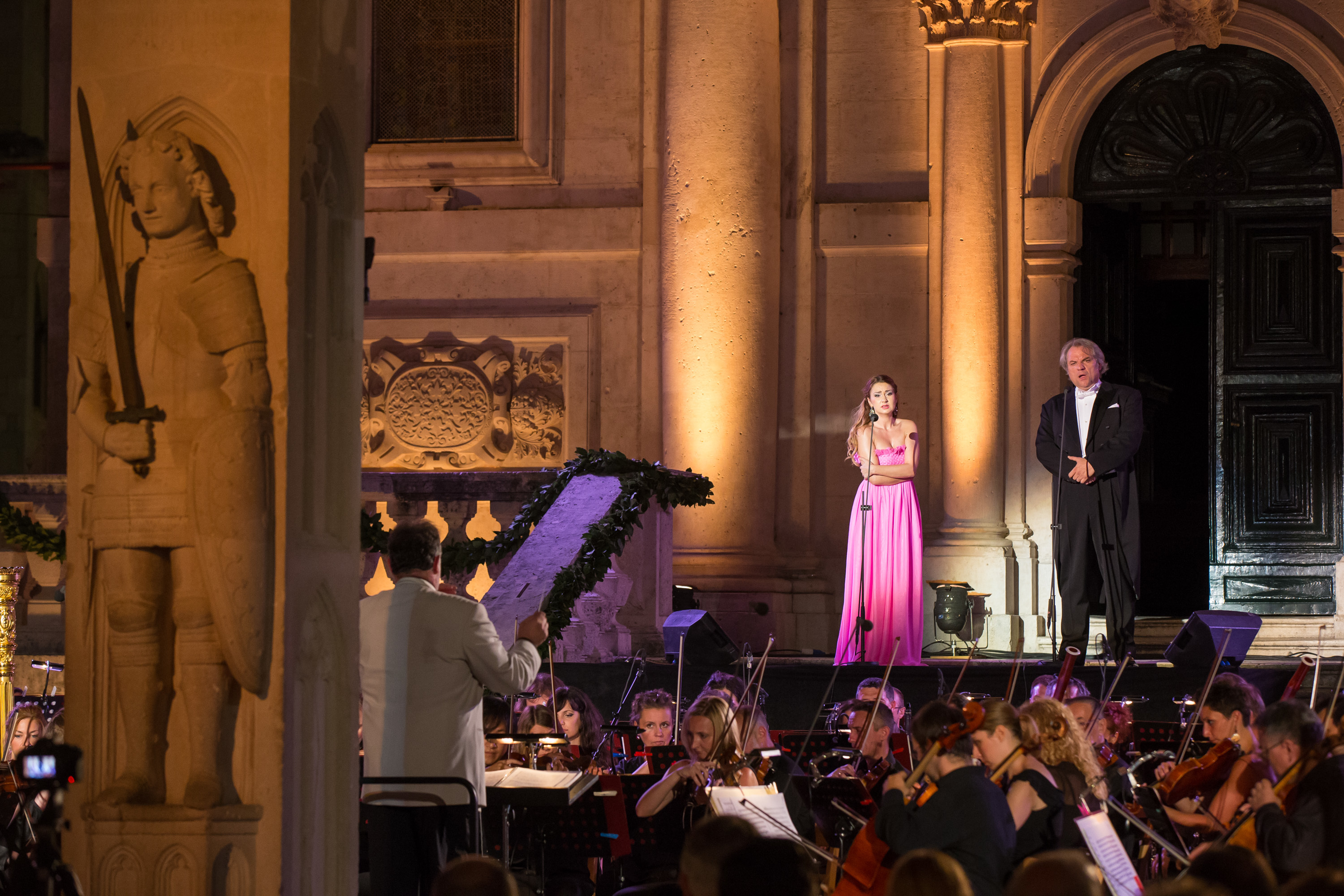 Where to get tickets
Festival tickets are currently available online at the Dubrovnik Summer Festival website and the Ulaznice ticketing service.
Prices for the 71st Dubrovnik Summer Festival are reduced up to 50% compared to previous years.
COVID-19 measures
The Dubrovnik Summer Festival is following all health and safety recommendations outlined by the Croatian government.
For each event, records of participants and spectators are being kept (including names and contact numbers).
Festival ticket sales points have protective screens between cashiers and visitors with contactless payment options available.
Audience members have disinfectants at their disposal and wearing protective masks is recommended.
All seats and standing places will be marked and placed at least 1.5 metres from one another this year. The recommended distance of 4 metres between the audience and performers on stage will also be upheld.