Once it's safe to travel, wanderers will flock to airports worldwide, eager to embark on their next journey. If you'd like yours to be Croatia (and you prefer a bird's eye view on your way over), we're bringing you a guide to the country's airports.
A map of Croatia's main airports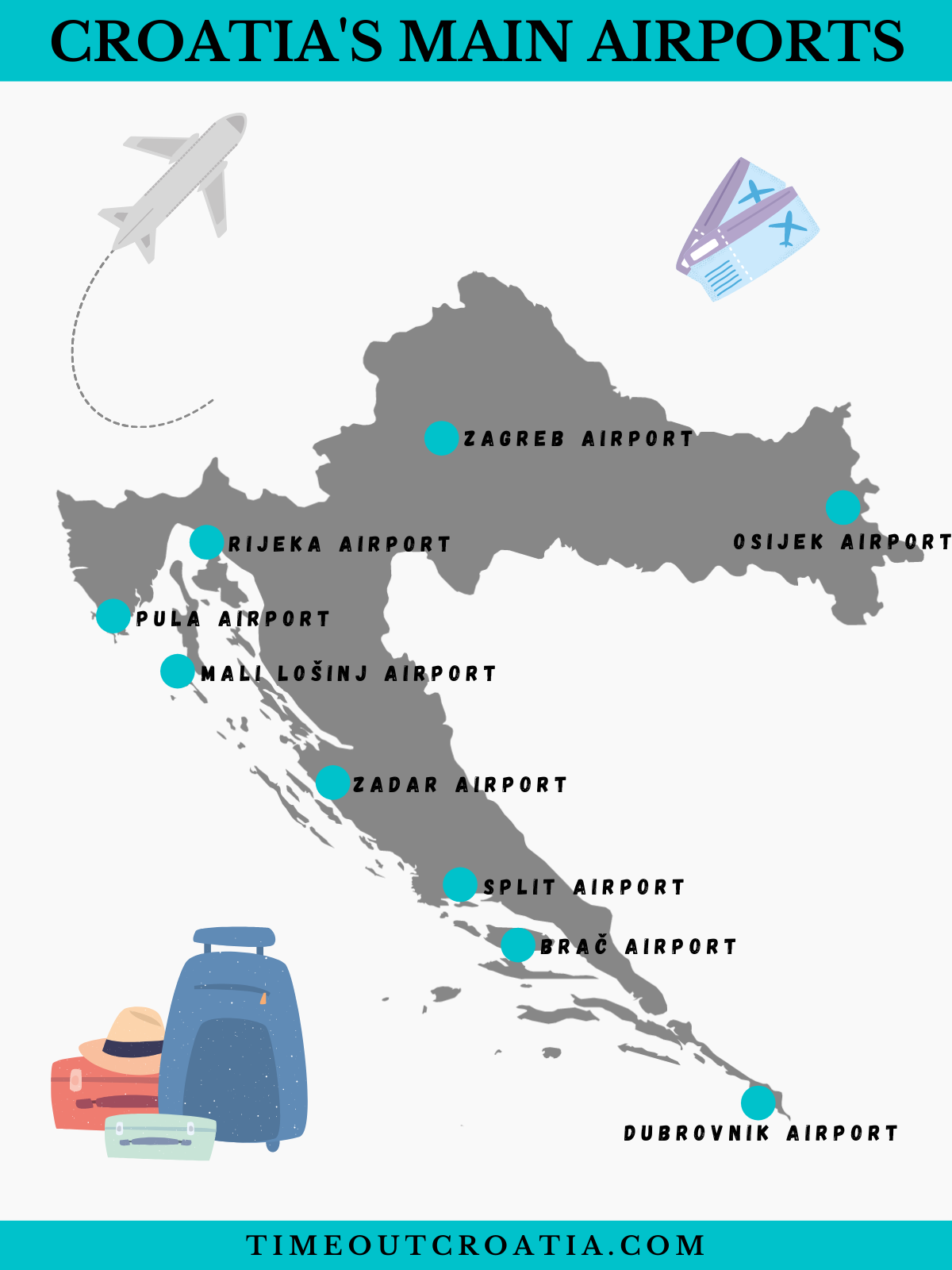 The logistics lowdown
Zagreb is Croatia's major airport.
Split, Dubrovnik, and Zadar follow Zagreb in size, with each featuring international flights to other major cities in Europe year-round. Next are Pula, Rijeka, and Osijek, followed by Brač - an island airport with domestic flights only.
Since Croatia's biggest airport is located in Zagreb, chances are you'll be flying to the capital, whether its your final destination or a stopover.
Pro tip: It's tempting to travel straight to the sea, but any visitor to Croatia would be missing out without exploring Zagreb and the continental regions, too!
Travelling to and from Zagreb airport
Keep in mind that airlines and flights are subject to change, especially following the pandemic. Check directly with airlines and airports before planning your trips.
Here are airlines that operate at Zagreb International Airport:
Aeroflot
Aegean Airlines
Air France
Air Serbia
Air Transat
Austrian Airlines
British Airways
Brussels Airlines
Croatia Airlines
Czech Airlines
Emirates
Eurowings
FlyDubai
Iberia
KLM
LOT Polish Airlines
Lufthansa
Norwegian
Qatar Airways
Sun d'Or
Swiss
Trade Air
Turkish Airlines
Vueling
WINDROSE airlines
Zagreb Airport (ZAG) is connected to numerous other big-name destinations (with, in many cases, daily flights):
Amsterdam AMS, Netherlands. Flight time: 2h 10m
Athens ATH, Greece. Flight time: 1h 45m
Barcelona BCN, Spain. Flight time: 2h 10m
Beograd BEG, Serbia. Flight time: 1h 5m
Bol BWK, Croatia. Flight time: 0h 50m
Brussels BRU, Belgium. Flight time: 1h 50m
Bucharest OTP, Romania. Flight time: 1h 50m
Cologne CGN, Germany. Flight time: 1h 40m
Copenhagen CPH, Denmark. Flight time: 2h 0m
Doha DOH, Qatar. Flight time: 5h 20m
Dubai DXB, United Arab Emirates. Flight time: 5h 30m
Dublin DUB, Ireland. Flight time: 2h 50m
Dubrovnik DBV, Croatia. Flight time: 0h 55m
Frankfurt FRA, Germany. Flight time: 1h 30m
Hamburg HAM, Germany. Flight time: 1h 45m
Istanbul IST, Turkey. Flight time: 2h 15m
Kiev KBP, Ukraine. Flight time: 1h 55m
Lisbon LIS, Portugal. Flight time: 3h 20m
London LGW, United Kingdom. Flight time: 2h 20m
London LHR, United Kingdom. Flight time: 2h 35m
Madrid MAD, Spain. Flight time: 3h 5m
Milano MXP, Italy. Flight time: 1h 30m
Munich MUC, Germany. Flight time: 1h 15m
Osijek OSI, Croatia. Flight time: 0h 55m Paris
CDG, France. Flight time: 2h 5m
Prague PRG, Czech Republic. Flight time: 1h 20m
Sarajevo SJJ, Bosnia and Herzegovina. Flight time: 0h 50m
Skopje SKP, Macedonia. Flight time: 1h 15m
Sofia SOF, Bulgaria. Flight time: 1h 45m
Split SPU, Croatia. Flight time: 0h 45m
Stuttgart STR, Germany. Flight time: 1h 20m
Vienna VIE, Austria. Flight time: 0h 55m
Warsaw WAW, Poland. Flight time: 1h 35m Z
adar ZAD, Croatia. Flight time: 0h 45m
Zurich ZRH, Switzerland. Flight time: 1h 35m