Pula bars and café guide
On the hunt for a caffeine kick? Searching for your perfect sundowner? Discover the best of the Pula bars and cafés with our critical guide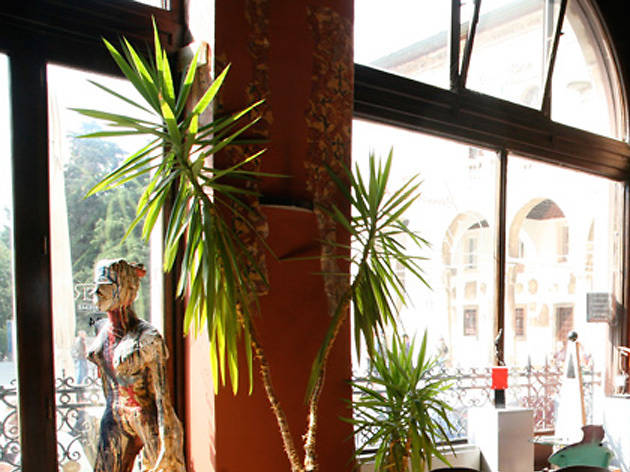 Pula's many good bars, cafés and nightspots are not always in prominent locations. P14 and Scandal Express are classic downtown bars the discerning first-time visitor would never find – but would be delighted once they do. Towards Verudela, where Budučinova and Tomasinijeva meet, is a hub of terrace venues.
A tiny, smoky dive where local bohemians meet, this place is near the theatre at the Giardini end of Flanatička. There's no room around the bar at all, so regulars hug the corners by the entrance or, more usually, spill out on to the narrow street.
Or to give it its official title, the Kunstkafe-Cvajner. Either way, it's a splendid bar for the main square of the Roman town centre. Part gallery, part junkshop, the Cvajner is bohemian in appearance but not gratuitously so. Unmatching furniture, sculptures and an old carriage are placed around a spacious, high-ceilinged interior where parts of an old wall are dated AD 1928. Bottles of Chimay and dark Laško complement the standard cocktails, best partaken on the Forum terrace.
Jožo Ćurković's alternative haunt at the far end of Flanatička attracts an arty clientele for DJ evenings and one-off literary events. Centrepieced by a snake-shaped bar table, decorated with mushrooms and a lit-up globe, P14 is a spot like no other downtown bar. Dark draught Laško and Istrian spirits flow from a bar propped up by friendly regulars.
Elvis, Boston, prog and metal classics rock the speakers of this two-decade-old institution, a large two-room bar near the amphitheatre, dressed up in dark wood, old posters, music memorabilia and murals with subjects like Jim Morrison. A boisterous young crowd of locals neck beers from the bottle, shoot pool, cruise the long bar or roomy booths and sometimes break into dance. Live music three or four nights a week with jazz, blues and rock, mostly from Croatian cover bands. There are acoustic sessions on Saturdays.
This makeshift but rather large pavilion in a stretch of seaside park serves as pizzeria by day, drinks bar in the evening and clubby DJ bar on Friday and Saturday nights. With two bar areas, a large alcove full of sofas, and plenty of standing/dancing room it's certainly the roomiest of central Pula's drinking locations. Location at the amphitheatre end of town ensures that it's also an excellent coffee-break location during the day.
The statue outside gives it away. A century ago James Joyce taught here by the Roman arch. He and his eloper are also honoured with a Joyce cocktail (Jameson's, Martini Bianco and pear liqueur) and a Nora of Bailey's, Bacardi and cream. There are bottled Guinness and Kilkenny, and Irish coffee too in this altogether rather charming bar, stuffed with nick-nacks from nineteenth-century Pula.
Here you sit in a sculpted hilltop garden, with a small pool and several levels of terrace seating, enjoying fine views of the sea below while sipping sunset cocktails or morning coffee. Above the Lungomare promenade, in greenery near the resort hotels, this stunning café can get hopping from happy hour onward. In summer, a full seafood menu at reasonable prices means you don't have to decide whether to eat or drink. DJs spin lounge and dance music on summer evenings. It's a 60kn taxi from town and worth every lipa.
Locals come to this car-free promenade to check out who is wearing what and to woo potential significant others. Coffee and stronger liquids are served on a terrace under big, yellow umbrellas. Inside the little bar and above a stone-stacked wall is a flatscreen TV for football.
Diana, opened in 1973, is the classic café on the Forum looking directly at the Town Hall and the Temple of Augustus. The interior is done out in tasteful wood and marble, the terrace features large, white sun umbrellas. Also located by the Tourist Office, it's a good spot to pull out your map and plan your attack.
Show more