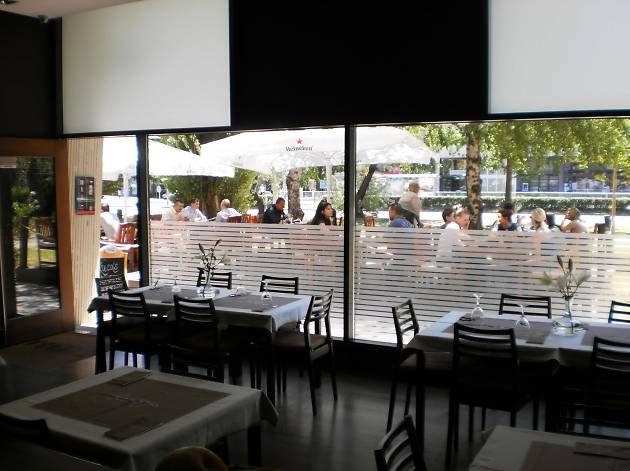 Time Out says
Easily affordable pasta and pizza options for lunchtime
"Dobar dan! Kako smo?" (Good day, how are we?), says the chef, smiling broadly from his open plan work station as we enter Luca's Pizza. This kind of overt friendliness is not usual in most Croatian restaurants. It's even more surprising at it comes just 90 minutes before the end of his shift. It's 6.30pm, he started at 11am, the restaurant itself open at 9am to serve coffees. After 9 years, this family run business, located near the cross section of Vukovarska and Savska Cesta, has learned which hours work; they now close at 8pm every day, the bulk of their trade coming from workers in nearby offices like Zagrepčanka.
Housed on the corner, at the base of a large building, every neighbouring shop front is closed, bar the post office. Despite the prominent location, there's not much passing trade here. Nevertheless, Luca's soldier on. Their interior is beautiful, well suited to business lunches which occur between midday and 2pm. But with a breeze blowing, the outside concrete terrace is the place to sit. It's difficult to imagine you're on a main road; a small park to the left and trees to the front obscure the urban environment. The restaurant even have their own olive trees growing next to your table.
Prices here are super cheap with freshly made pizza around 40 kuna, the seafood special a little more expensive at 60 kuna. There are four white pizza options as well as the usual tomato base, stuffed pizzas like calzone and the pasta dishes, like the delicious gnocchi with four cheeses or tagliatelle with scampi, also around 40 kuna. Several salad options and risottos complete the mains, the drinks prices on the cheap side of average, but with a couple of nice bottles of wine, should the boss be paying. The pizza itself was nice, with a lovely thin crust and flavoursome with dried herbs and black pepper. You could probably find better, but not for this price and, to be honest, after such a warm greeting, it could have been terrible and Luca's would still be in your good books.
Details
Best selling Time Out Offers