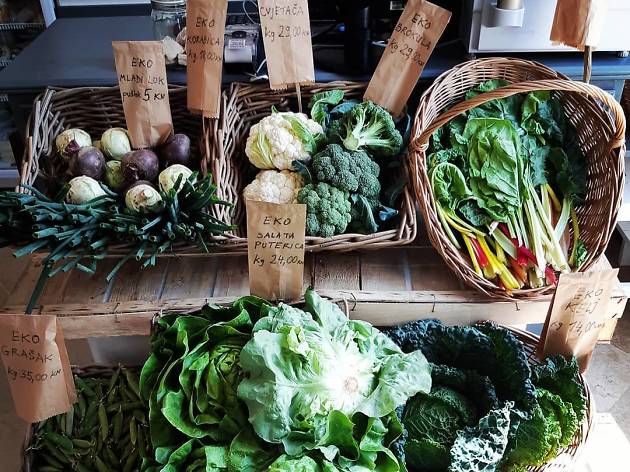 Time Out says
Speciality, organic and free range goods store in central Zagreb
This speciality grocery store in the centre of Zagreb offers a handpicked selection of fine Croatian made foodstuffs. Much of what you will find here is organic. They're encouraging an ecologically minded reduction of unnecessary food packaging by offering foodstuffs like dried fruits, beans, pulses, rice, cereals, nuts, himalayan salt, several varieties of flour and sugars like muscovado by gram. Similarly, various oils and soy sauce come by the decilitre. These good are well displayed.
Gluten free pastas, sit next to ghee (clarified butter used in authentic Indian cuisine), organic hummous and peanut, hazelnut and almond butters on the central shelves. People who live near by pop in for artisan breads, but may also leave with a distinct block of chocolate also hidden in their brown paper grocery bag; handmade options of dark chocolate with caramelised hazelnut and flower of salt or with orange, pepper and thyme are tempting, as is milk chocolate with roasted sesame and curry. There's a large range of sugar free chocolate varieties from Spain too, plus organic Cacao powder.
Their refrigerated meats include cold cuts and sausage varieties from Bregi from Istria and the award winning Igomet from Samobor. Dairy products include several top quality hard cheeses, goats cheese from Pisarovina and extra tasty free range milk. On Tuesdays they receive deliveries of non pasteurised milk too. There's premium gelato from Krk, including a vegan option, organic fruit and veg, including giant Mayer oranges from Dalmatia and ripening avocados and one wall is taken up by natural cosmetics. Made by a family in Ludberg, these creams and make ups ditch the chemicals in favour of ingredients such as rosemary, carrot, hemp and olive oil or green tea. Like any deli offering premium goods, it's far from the cheapest shopping experience, but the emphasis here is on assuring the quality of produce rather than offering bargains.
Details