Handsome, historical Split is the Adriatic as it's really lived. Step into the perfectly-preserved Diocletian's Palace, a lattice of winding alleys and crumbling stucco walls, and you'll be greeted by a parade of visitors and window-shopping locals scrambling around its maze-like structure. This intriguing mix of antiquity and urban life is what makes Split a fantastic city-break destination.
Closely associated with bucket and spade summer holidays, Split is just as gorgeous in winter – especially in the run-up to Christmas, when twinkly lights and little clusters of wooden-roofed huts decorate the Old Town. Edged by snowy mountains, glittering beneath a crisp winter light, even the most Christmas-adverse have to admit it's a spectacular sight.
Boasting a waterside location, balmy year-round weather and a confluence of architectural riches, it was only a matter of time until Split clambered to the top of Croatia's holiday-league table. Behind the splendid facades of the Old Town, ungainly Socialist-era housing blocks and leftover pockets of industry give Split a lived-in charm. It's a far cry from Dalmatia's 'Disneyland' resort of Dubrovnik, but as Croatia's second biggest city, Split remains comparatively uncommercialised.
Straddled by the cobalt-blue Adriatic, Split's Riva harbour features fluttering palms and trendy cafes, with tuxedoed waiters loitering outside cool waterside restaurants. On a clear day, you can trace the island of Šolta on the horizon. Riva twangs with life throughout the year. Start your day here by ordering a kava veliki and take part in a sacrosanct Dalmatian ritual; drinking coffee and admiring the scenery, with a cool breeze floating in from the sea.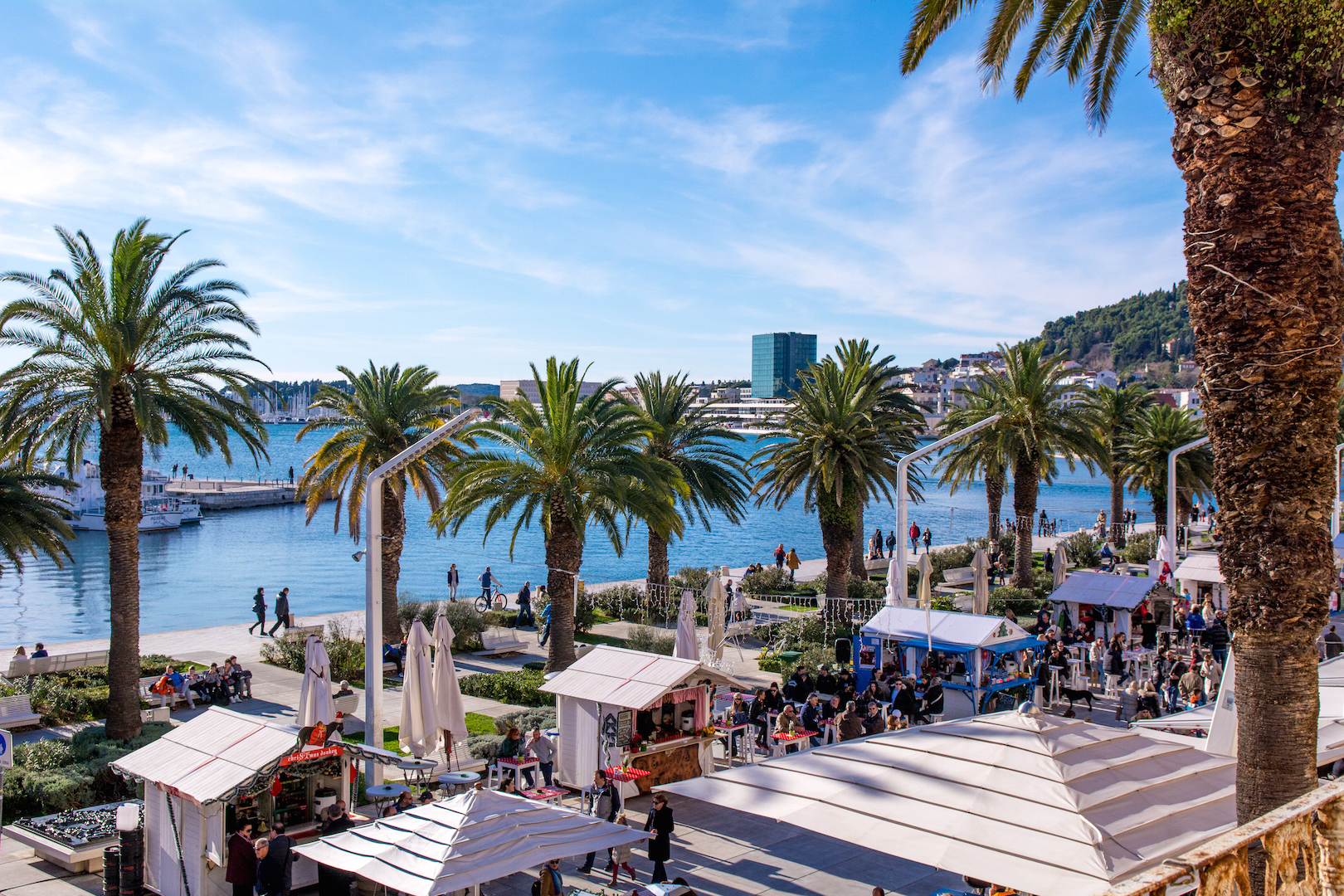 Riva is a key location in Split's Advent Winter festival proceedings when the promenade is given over to a Christmas cavalcade of sparkly lights, wooden kiosks and giant decorations. Advent is a reassuringly local experience. Visitors wrap up in big coats and scarves, huddling around the open-air bars and the central bandstand, where an ensemble of local musicians and choirs play through the night.
Riva is also the location of Split's New Year's Eve concert when Dalmatians brave the cold to watch big-name Croatian musicians play for free in the open-air. Last year saw celebrated crooner Petar Grašo entertaining swathes of locals on the Riva port. Croatians celebrate the coming of the New Year with enthusiastic drinking; this edition promises to be just as raucous.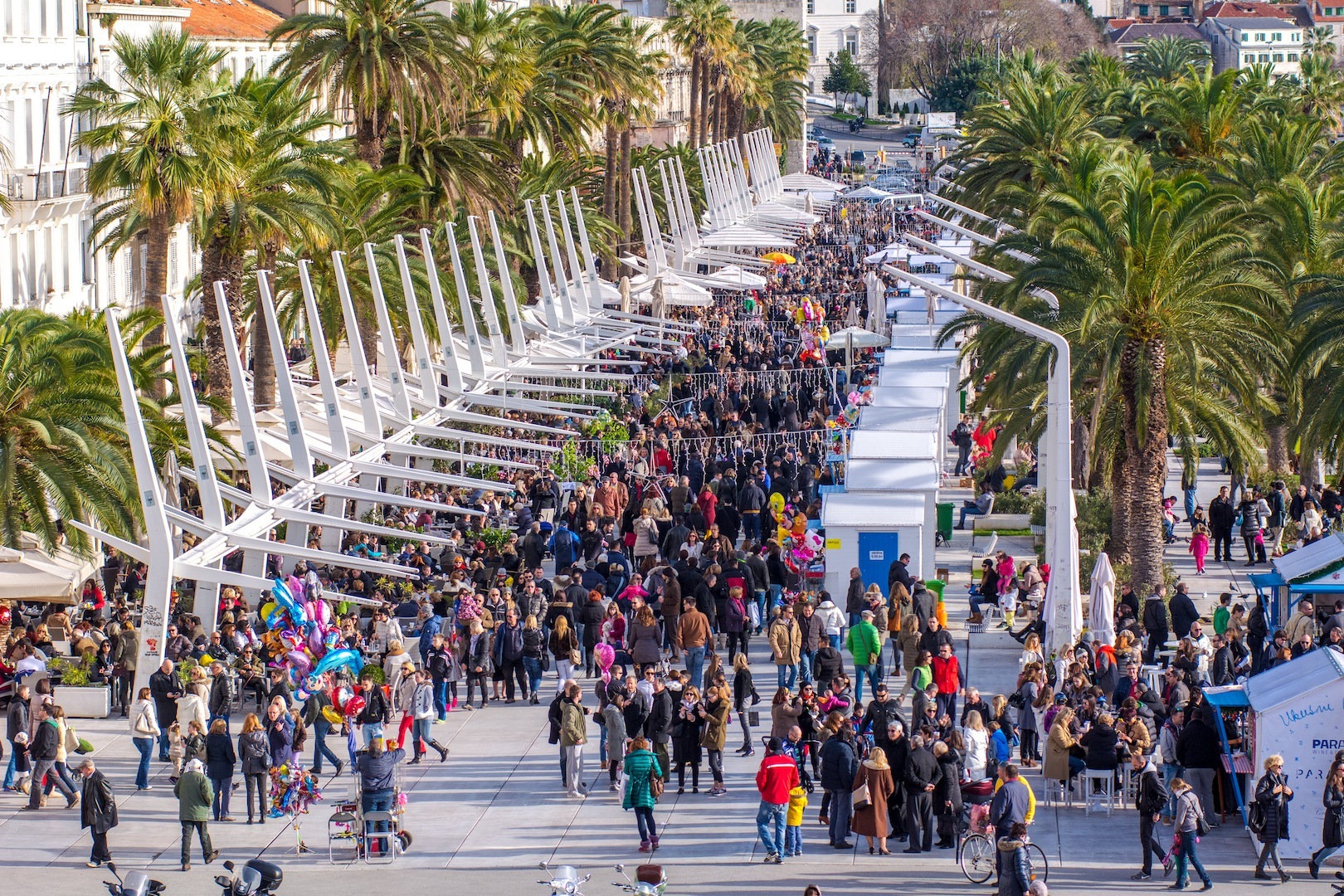 Everything in the centre of Split is within easy walking distance, including Advent on Pjaci. Located in the heart of Diocletian's Palace, Pjaci forms one the main satellites in Split's Advent constellation and comes with all the trimmings you'd expect from a German-style Christmas market. With the smells of sizzling meat, roasted chestnuts and mulled wine lingering enticingly in the air, browsing the market is hungry work. Sate your appetite with a traditional Croatian seasonal snack: tiny sugar-coated doughnuts called Fritule are worth sampling; as are Paprenjaci, a peppery gingerbread cookie. Traditional savoury little parcels of meat wrapped up in sour cabbage leaves, and hearty goulash provide speedy replenishment.
Leaving behind the burning sun of summer, the dozens of hiking trails that criss-cross Biokovo Nature Park become a pleasant active day out during the winter months. Overlooking the Makarska Riviera south of Split, Biokovo can offer challenging climbs and gentle strolls, according to which course you select and where you start from. Some drive down, park the car, and soon be able to take in the panoramic views as they climb.