Sailing in Šibenik
As Dubrovnik and Split grow ever-busier as yacht charter destinations, sailing in Šibenik allows you explore Croatia's beautiful coastal landscape without the crowds.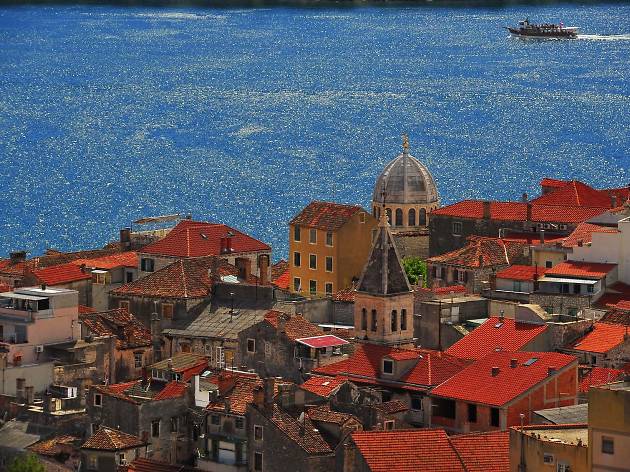 Something of a late-bloomer, Šibenik is growing out of the shadow of its more popular Dalmatian siblings. The restoration of its four fortresses and the construction of a shiny new marina and hotel complex are deftly transforming the fortunes of this small city: Šibenik has rocketed from a quietly industrial port town to the region's most promising destination.
Šibenik offers everything you could want from an Adriatic holiday: unhurried streets, ancient city walls and pellucid waters. Compared with neighbouring Zadar, its marina is blissfully uncramped, and the city is far better connected to the myriad of islands and islets that define this landscape. The surreal Kornati archipelago, a scattering of bone-dry islands surrounded by translucent waters is a short sail away.
Šibenik is establishing itself as an increasingly competent destination for gourmands, with a small but high-yielding crop of fantastic restaurants. Recent Michelin Star winner Pelegrini has pushed Šibenik's food scene onto the international stage. For something more casual, the family-run Barun has long been a favourite with locals out to impress their new date/in-laws/business associates. The interior is as classy as the view – antique chairs, smart tablecloths and plenty of greenery.
It's tempting to paint Šibenik as a sort of Cinderella figure when it comes to tourism in Dalmatia. Some of its most attractive monuments took a battering during the war, and its romantic city centre is locked in by an industrial sprawl: these unglamorous outliers may put some visitors off. But Šibenik has always had the power to captivate. It's just taken everyone a while to catch up.
Lacking the showy glam of Hvar or Dubrovnik, a nautical holiday in Šibenik is the perfect alternative to the usual circuit, offering a Medieval city with easy access to unspoiled wilderness.
Visitors are discovering that Šibenik is just as handsome as its neighbouring coastal resorts. Sailing enthusiasts, especially, are impressed by its wealth of infrastructure and accessible marinas. Leading charter company NCP first laid anchor in Šibenik over 20 years ago. Now, this expert company owns an array of 70 yachts, available with or without a crew.
Where to stay? These days, Šibenik offers a few luxurious options. The stately new D-Resort hotel, shaped to follow the curves of the Mandalina peninsula, is fantastically located. As is the beach-facing Amadria Park Lifestyle Jure.
Šibenik's marina D-Marin Mandalina is the first in Croatia to receive 5 Gold Anchors, meaning its a verified quality place to berth. Here, NCP runs a top sailing school, offering high-class courses on a variety of yachts.
The beauty of sailing in Šibenik is that its geared towards both new and experienced sailors. Away from the tourist throng of Dubrovnik and Split, visitors can hone their sailing skills in comparative peace - or sit back and relax while someone else does the work.
Things to do on a Šibenik sailing holiday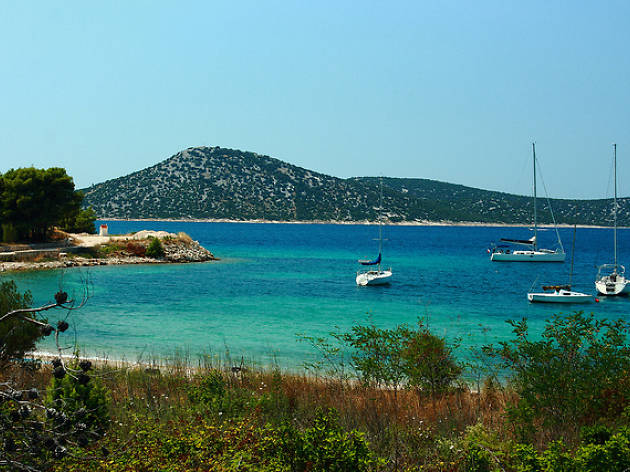 Sail to off-the-radar islands
A short sail away from Šibenik are the lovely islands of Zlarin and Prvić. A landscape of olive groves and vineyards is dotted with typical Dalmatian fishing villages and fringed with quiet pebble and rock beaches. A couple of restaurants, hotels – including a stunner, the Maestral – and an occasional apartment rental reveal recent signs of tourist development. Prvić has ten moorings and around twenty buoys.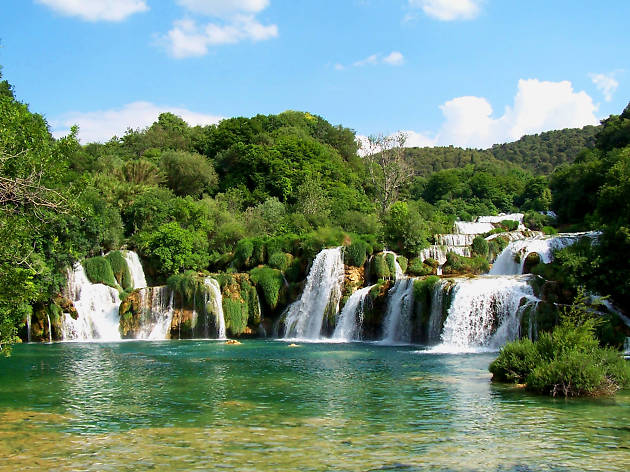 Go wild swimming at Krka National Park
The 800-metre-long waterfall that centrepieces Skradinski buk at Krka National Park is just down the coast from Šibenik. Featuring a series of 17 cascades, this National Park is named after the 75km-long Krka river running through it, easily traversed by boat. A fantastic stop-off location on a chartered yacht tour, for a spot of wild swimming, Krka is unbeatable.
Krka offers more than pretty waterfalls. It's a fertile place for high-octane activities like hiking, cycling and kayaking. Don't miss Visovac, a 16th-century monastery built on its own island and accessible by boat.
The Kornati archipelago has qualities that make it unique. It is made up of 140 islands and islets in an area only 35 kilometres long and 14 kilometres wide. Between the long, thin island of Kornat, which faces the coast, and the chain of islands on the other side, there is a stretch of water naturally protected from the open sea, with dozens of safe bays to drop anchor. Once you pass through one of the two narrow gates to the north and south, you leave the worst of the waves behind, and enter a strange, other-worldly environment, of treeless hills.
The islands on the inside of the national park seem deserted. You might sight the occasional sheep, or a small votive chapel, built by a grateful sailor saved from a storm by the natural barrier of the islands, otherwise there's little sign of human habitation. It's a very meditative and minimal landscape, unlike any other island chain in the Adriatic. When you enter Kornati, you've arrived somewhere completely different.
Restaurants, Mediterranean
Hands down the nicest place to eat in central Šibenik, Pelegrini has benefitted from a change of culinary approach. Diners may now opt for the 400kn degustation menu that features, as an appetiser, a smoked aubergine and yoghurt dip, moving onto truffle and prosciutto pappardelle with sheeps' cheese and fresh parsley, smoked oxtail in tempura with salsa, and braised meat with tomato salsa and carrot purée. Chocolate and coffee finish things off nicely. Each dish is accompanied by a specially chosen wine (200kn). Alternatively, there's an à la carte choice of mains, monkfish tripe with polenta or beef fillet with baked misni cheese, and 150kn lunch option. Outside, the view could hardly be bettered, with tables on the stone steps overlooking the cathedral and a lovely terrace on the roof of the Bunari, the medieval water cistern building, complete with carved well-heads.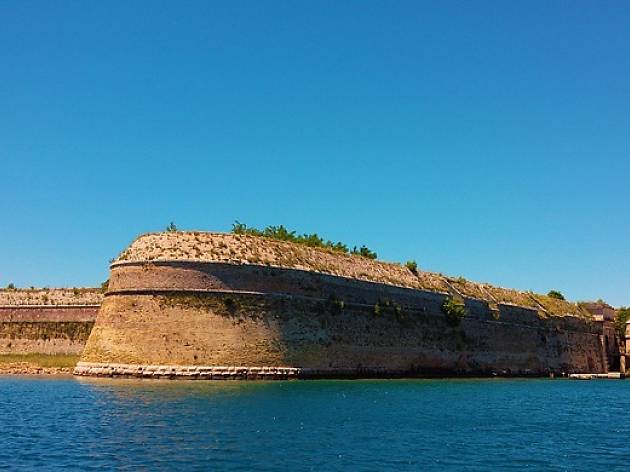 ©Pixabay
Buff up on some history at one of Šibenik's four fortresses
Facing an Ottoman threat for centuries, Šibenik's population needed sufficient protection from sea-faring invaders. The city has long been defended by four fortresses, the most impressive being St Nicholas, Tvrđava Sv Nikole, which juts out onto the islet of Ljuljevac.
Visit the gardens around St Lawrence Monastery
The Medieval Mediterranean Gardens are the work of landscape architect Dragutin Kiš, who did plenty of research so as to get the gardens as historically accurate as possible. For centuries, the land around the St Lawrence Monastery in Šibenik was dead space. Since Kiš and his team stepped in, planting medicinal herbs, fruit trees, and plants in the shape of a cross, the land has become an educational resource for schools of children and a tourist attraction in itself. The gardens are open all year round. Look out for special events in summer.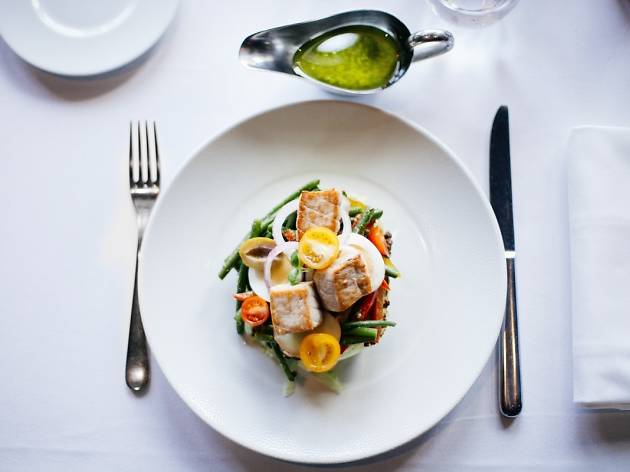 Restaurants, Mediterranean
Some 4km (2.5 miles) out of town, on the road to the Solaris hotel resort, family-run Barun has long been a favourite with locals out to impress their new date/in-laws/business associates. Located in a large modern house that is also a hotel, the first-floor dining room has a fantastic view over cultivated fields and offshore islands. The interior is as classy as the view – antique chairs, smart tablecloths and plenty of greenery. Established for over 20 years, Barun has a menu best described as upmarket traditional, with Italian and French influences well to the fore. A popular choice is steak: châteaubriand for two or biftek café de paris. Eight apartments are for rent too.