Split daily tours
The handsomely historical Split is a perfect city break. Choose from a range of Split daily tours to add an extraordinary experience to your holiday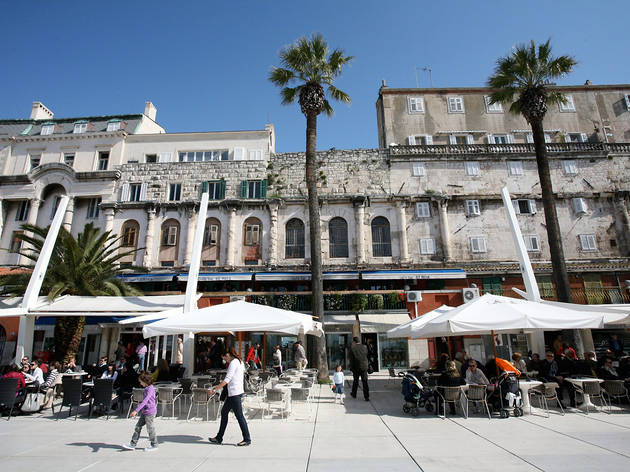 With a spectacularly well-preserved Roman palace at its core, ringed by a sea-facing promenade lined with fluttering palms and cool café-bars, Split is a fantastic setting for a city-break. For a change of pace and scenery, Split daily tours offer rewarding short jaunts to several other attractions within day-tripping distance, including islands, lakes and national parks.
The beauty of Split is it's uncompromisingly urban character. Not perceived to have over-sold itself to tourism in the same way Dubrovnik has, behind the splendid facades of the Old Town Socialist-era housing blocks and leftover pockets of industry give Split a lived-in feeling.
Split's independent, urban spirit fosters a vibrant street life. The daily bustle plays out in the sprawling Diocletian's Palace, a lattice of winding cobbled alleyways, where smoke-filled cafe terraces, churches and designer shops mingle happily together.
At Split's daily market, traders from all over Dalmatia lay out a vibrant array of fresh fruit, veg and caught-that-day fish, as well as inflatables, towels and whatever essentials you may need for the sandy beach just ten minutes walk away.
One of Split's greatest assets is its mix of old haunts and new joints, where long-standing independents rub along with swish modern eateries. Outside of Zagreb, Split is a decent contender for the best gastronomy scene in the country.
The traditional Adriatic repertoire of sea bass, tuna, octopus and mussels is well-represented here, as is the standard grilled fish with potato and blitva, a mainstay on every menu. For something more adventurous, try the pašticada (a marinated beef stew prepared with nutmeg, prunes and dessert wine,) local to the region.
Within the palace, some of Croatia's hottest bistros and restaurants flaunt their culinary skills. Zinfandels lays down a contemporary gauntlet to all the ancient stonework of Split's Old Town, with a matt-black interior, clever lighting and suave design touches. It's primarily a wine bar (with a good selection of Dalmatian tipples by the glass) but you also get a menu of Mediterranean food (dainty portions rather than stomach fillers) and some really quite excellent platters for sharing – cold cuts, cheeses and marinated seafood. A short walk away, Dvor is situated just above the coastal path that works its way east from Bačvice Beach. Dvor is a uniquely calming place from which to admire the inviting silhouettes of Šolta and Brač across the water. Sit in the conservatory or venture out onto the terrace shaded by trees. Dvor functions perfectly as both café and restaurant – fish, steak and fowl are fired up on the open grill overlooking the lawn outside, and there's an excellent choice of Croatian wines by the glass.
From Split, it is easy to reach the ever-popular destinations of Brač, Hvar and Vis. But don't miss out on the relaxed urban vibe of the city before hitting the islands.
For a taste of Dalmatia beyond the city of Split – you can choose between national parks, beaches and romantic towns, all just a short ride away on Split daily tours.
Take the apple of your eye to this natural wonder just off the main highway between Zagreb and Split, within easy distance of Split. It is home to more than 1,000 species of plants, 140 types of birds and 40 mammals: lynx, wild cats, deer and brown bears among them. Most of all, though, people flock here for the series of 16 continually changing, cascading, crystal-clear lakes. Boardwalks follow the contours of and criss-cross over the beautiful turquoise water. Stunning.
The drive from Split to Krka National Park takes just an hour and a half, and visitors are quickly awed by this spectacular spread of nature. This forested area comes complete with seven waterfalls, islets, lakes and rapids, water mills and a couple of ancient monasteries. Unlike the mega-popular Plitvice, this lusciously verdant National Park permits swimming in the crystal-clear waters around the large cascading waterfall. The Split to Krka National Park tour takes you on a whizz around this gorgeous national park, followed by a picturesque boat ride from Skradinski Buk to Skradin, a relaxed fishing village near Šibenik, known for its medieval fortresses and famous slow-cooked risotto that takes a princely twelve hours to prepare. The tour concludes with a tasting session set in a gorgeous traditional Dalmatian winery.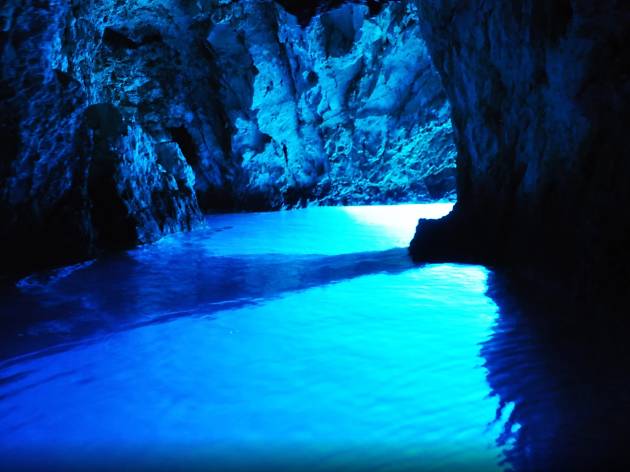 Pelican Tours
Explore the Blue Cave of Biševo
Set on the east coast of Vis, the Blue Cave (Modra šplija) is accessible by sea from Komiža. With the sun gaining height, it shines through the waters of a submerged side entrance and the cave is bathed in a fabulous blue light. At this point, many dive in, although the high volume can make this tricky in July or August.
The tour takes you on a floating jaunt to the Blue Cave, followed by a trip to the Monk seal cave - named after the species of marine mammal native to the Mediterranean. Monk seals (morski covik) were known to luxuriate on the pebble-beach at the far-end of the cave, causing local fishermen grief, who resented the greedy pups for eating up fish stocks and destroying their equipment. These days, a sighting of a Monk seal is unlikely, but not impossible: keep an eye out while you paddle.
Next up is Palmizana, part of the Pakleni islands: a string of rugged, verdant islands surrounded by water as clear as glass. There's time to laze around, explore it by foot or tuck into zingingly fresh seafood or a cocktail at the beachside bar.
Hvar is the final outing of the day. The jewel of southern Dalmatia's travel industry, Hvar is a pretty Venetian town with a reputation for five-star luxury. With an attractive waterfront lined with swish restaurants, cafés and yachts, Hvar is the trendiest of nearby siblings Vis and Brač, appealing to an upmarket crowd of celebs and wealthy party-goers. That doesn't detract from the relaxed Mediterranean vibe of this island: furnished with lavender fields and a vibrant canopy of evergreens, secluded beach coves are always a short walk away.