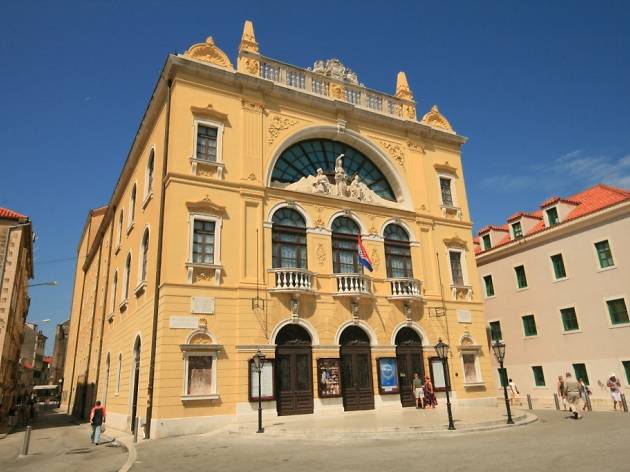 Split's Old Town is the stage for a month of drama, opera, ballet and music performances at one of the oldest performing arts festivals in Croatia. There are usually several premieres in all genres, plus visiting productions, both national and international. What this festival makes really attractive are the open-air events. One of the most popular are the operas at Peristil, the central square of the Diocletian's Palace, especially Aida. After all, where else is it possible to see Verdi's famous opera with a real ancient Egyptian sphinx as part of the set? In earlier years, there were much more stages around the city, but these days so many squares are occupied with bars and restaurants as tourism booms. Still, concerts and drama in Ivan Mestrovic's Kaštelet or ballet at Sustipan are always a special experience. Tickets are available online, and moving from one festival spot to another is a sinch.
Rating Breakdown
5 star:

0

4 star:

0

3 star:

0

2 star:

1

1 star:

0
Split summer festival: Biljana Kovac (contralto) and Vedrana Kovacs (piano) 7th August. I was really looking forward to this concert. I wasn't deterred by a venue some way out of the city centre, nor by the repeated efforts it took to accquire tickets. In retrospect the haphazard opening hours of the box office should have alerted me to the organisational shortcomings of the venture, but with the optimism of a holidaymaker I went ahead anyway, booked my seats and got a taxi out to the venue the following evening in high anticipation, only to find the venue and time had been changed (for reasons never adequately explained) and that transport was on its way to escort the dozen or so who had turned up at the original venue to the theatre in the centre of town. At that stage I laughed, but 40 minutes later I was frustrated and annoyed as we were relayed in the car of a young woman who seemed to have something to do with the organisation, and was clearly trying to do her best to help, who drove us back to town, dropped us on the shore and pointed in the general direction of the theatre some minutes walk away. We were by this time very late.
The music itself? Well, I missed the start of the concert, which upset me, and meant I wasn't in the best frame of mind to focus. It wasn't helped by the acoustic, which wasn't great for the repertoire, and at times the music from the streets outside provided an intrusive counterpoint. I was also surprised that we latecomers were shown in mid-performance. That must have been distracting for the performers and other members of the audience alike. Extremely embarrassing. I would have preferred to wait until a break when I could have taken the premium seat I'd booked, rather than be ushered squirming into the back row. There were no programmes left. I don't know why. As I'm not very familiar with piano repertoire, I was having to make educated guesses about what I was listening to a lot of the time. I tried to look up the programme on my phone, to no avail, with my partner hissing at me to put the phone away as it looked disrespectful. Actually, in my book, disrespectful is treating a paying audience like indulgent parents at a school concert; disrespectful is putting young professional musicians into such a comedy of errors. It was a real disappointment, as these talented young musicians deserved a less amateur platform for their manifest talents.