Of all the exciting changes that have taken place in Zagreb over the last few years, few have had quite so much impact as Advent. Deftly transformed from a corny Christmas market into a cavalcade of yuletide cool, the new-look Advent season has been a huge hit with locals – and looks set to become a key tourist draw too.
Zagreb has for years hosted a traditional pre-Christmas offering of souvenir stalls, mulled wine and sausage stands on the main pedestrian strip. The addition of rakija bars, speciality street food, outdoor music stages and a constellation of twinkly lights has taken it into another dimension. Advent activity no longer takes place just around the main square, but has spread to a scattering of nearby piazzas and parks, all in easy walking distance of each other; and the whole thing runs from the last week in November until the first few days of the New Year. If you're looking for a month-long winter street party, then Zagreb is the place to find it.
This updated Advent is also getting better and better as a shopping opportunity, with the vast majority of stalls delicious Croatian deli products including jams, liqueurs, honeys and olive oils. Many souvenir sellers are offering their own hand-made wares; from stuffed toys to kooky ceramics and hand-painted greetings cards.
Zagreb's winter makeover is not something that happened overnight. The reinvention of the pre-Christmas template has come gradually, thanks to a sequence of individual, sometimes entirely unconnected initiatives that have melded happily together.
The heart and soul of Advent is on Zrinjevac, the park that runs south from the main square in the direction of the main train station. The stately trees of the park are simply but effectively dressed with spirals of white light; at ground level, rows of small white houses sell hand-made crafts, speciality rakijas and boutique Croatian wines – including some seasonally appropriate sparkly ones. The 19th-century bandstand in the centre of the park, with its spindly cast-iron profile, provides the ideal visual focus.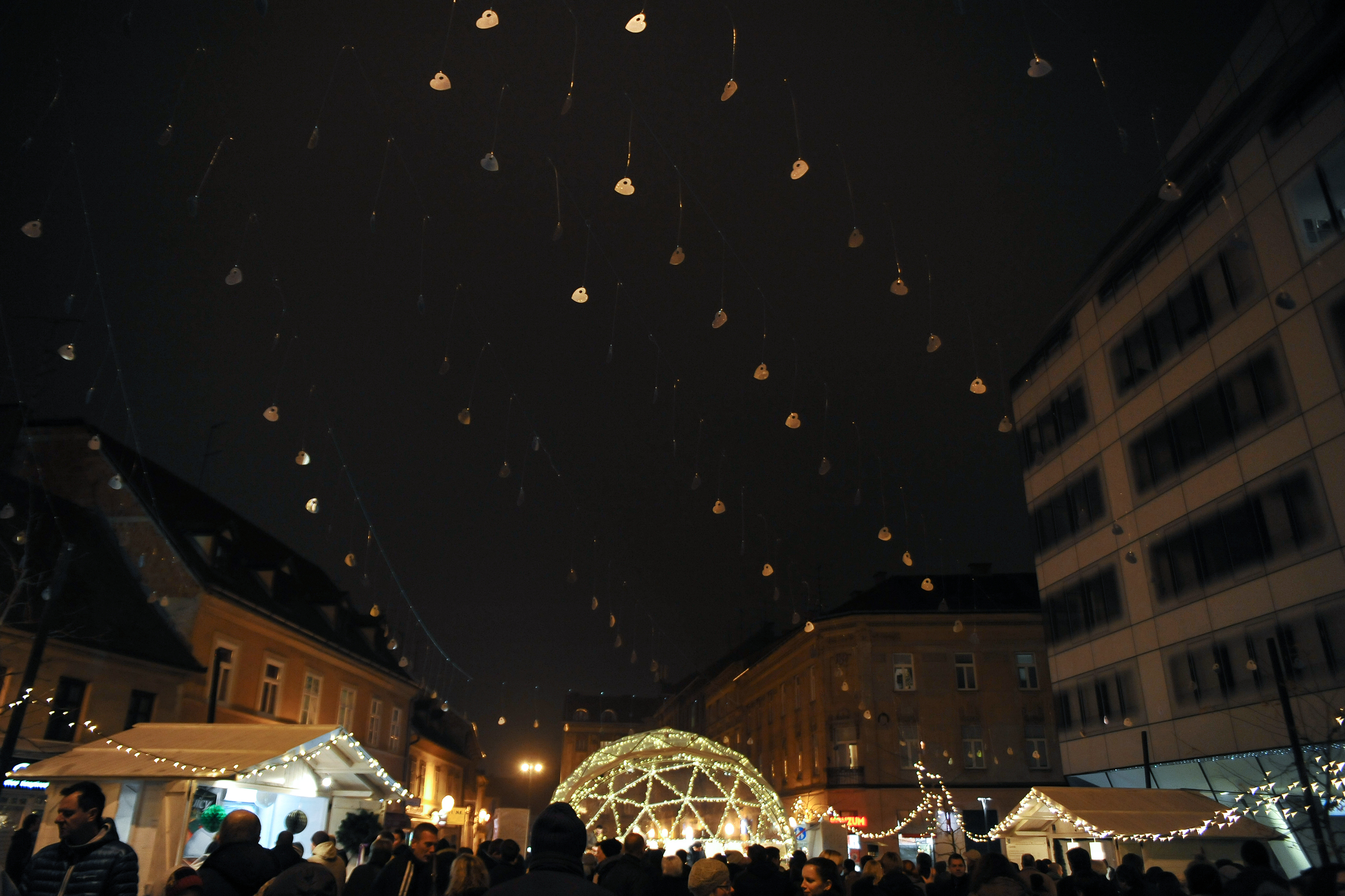 The Zrinjevac part of Advent is very much the brainchild of Slavica Olujić Klapčić of the Katapult agency. 'We started in 2010 with a small Advent event on Britanski trg. It was very cute, with a small semicircle of little white houses – it was the first time we had used these white houses instead of the usual street stands. When we moved to Zrinjevac in 2011, we started off with 20 of the little white houses; initially people doubted whether it was the right location and were far from convinced that there would be a significant number of people strolling through. In fact, it was a hit right from the start and we are now up to 40 houses.'
With its carefully chosen blend of mulled wines and choice connoisseur tipple, Zrinjevac has become a major after-work meeting point for locals. It is also the kind of place where people came to browse for out-of-the-ordinary gifts. 'We favour souvenirs that are authentic or hand-made,' says Olujić Klapčić, 'and the same goes for the gastronomy.' There's a music programme on the Zrinjevac and stand that ranges from Christmassy background sounds to pop-rock cover versions. 'It's not the right space for well-known bands with thousands of followers; it has to be the kind of event that people can stroll in and out of', Olujić-Klapičić explains.
'The name could be roughly translated as 'goofing around'' says Fuliranje's co-organiser Nika Ajdukovićof the Kokoš ili Jaje ('Chicken or Egg') events agency. The expression comes from Mr Fulir, a character in the 1970 musical Tko pjeva zlo ne misli ('One Song a Day Takes Mischief Away') who is elegant, charming but also a total rogue.
First held in 2012, Fuliranje grew out of the Rakijarnica, a pop-up rakija bar in the Dalmatian resort of Vodice that migrated to central Zagreb every winter. Seeing that there was more potential in Zagreb's Advent activities, the Rakijarnica team decided to team up with other food and drink providers to create a themed zone within the Advent set-up. Given rakijarnica's connoisseur approach to the local brandies, they naturally chose partners who shared a similarly quality-driven attitude to local street-food and wines, ending up with a row of stalls offering the kind of gourmet burgers and speciality sausages that soon attracted local foodies in droves.
Over the last four Advent seasons, an estimated half a million people have visited Fuliranje. At weekends, it's so busy that you can hardly move up and down this street. Indeed, the Fuliranje recipe has proved so popular that the concept has migrated towards Zagreb's other seasons, with the park-based party Gourmingle in summer.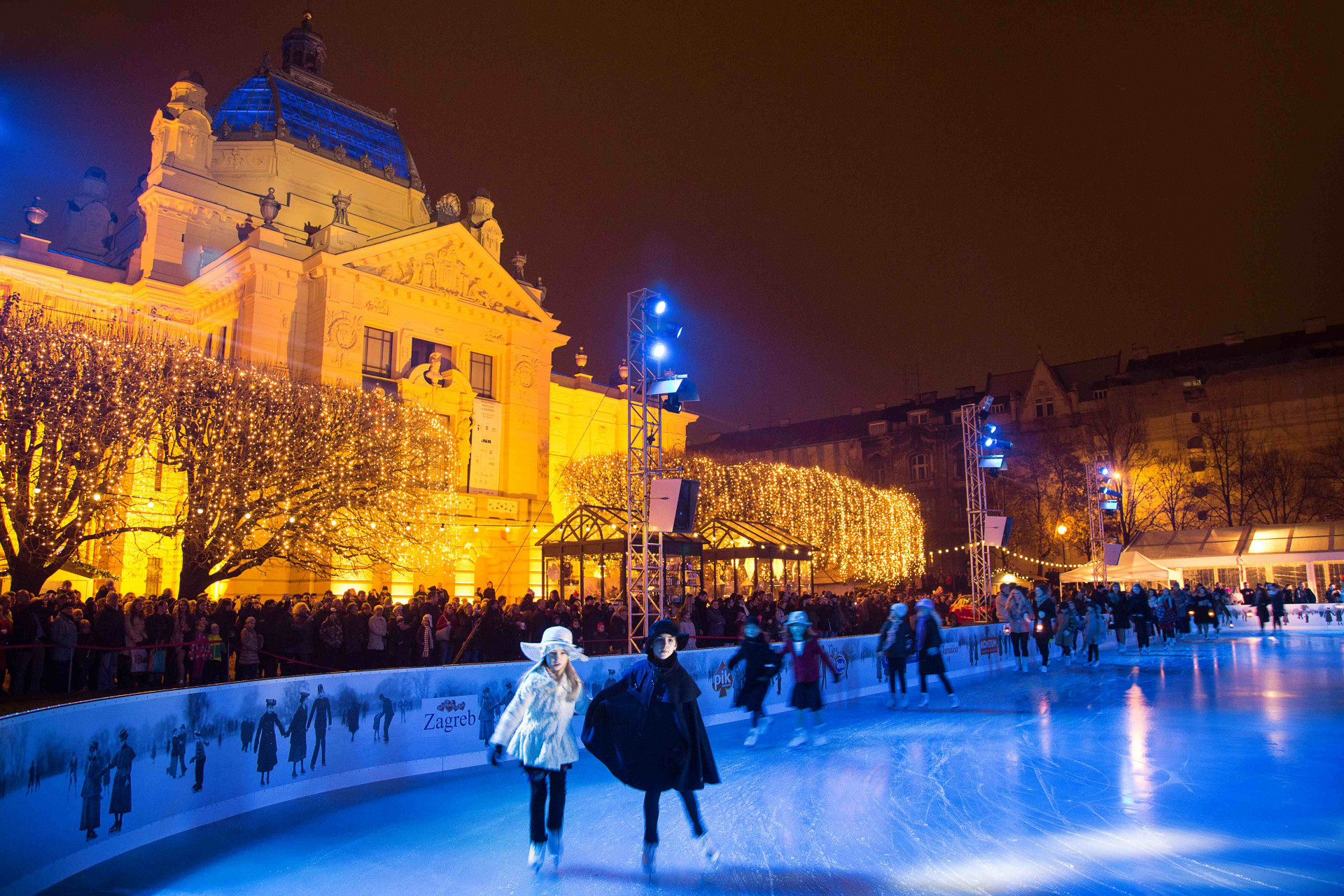 In 2014, a new addition was added to Advent - the appearance of a vast skating rink on Tomislavov trg, right in front of the main train station. There always used to be a rink occupying one corner of the main Trg bana Jelačića; the new one is much bigger, and also boasts a more grandiose setting, surrounded by avenues of trees and backed by the Art-Nouveau silhouette of the Art Pavilion. It was another project overseen by the Katapult agency. 'It can make you nervous,' explains Olujić Klapčić, 'when the temperature is unusually mild, rain is falling and you're trying to make the perfect ice'. In the event there were no technical hitches and the rink attracted somewhere in the region of 1,500 visitors per day.
Another important element in the Advent picture is Artomat, an art and crafts fair organised by the Croatian Artists' Association (HDLU) and held over a long pre-Christmas weekend in the HDLU's impressive, doughnut-shaped headquarters on Trg žrtava fašizma. Deliberately pitched towards the alternative side of Christmas shopping, it's a great place to browse for unique jewellery, alternative-designer fashion, one-off accessories and a host of genuine artworks.
And it's not just about the pre-Christmas season. One of the spin-offs of the new-look Advent is that Zagreb is now much more attractive as a place to see in the New Year. New Year's Eve in particular is no longer a question of turning up at the main square and being disappointed that there is nowhere else to go – concerts on other stages around town keep everyone milling and moving.
According to Olujić Klapčić, Zagreb's Advent is now so open-ended that it can really be expanded in any direction, and the tourist benefits are obvious. 'Advent here is a real competitor to advent in other Central European capitals now, and is becoming an important point on a map that also includes Vienna, Bratislava and Budapest.'