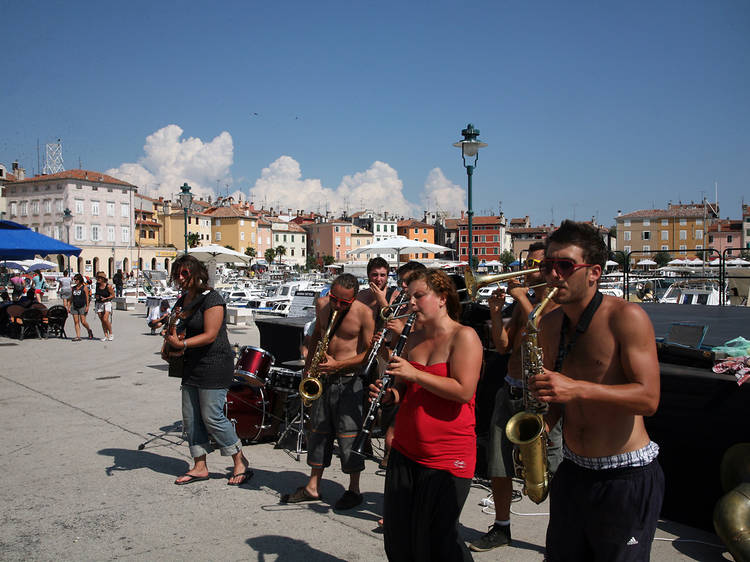 © Vanda Vucicevic/Time Out
Things to do in Rovinj
The mountainous national park south of the harbour is a great place to take pictures of the old town and, given its size and terrain, the best way to explore is by mountain bike. Rental stands are plentiful in the harbour and their rates extremely reasonable, while many hotels also have their own private stash. Allow 90 minutes to make your way along the coast (the sign-posted path will eventually lead you onto residential streets, at which point it's better to double back on yourself), or all afternoon if you fancy taking on the more challenging, vertiginous inland paths or make a detour and drop in on a local vineyard. For cooling off, there are numerous pocket-sized rocky beaches dotted along the path where weary cyclists can pitch up, shed the necessary garmets and dip their toes in the Adriatic – just be warned that members of the local nudist community may turn up with the same idea.
The old town itself has two must-sees. Any amount of aimless wondering will eventually lead you to the first: the 18th century Saint Euphemia Cathedral, a baroque church perched atop a hill in the town's north-west corner. For those with energy to spare, a journey up the 60 metre-high Venetian-style bell tower is worth the 15 kuna asking price, with stunning views to be had from the top.
The second is a lively food market near the harbour, where stalls heave with local fruit, veg and other consumables. Chances are you didn't come to Croatia for to gawp at oranges and apples, though, so head directly (but, in the interest of striking a deal, casually) toward the truffle traders. The majority of their produce comes from the forests of Motovun just 20 miles away, and forms the basis of oils, tapenades, chutnies, honey and various other intensely pungent products. Despite being sourced from just down the road, their wares aren't cheap – you'll need to haggle hard to score a jar of white truffles for less than 200 kuna.