The 21 best restaurants in Durham
Discover Durham's dazzling dishes with our guide to the cathedral city's best restaurants and cafés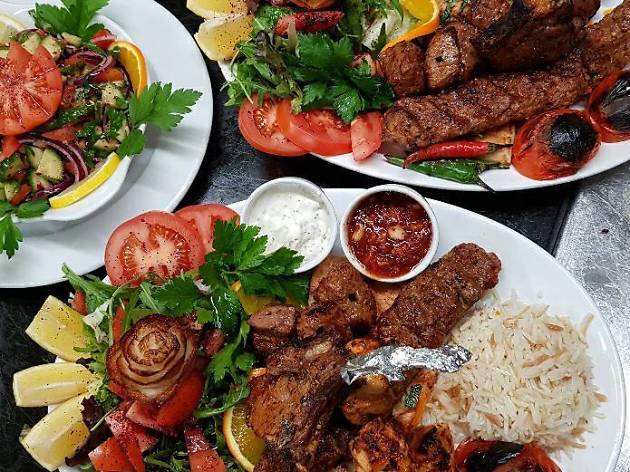 Cobbled streets, an imposing castle and romantic bridges make Durham a worthy UNESCO World Heritage site. The dining scene isn't bad either. Go high-end with views of the River Wear or dig into a dirty burger in the studenty Viaduct area. Durham has a compact centre because of how the river hairpins through the city, which means many of the best places to eat sit along Saddler Street and around the castle.
1
David James Wood
Why go? To impress a loved one with some of Durham's best French-inspired food in a cosy location.
Now based in Aykley Heads House, Finbarr's is in a former farmhouse that's just five minutes from the station, but its pretty little courtyard makes it feel more secluded. The three-course fixed-price menu is good value. Ingredients are local wherever possible, like the Ribblesdale goats curd and Yorkshire asparagus tart, Northumbrian steak and Lintz Hall Farm eggs. High-end.
2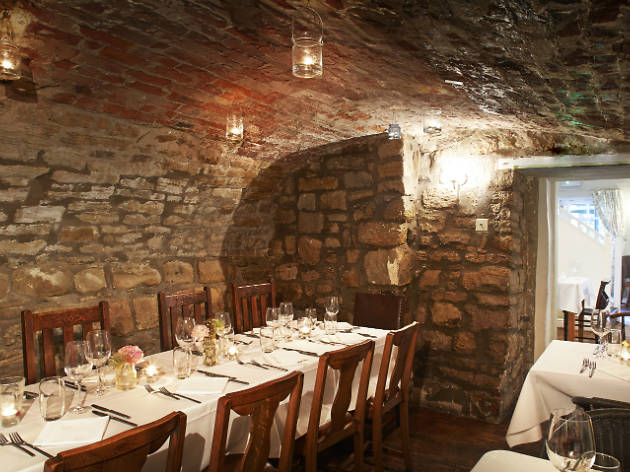 Why go? For international fine dining in a thirteenth-century cellar conversion with stunning views of the river Wear and Elvet Bridge.
Find your way through an inconspicuous door on Saddler Street and down a narrow flight of stairs and you'll be rewarded with a seasonal, locally sourced menu that touches cuisines from around the world, including Northumberland smoked gnocchi, tandoori chicken thighs, and crispy mung bean fritters. High-end.
3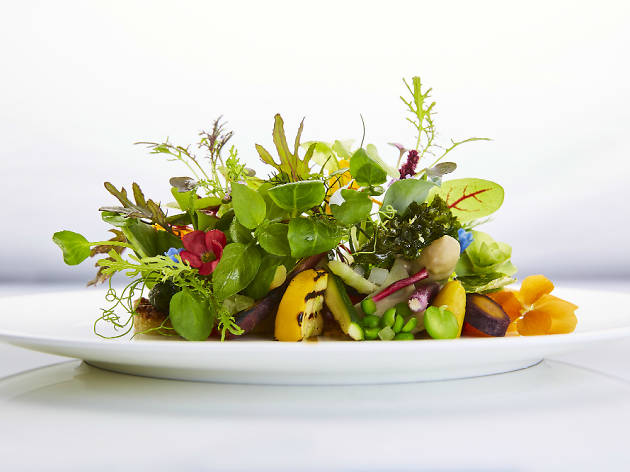 Frasershot Studios
Why go? It's worth the 30-minute drive south of Durham for this two-Michelin-star tasting menu.
Self-taught chef James Close cooks theatrical, yet seasonal and simple food. The only options on offer for lunch or dinner are a 12- or 15-course tasting menu where each course transforms a single ingredient into a dazzling dish. If you can, book the kitchen table to see the chef at work. Look out for the signature skull and Buddha dessert too. Blow-out.
4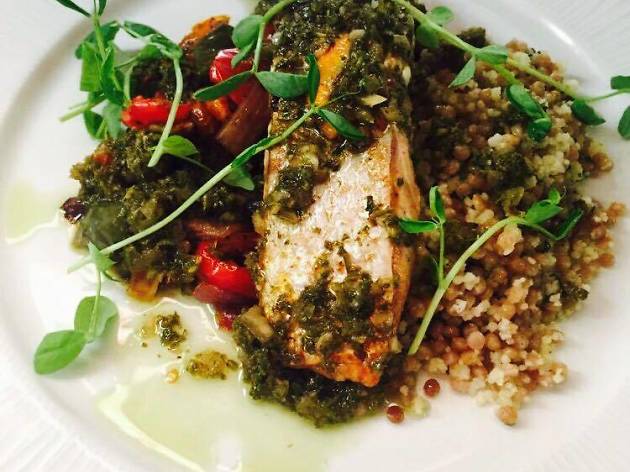 Why go? For a special dinner with views, candlelight and a modern European menu.
With riverside views of the historic Elvet bridge, this restaurant has the perfect picture-postcard Durham location. Food, including roasted duck breast with duck leg 'sausage' roll, Thai Penang chicken curry and chargrilled steaks, is seasonal and artfully arranged. Mid-range/high-end.
Why go? To treat the family to a pub lunch with a difference.
With ramshackle country furniture and cosy nooks, Garden House Inn feels like a real pub – but the head chef is Ruari MacKay, who was behind Durham's much-lauded (but now closed) Bistro 21. So what you'll find is pub food (lobster sandwich, cheeseburgers, or beef with dumplings) executed with a touch of fine-dining finesse. Especially the haggis scotch egg. Mid-range.
6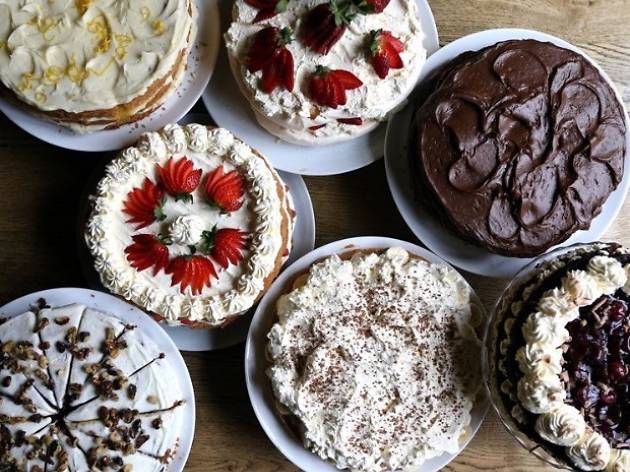 Why go? To meet friends for a generous slice of cake or a doorstop sandwich.
Vennel's does a proper lunch, including corned beef and potato pie, quiche of the day and crispy jacket potatoes. Enter from a narrow alleyway (or vennel) off Saddler Street to find hops hanging from the ceiling, with crooked wooden beams, converted treadle tables and original fireplaces creating a ramshackle feel. Mid-range.
Why go? For excellent small plates and even better coffee.
During the day, Flat White is famous for its coffee and killer brunches. But it also does after-hours small plates from 6.30- 9.30pm Thursday to Saturdays featuring Thai-style crispy pork belly and watermelon salad, Korean quail, or buttermilk panna cotta with brioche. Visit its sister coffee shop, Flat White Café on Elvet Bridge too. Mid-range.
8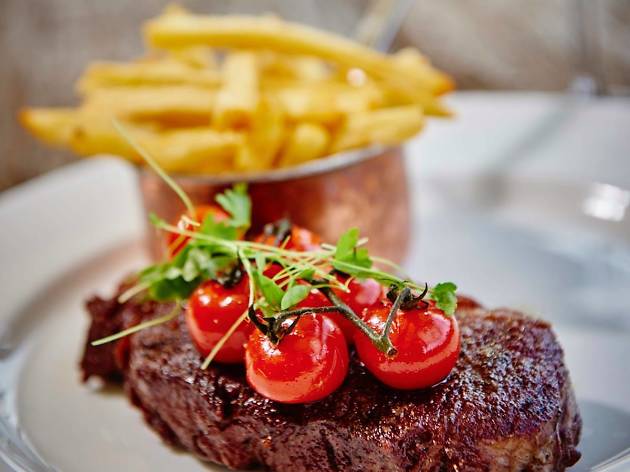 Marco Pierre White Steakhouse Bar & Grill
Why go? To celebrate a special occasion in a beautifully restored red-brick building.
Old Shire Hall has been converted into Hotel Indigo, featuring Marco Pierre White's Steakhouse. The intimate round booths that comprise the multi-level seating echo the circular room and domed roof. This upmarket restaurant brings MPW's attention to detail to classics like fish pie, roast pork belly, baked Camembert and its signature 35-day aged steaks. Mid-range/high-end.
9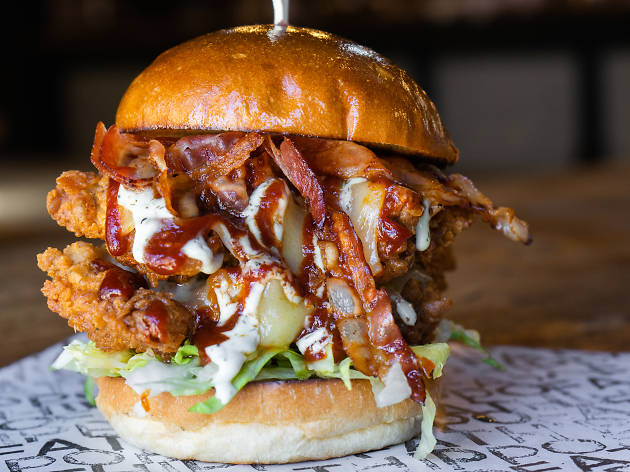 Why go? To forgo the diet and sink your teeth into Durham's dirtiest burgers.
With cool hanging light bulbs and an exposed brick interior, this has to be Durham's hippest place to get burger juice all over your face. Mile-high beef, chicken or vegan burgers come on metal trays, complete with wedge-cut chips and trimmings. Drinks are just as epic, with alcohol-laden slushies and shakes. Mid-range.
Why go? To treat yourself to breakfast or lunch in the shadow of the castle.
With a terrace overlooking the river and the cathedral bells ringing next door, you couldn't get a more central location for a traditional afternoon tea. Thoughtful touches include picnic packed lunches and a free pork sausage for every dog who pops in with its owner. Mid-range.
Why go? To eat straightforward award-winning fish and chips for Friday night supper.
With three locations around town, Bell's is the best place to get your chip butty or battered cod. Portions are massive and fried in beef dripping – so not for the faint-hearted. There are great views of Durham's historic marketplace from the main branch so you can watch the world go by over mushy peas. Mid-range.
12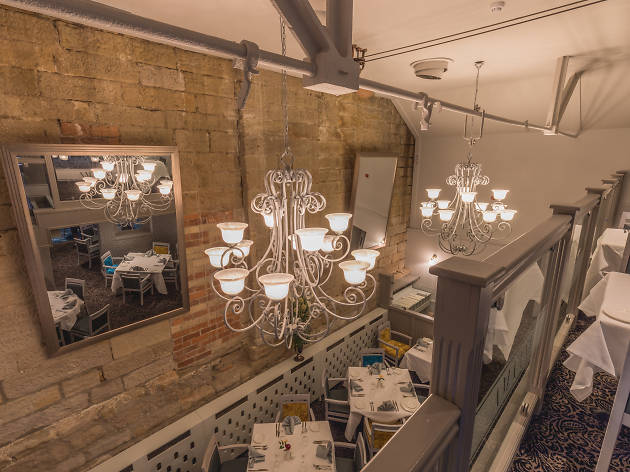 Why go? For Indian fine dining in a spectacular converted pumphouse.
Just ten minutes out of town down a farm lane, this friendly Indian restaurant serves tandoori grill platters of juicy lamb tikka, sheek kebabs and king prawns, as well as south Indian thali, Goan lamb and Bhuna-style mushori chicken. The mezzanine feels glamorous (maybe it's the chandeliers and mirrors). Mid-range/high-end.
13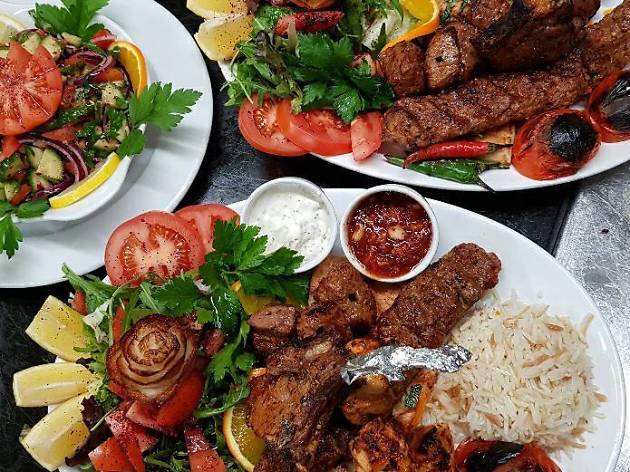 Akarsu Turkish Restaurant & Grill
Why go? For family-style Turkish feasting just minutes from the castle.
If you can forgive the slightly kitsch decor and Turkish lights, Akarsu is a hidden gem. Its hot and cold meze include Muska boregi crisp feta cheese triangles, sucuk spicy Turkish sausage and clay-cooked prawn guvec. It doesn't matter how big your table is, there will never be enough space for everything you order. Mid-range.
Why go? To take a tea break from sightseeing in a cute little café.
With 24 blends of loose-leaf tea served in elegant fine bone china teacups, this is the place to have a cuppa in Durham. You can't miss its distinctive pastel blue exterior, and you definitely shouldn't miss its homemade scones, toasted teacakes and sandwiches made to order. It also does a cracking high tea. Mid-range.
15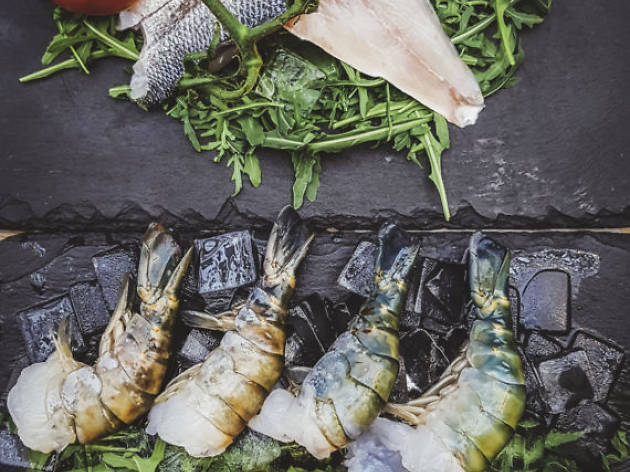 Why go? For a romantic date with a difference.
If you like kitsch you'll love the decor at the Town House – it has leopard-print carpet, heavy draped curtains and tassel-trimmed chairs. This place specialises in steaks and old-school classics like Chateaubriand, scallop, beef carpaccio and prawn cocktail. And it's part of a plush hotel with private hot tubs. High-end.
16
Why go? For takeaway vegan deliciousness in Durham's Victorian Market Hall
Support independent traders in Durham's indoor market by refuelling with vegan pies, seitan kebabs, generous salads, 'sausage' rolls and samosas at The Green Guerrilla. The adjoining deli also sells vegan products and there's a plant-based bakery on site. Budget.
17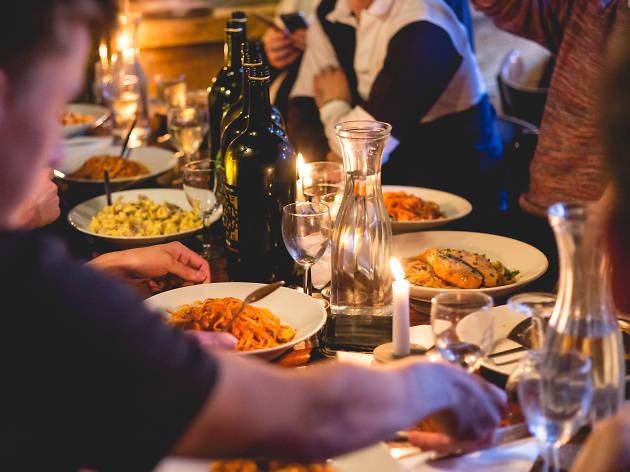 Kyle Wong © www.kylewong.co.uk
Why go? For good value pasta and fun first dates.
There's a no-reservation policy at this ever-popular Italian restaurant, affectionately known as Spags by the locals. Candlelight, checked tablecloths and a party atmosphere are served up with huge bowls of pasta and impressive pizzas. Pop into Fabio's bar upstairs to keep the party going until 2am. Budget.
18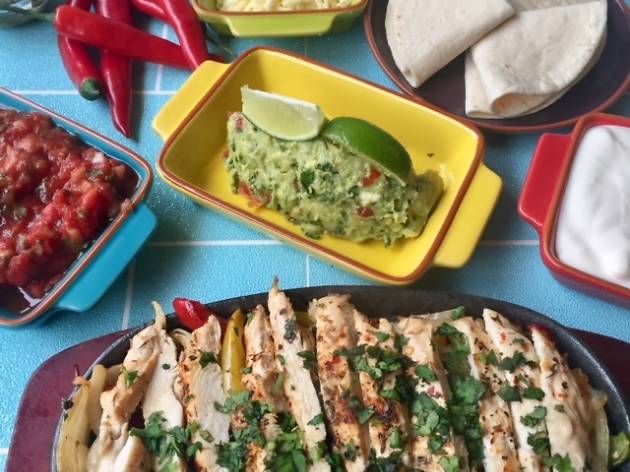 Why go? To get rowdy with your enchiladas and Texas two-step rack of ribs.
Locals and students don their sombreros at Tia's family-run Mexican restaurant, which has been feeding Durham fajitas for more than 20 years. Famous for its frozen margaritas and speciality tequilas, it has a Tex-Mex vibe with chimichangas, nachos, Acapulco chicken and gamberoni dishes. There's a vegan and gluten-free menu too. Mid-range.
Why go? To get friends together for a big Thai feast.
Thai-inspired street food comes to Durham at this vibrant restaurant that has an impressive flowering cherry blossom tree. Its sharing thaipas dishes are great for a group and include a dim sum tower of dumplings, DIY duck pancakes and hawker-style spring rolls. Mid-range.
Undercroft at Durham Cathedral
Why go? To complete your trip to Durham cathedral with award-winning finger sandwiches in a UNESCO building.
You can't get closer to Durham's famous medieval cathedral than this café sat off the west cloister. It serves breakfast sandwiches of Cumberland sausages and County Durham toasted teacakes, locally sourced lunches and fancy afternoon teas in the Monk's Garden. Look out for occasional evening guest-chef events too. Mid-range.
21
Why go? To forget the tourist trail and lose yourself in Durham's only comics and gaming café.
Stop medieval sightseeing, and play a game of Dungeons and Dragons at Dark Matter café instead. Food is straightforward and good value, including burgers, cheese and pickle or meatball and gravy sandwiches (among others) and snacks. But people really come for the 8,500 video and board games at this inclusive, friendly café. Budget.