The 11 best afternoon teas in Edinburgh
Have a posh (or not so posh) cuppa with our guide to the best afternoon teas in Edinburgh
From the colonnaded architecture of the New Town to the regal stretch of the Royal Mile (so called because it's bookended by Edinburgh Castle and the Palace of Holyrood House), there's something about Edinburgh that feels very much aligned with aristocracy and sophistication. That's borne out by the dozens of venues offering afternoon tea – that ever-so-refined post-lunch activity that revolves around delicate cakes and sandwiches served on silver platters in high-ceilinged atriums. When you're not strolling through the city's top museums or exploring the town, treat yourself to a fine cup of tea at one of Edinburgh's finest afternoon spots. If that all sounds far too hifalutin for your tastes though, don't worry – there are also some quirkier Edinburgh establishments who have made afternoon tea all their own. Here's our pick of the best from both camps.
1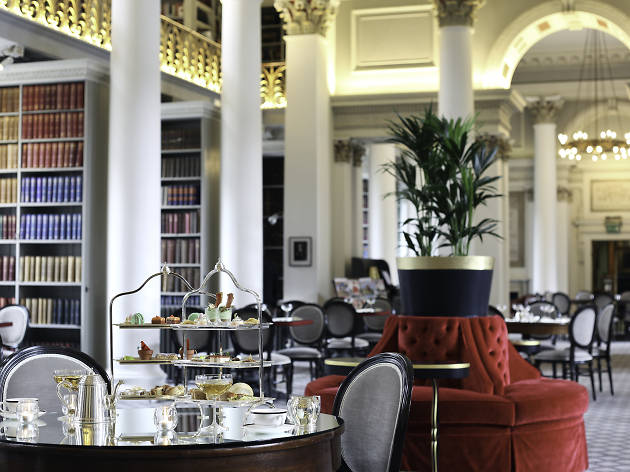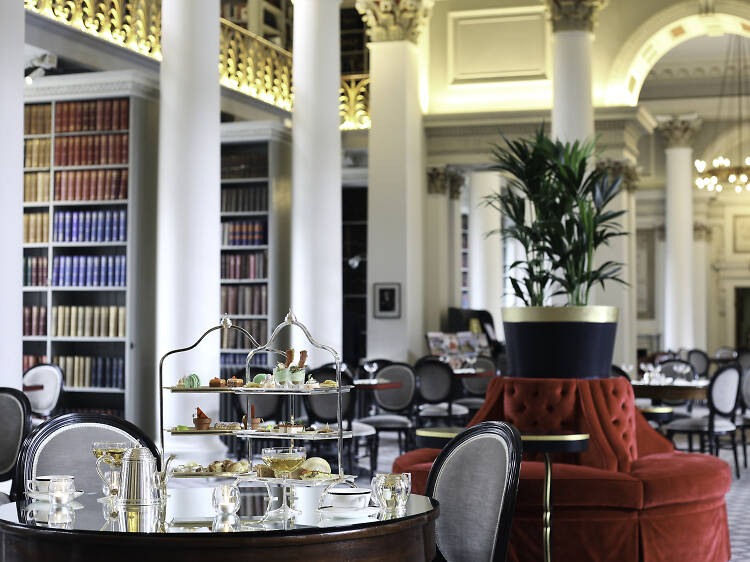 Colonnades at the Signet Library
What is it? An elegant oasis in Edinburgh's Old Town.
Why go? Housed within The Signet Library – home of The Society of Writers to Her Majesty's Signet, a prestigious legal association – the open-to-the-public Colonnades boasts 'Edinburgh's finest afternoon tea' amid serene and sumptuous surroundings. Sandwiches made with seasonal ingredients, as well as a selection of cakes and savouries such as pea and black truffle polenta, are served from silver stands, and the extensive tea list is topped by the Colonnades' own Signet Blend.
2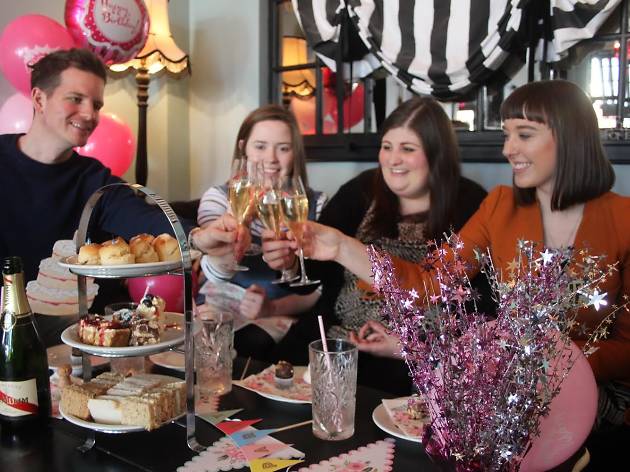 What is it? A mini-chain of cosy Edinburgh bakeries.
Why go? Mimi's is famous, first and foremost, for its cakes, so bear that in mind when you're considering an afternoon tea there. In other words, don't completely fill up on scones, sandwiches and savouries (not even Mimi's own pork and apple sausage rolls), though you're more than welcome to add a glass of champers or even a cocktail if you're splashing out. Vegetarian and gluten-free menus also available.
3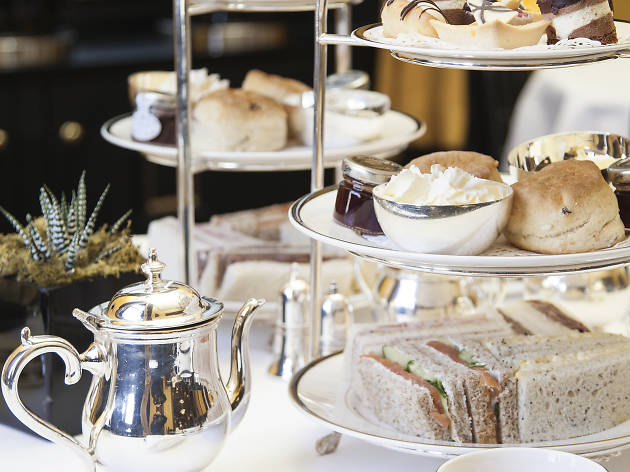 Photographer: Eleni Laparidou
What is it? An ostentatious landmark in Edinburgh's New Town.
Why go? The Dome is famous in Edinburgh for its OTT Christmastime décor – including massive, tinsel-wrapped columns and a towering indoor tree – but it's still pretty impressive at any other time of year. Their afternoon tea menu – served in the crystal-chandeliered Georgian Tea Room amid ebony dining chairs and dazzling white linen – features finger sandwiches, scones, pastries and nine varieties of loose-leaf tea.
4
What is it? A friendly tea-lovers' boutique.
Why go? Formed in 2008, Eteaket was at the cutting edge of tea's revival as something you could enthusiastically geek out about (see also: coffee, craft beer). The Tea Room on Frederick Street is far less about extravagant surroundings than enjoying a quality cuppa with friends, accompanied by sandwiches, scones and pastries (and okay, maybe some fizz if you're feeling fancy). At £15.95, it's also far more affordable than some of the swankier joints on this list.
5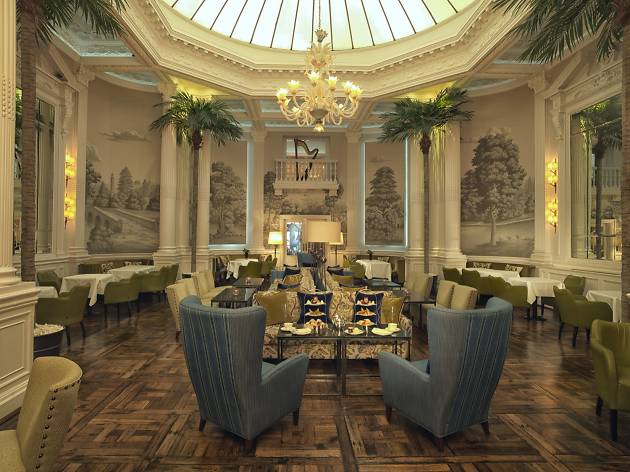 © Adrian Houston
Palm Court at The Balmoral
What is it? A touch of old-style glamour in the heart of the city.
Why go? A glass-domed, light-filled space fringed with exotic trees and cream-coloured frescoes, Palm Court at the Balmoral revives the notion of afternoon tea as a cool respite from inhospitable tropics – think khaki-clad aristos sweltering under lazy ceiling fans in one of the farther-flung Poirot stories. While Palm Court can't promise that climate, it does offer sweets, sandwiches and a very respectable tea selection, plus occasional live harp accompaniment.
6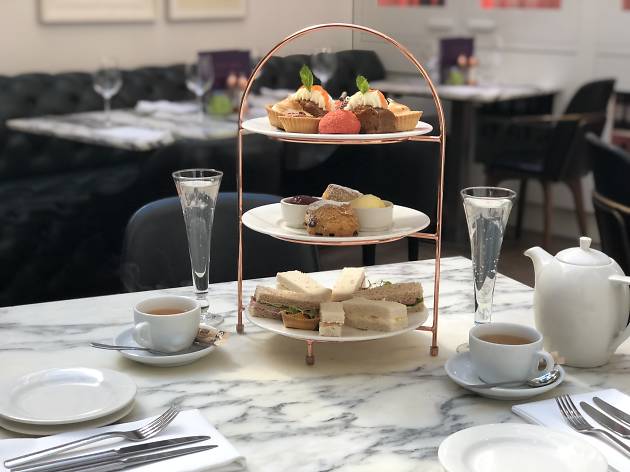 What is it? Incongruously enough, it's tea and scones at a popular night spot.
Why go? Far from the down-and-dirty rave caves on the Cowgate, the upmarket bars on George Street cater to night owls sporting only the finest threads on a Saturday night. It might seem odd that a boutique hotel, restaurant and bar would also offer an afternoon tea, but you've got to do something in the daytime – and with delicate sandwiches and sweet treats, plus drinks by Eteaket, Tigerlily's doing it well.
7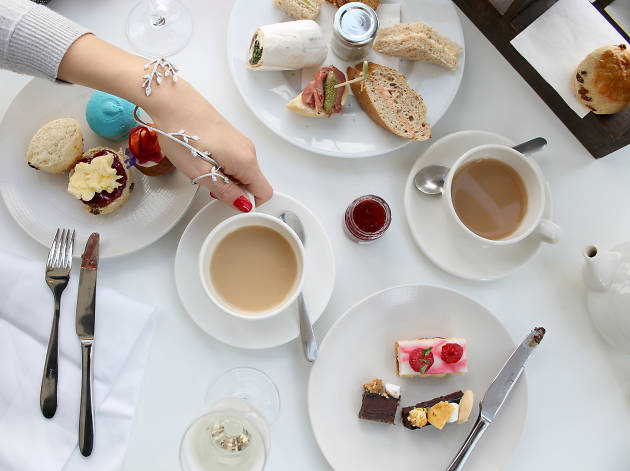 What is it? Afternoon tea at the top of the famed department store.
Why go? While there's no shortage of places to take tea in Edinburgh, very few have views that can rival Harvey Nicks'. Dining in the Forth Floor Restaurant that overlooks St Andrew Square, the New Town and has north Edinburgh spread out below to the River Forth, you can indulge in the likes of pineapple pavlova, traditional fruit scones and rosé champagne.
8
What is it? A vintage tea room and patisserie.
Why go? Located just off the foot of Broughton Street – a haven of trendy indie shopping boutiques – Casa Angelina is the perfect pit-stop following a few hours of retail therapy. Serving tea and coffee from Eteaket and Artisan Roast respectively (both experts in their field), Casa Angelina completes the afternoon tea experience with its own delicious selection of sweet and savoury treats – and just for good measure, everything's vegan.
9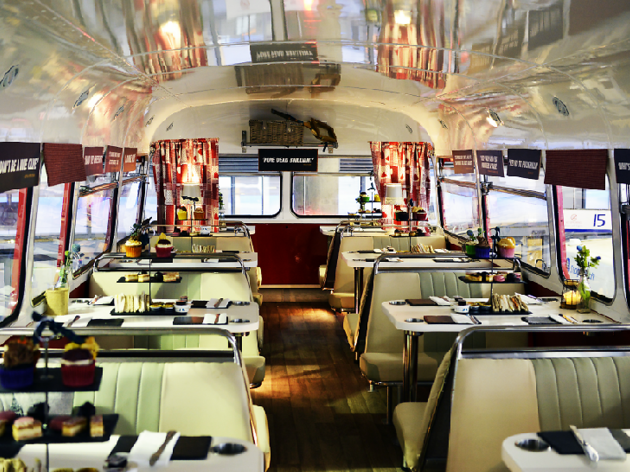 What is it? As if you couldn't guess – it's afternoon tea on a vintage bus.
Why go? Because, as a lover of afternoon tea, you're probably into vintage things in general, and what's more vintage than a classic red bus? While nibbling your sandwiches and sipping your Earl Grey (or a teapot-based gin cocktail should you fancy an upgrade), the bus will take you round some of Edinburgh's historic highlights, including the Castle, the Palace and the Old Town.
10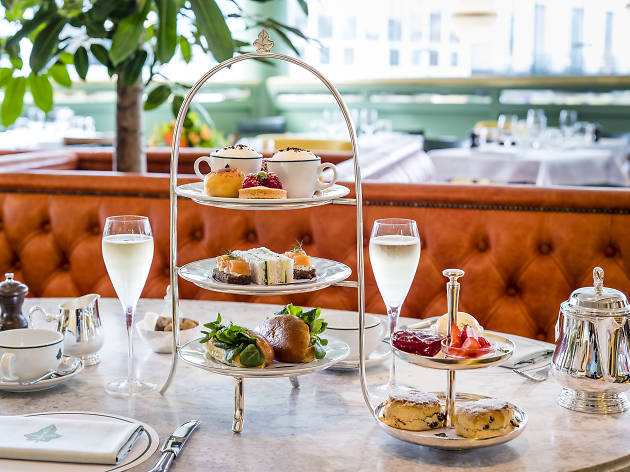 What is it? Sister restaurant to the famed London celeb hangout.
Why go? One of a crop of London luminaries that have pitched up on St Andrew Square in recent years (it's just a few doors along from the wonderful Dishoom), The Ivy on the Square offers sophisticated dining both indoors and out on its Parisian-style outdoor terrace. For afternoon tea, sample savouries such as truffled chicken brioche or crème brûlée doughnuts while sipping your fruit infusion.
11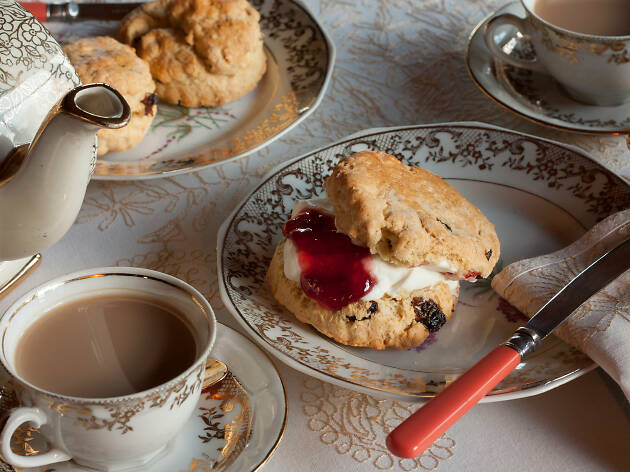 Photograph: Shutterstock
What is it? A chintzy tearoom and café that's popular with visitors.
Why go? There's a lot of fuss and pomp surrounding the concept of afternoon tea – even some of the less extravagant entries on this list still promote it as a special occasion. Clarinda's, on the other hand, serves an afternoon tea your no-nonsense nana would favour: inexpensive, with friendly service and delicious cakes, but with the expectation of a brisk turnaround. Somewhere for a quick scone, not a long lunch.
Time to explore more of the city's gems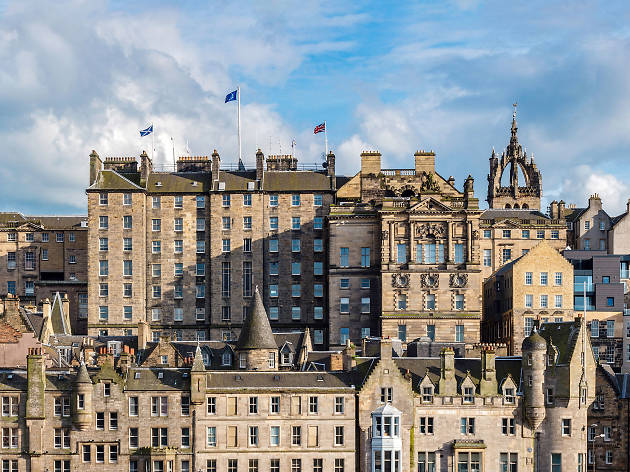 The simple act of strolling around Edinburgh can be something of a history trip – from the ancient volcanoes of Arthur's Seat and Castle Rock, to the medieval wynds and closes of the Grassmarket and Royal Mile, to the neo-classical splendour of the New Town. Edinburgh is home to an array of museums, many focusing on a specific corner of history. Here's our list of the best.
More to explore