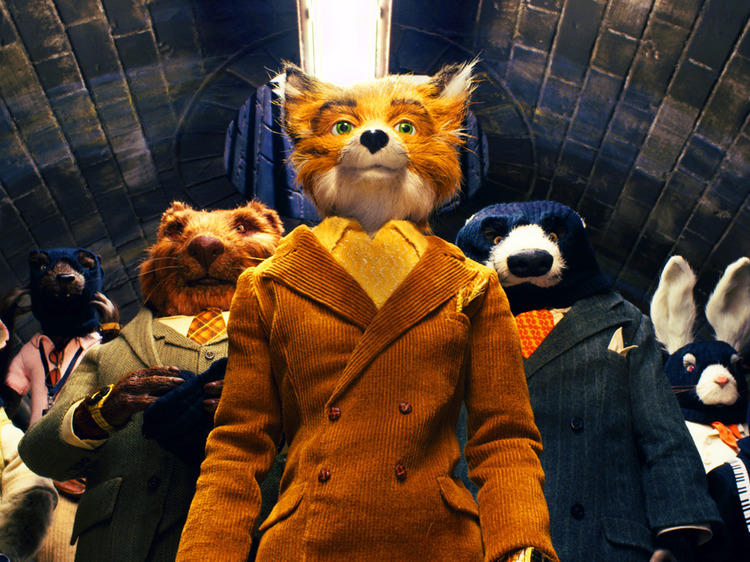 An idiosyncratic auteur gets animated with this stop-motion take on Roald Dahl's children's novel.
Director: Wes Anderson
Best quote: "Redemption? Sure. But in the end, he's just another dead rat in a garbage pail behind a Chinese restaurant."
Defining moment: Fox and friends come face-to-face with a mysterious black wolf.
It's tough being a wild animal. Not that the witty, snappily dressed Mr. Fox (George Clooney) likes to complain about his days making life hell for his human nemeses, farmers Boggis, Bunce and Bean (one fat, one short, one lean). It's in his nature, after all. But when Fox's wife, Felicity (Meryl Streep), informs him that they have a pup on the way, our vulpine protagonist realizes he has to tame the beast within. Good luck.

There's nothing docile about Wes Anderson's first foray into animation. Anderson's dioramic visuals and pithy plotting translate perfectly to a cartoon world. You're captivated right from the first gorgeously autumnal shot of Mr. Fox leaning against a tree, an image accompanied, in a very Andersonian touch, by the Wellingtons' 1954 tune "The Ballad of Davy Crockett."

As with all of the director's films, potent emotions underlie the comic-strip surface: Both Fox and his sullen son, Ash (Jason Schwartzman), must come to terms with their instinctual ambitions, which tend to clash with their everyday responsibilities. (The heart breaks when Felicity claws her husband's furry face in frustration at his blithely destructive impulses.) As the foxes find their way of life increasingly threatened, the question arises: How do you use your nature to your advantage? The answers aren't easy, but it should be clear that Anderson isn't out to cater to anyone except the audience he knows so well.—Keith Uhlich