South Beach, Miami, neighborhood guide
Get to know the many sides of South Beach, from its beautiful shoreline to its touristy spots and vibrant Art Deco buildings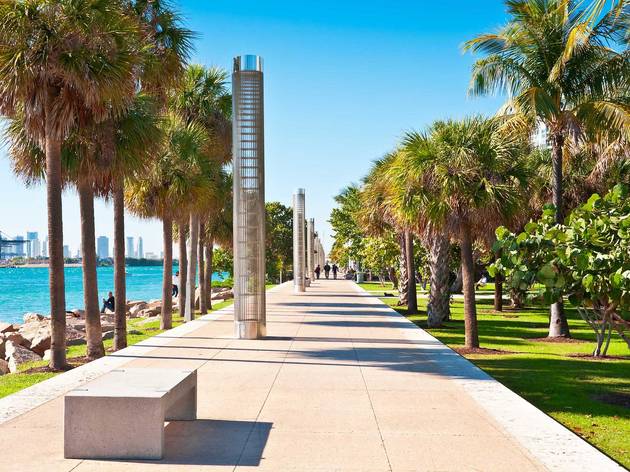 What's the deal with South Beach?
There are 34 municipalities that make up Miami-Dade but none is more popular than South Beach. It's on postcards touting dream vacations. You've watched Al Pacino and Robin Williams drive down its streets in movies. Will Smith even sang about it. There's just something special about this chunk of Miami Beach, extending from the tip of the island to 26th Street.
It's got history, evidenced by the candy-colored buildings that make up its Art Deco district and the mid-century modern architecture on display at its many iconic hotels. South Beach bursts with character, especially during its annual Miami Beach Gay Pride festival. The weeklong celebration is a wild and crazy time that could only go down in a neighborhood as fun, free and vibrant as SoBe. As a matter of course, people let it all hang out here. Miami nightlife starts and ends in South Beach—clubs stay open until 4am (though that might not be the case during or post lockdown) and, on the weekends, nearly every hotel poolscape transforms into a Vegas-style pool party.
There's a lot of ground to cover in a nabe that's only a few square miles. If you don't know how to do it right, you may just find yourself a little poorer and slightly sunburnt. But if you listen to us and do your research, you'll crack open a South Beach not everyone gets to enjoy—one that's home to some of the best restaurants in Miami, the best Miami beaches and tons more to drink, see and do. So what are you waiting for? Let's get to it.
If you only do one thing
A few months ago, we would've pointed you in the direction of Time Out Market Miami, which is temporarily closed. We're partial to it, but ask any person in the city with taste buds and they'll agree the sprawling culinary and cultural destination truly brings together the best of the city.
These days, we're most excited about the changes happening on Ocean Drive. The busy, touristy strip has closed to cars and transformed into a pedestrian-only area. It's allowed restaurants to take over sidewalks and spill onto the street and given rollerbladers and cyclists ample space to safely roam.
Go off the beaten track
The Betsy Orb is a public art installation that connects the original Betsy Ross property with its later addition. It's basically a giant oval suspended in the air above an alleyway and totally it's worth scouting. (14th Pl and Ocean Ct)

On a sunny day
Hit the sand! Follow the rainbow flags to SoBe's popular gay beaches near 12th Street, party it up in the South of Fifth corridor nearest Nikki Beach or park yourself behind the area's most dazzling hotels, from the glamorous SLS on 16th Street to the eco-chic 1 Hotel off 23rd Street.
On a rainy day
It rains nearly every day but the fleeting storms are best spent under the cover of an umbrella while strolling down Lincoln Road. Pop into local shops, browse the massive Apple store and shop your favorite big-name brands while getting your steps in.
Get cultured
Look around! The neighborhood is brimming with Art Deco architecture and historical buildings. Check out the Art Deco Welcome Center for information on tours and ways to learn more about the area on your own.
Chill out
Pack a picnic or pick up some claws and an order of fried chicken from Joe's Takeaway and enjoy it at South Pointe Park, the small green space overlooking Government Cut.
Escape the heat
Cool off—and learn something!—at Artechouse. The digital museum is dark, air-conditioned and truly one-of-a-kind in its mind-bending exhibitions.
What else is nearby?
Midtown and the Design District are just over the Julia Tuttle Causeway on the mainland. North of South Beach is Mid-Beach, a more residential, low-key part of Miami Beach.
The latest on South Beach
Things to do in South Beach