South Beach neighborhood guide
Get to know South Beach with our guide to the neighborhood's best local restaurants and bars, arts, entertainment and things to do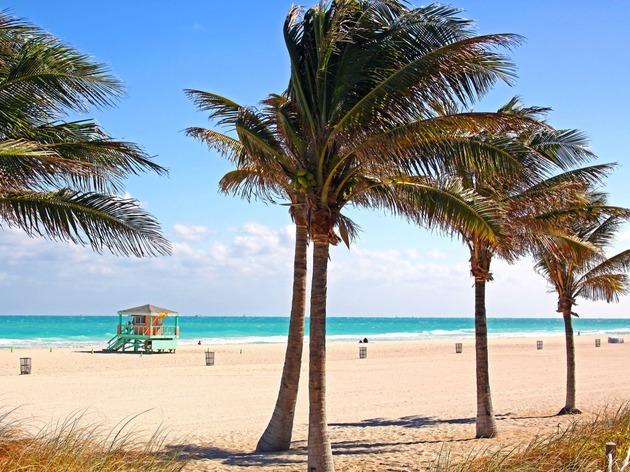 Contemporary yet historical, tiny but diverse, South Beach—Miami Beach's long southern stretch down to its tip at South Pointe Park—commands hyperbole. It is the Miami stereotype come alive. The action centres on Ocean Drive and Collins Avenue between 5th Street to the south and Lincoln Road to the north. Every Miami scene ever filmed in any movie seems to have been shot here. Hyper-tanned rollerbladers glide along the beach down Ocean Drive past whimsical, pastel-hued art deco buildings. Seven-foot, eight-stone models saunter past four-foot, ten-stone geriatrics. Eurotrash and celebs rub oiled shoulders with artists, hipsters and a sprinkling of local stock in the sidewalk cafés, designer boutiques, lounge bars and dusk-to-dawn clubs.

Then there's the turquoise ocean, the waving palm trees and the delicious blue skies. The whole place would be almost beyond perfect were it not for South Beach's pervasive seediness. The m'as-tu-vu scenes at the likes of Nikki Beach Club and Mansion are brought back down to earth with a bump by the scattering of beach bums with their possessions piled high in supermarket trolleys, and the prostitutes prowling Washington Avenue after dark. Add in the stubbornly egalitarian nature of good ol' redneck Florida, and you end up with the startling juxtaposition of world-class hotels next door to grungy tattoo parlours and sex shops. It's little wonder that the place lends itself so perfectly to lurid TV and cinema.

South of 5th Street
The lower swathe of South Beach below 5th Street (known as South of Fifth Street or, more cutely, SoFi) is quietly hip, tucked off the tawdry main drag. You'll find one of the Beach's best restaurants here in Joe's Stone Crab, known worldwide for its succulent crab claws and creamy key lime pie. For a cheaper bill and a dress code that leans towards sandy feet and beach wraps, head to Big Pink for enormous portions of diner food, including excellent cakes and pies (it's open late too).

A wonderful respite from the urban madness is South Pointe Park, a verdant spot on the very tip of Miami Beach. Surrounded by the Atlantic Ocean and Government Cut channel, the aquatic highway for cruise ships, it provides wondeful views.

Or, for a little culture, duck into the Jewish Museum of Florida, which tells the story of Miami's large Hebrew community. A popular 'only in South Beach' stop is the World Erotic Art Museum, which houses a huge collection of erotic art, including a sizeable collection of antique penises.