Wynwood, Miami neighborhood guide
Get to know Wynwood, Miami with our neighborhood guide to the area's best blocks, attractions, restaurants and more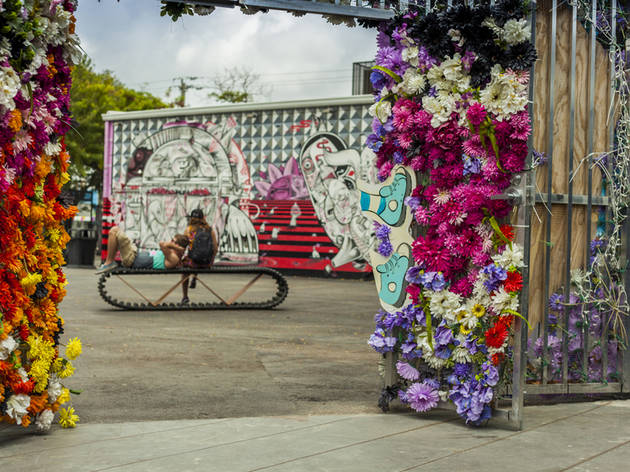 What's the deal with Wynwood?
Some might say that Wynwood dethroned South Beach as Miami's top tourist destination. The trendy arts district steadily lures folks off the sand with its massive galleries, colorful museums and miles of Instagrammable murals. It's a concrete jungle covered in graffiti and crawling with cool-looking locals and curious out-of-towners in search of a good time—specifically in December when the annual Art Basel Miami Beach descends on the city. It's also ground zero for influencers and photographers, though can you blame them? Every inch of Wynwood is a work of art. In a little over a decade, this former industrial hub home to warehouses and auto shops now boasts the hottest galleries, trendiest bars and best restaurants in Miami. Though some might argue the recent spate of breweries is an even bigger draw—the Wynwood Miami arts district continues to thrive as the city's epicenter of all things beautiful and expressive.
If you only do one thing
Check out the Wynwood Walls. Launched in 2009 by Tony Goldman, Miami's first and only outdoor museum showcases street art from artists around the world. The walls are painted over for a new exhibition every year during Art Basel and feature international artists tackling topical themes. Shepard Fairey, who designed Barack Obama's "Hope" poster and Tony Goldman's posthumous portrait, and Peter Tunney are among some of the most recognizable muralists in the collection.
The Wynwood Walls remain closed temporarily, but the shop is open to browse in person and online. You'll find one-of-a-kind artist collabs like water bottles, keychains, collectible books and more.
Go off the beaten track
Wynwood is a place to party, eat and drink, but it's also a great neighborhood for kids. Once you've bored them with walking tours of the murals, take them to FunDimension. It's an old-school arcade meets futuristic game room with everything from skee-ball and pinball to laser tag and virtual reality and a bungee dome. Players win tickets they can redeem on things like candy and finger traps (Remember those?) and parents get to enjoy a beer while the kiddos safely zip around.
On a sunny day
It's not a skyrise but the rooftop at Astra is the perfect place to soak up some rays. The breezy terrace is fashioned after the beach clubs of Greece and the vibe is truly transportive.
On a rainy day
An afternoon shower is a perfect time to head inside for a cocktail and a bite. Award-winning KYU, one of the neighborhood's long-standing restaurants, offers a spacious bar area and a generous weekday happy hour
Get cultured
Tired of the roaming the streets? Head inside to the Museum of Graffiti, where you'll get to experience more street art (and air-conditioning) and learn the history of tagging dating back decades. The venue comprises indoor exhibitions, 11 outdoor murals and a gift shop that sells limited-edition items from some of the creative minds you'll meet inside.
Chill out
The first breweries in Miami sprouted in Wynwood, including Latin-inspired Veza Sur. It celebrates three years this August and its brews and bites are fresher than ever. It's one of the few taprooms with ample seating and a sizeable food menu for folks interested in doing more than sampling.
Look down
There's art around you but also below you. The sidewalks are etched with all kinds of clever quotes and drawings for your enjoyment.
Get an insider's perspective
There are more tours than we can count going on at any given time in Wynwood but there's only one that's owned and operated by artists. Known as Miami's Best Graffiti Guide, this independent company will show you the real-deal Wynwood.
What else is nearby?
Wynwood is bordered by the Miami Design District, Edgewater and Downtown. It's easily accessed from South Beach via the Venetian and Julia Tuttle Causeways.
Editor's note: Some businesses remain temporarily closed in accordance with the county guidelines. Please check their website and call them directly for the latest information.
The latest on the Wynwood Arts District
Neighborhood guide to Miami's Wynwood Arts District