Miami Design District and Wynwood neighborhood guide
Get to know the Miami Design District and Wynwood with our neighborhood guide to the area's best blocks and attractions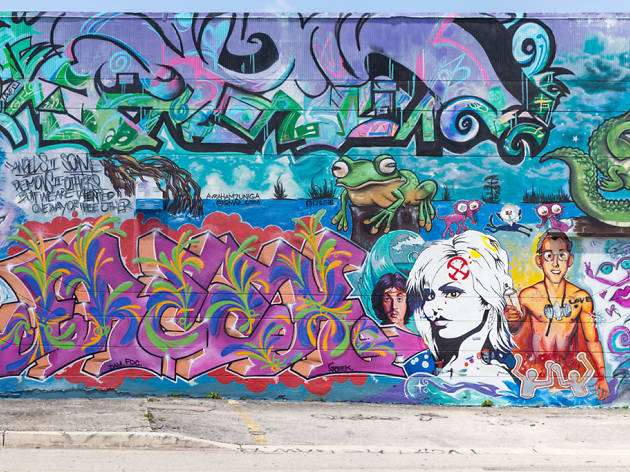 Your Guide to Wynwood
The secret is out: there's more to Miami than just South Beach. Gone are the days when a vacation rarely ventured past Ocean Drive, and perhaps no neighborhood helped usher in this Miami renaissance more than the trendy arts district known as Wynwood. In a matter of years, this tiny neighborhood went from warehouses and auto shops to the hottest galleries, bars and restaurants in Miami.
Running as far south as the northern fringes of downtown Miami, it's an area roughly bounded by NE Second Avenue to the east, I-95 to the west, I-395 to the south and NE 36th Street to the north.
Formerly an industrial hub and working-class community, Wynwood has blown up off the momentum of its galleries, Second Saturday art walks and the famous Wynwood Walls. Aside from Tony Goldman, the man credited with revitalizing the neighborhood, Wynwood's success is partly the result of pioneering institutions such as the Rubell Family Collection and the Margulies Collection at the Warehouse, which is home to photography, video, sculptures and installations. But for many, the area's centerpiece is the stunning Wynwood Walls, the city's only outdoor graffiti park. Street art here comprises some 40 murals from a roster of world-renowned artists, including Ryan McGuinness, Kenny Scharf, How and Nosm, Faile, Retna, the Date Farmers, Liqen and Shepard Fairey, the designer of the iconic Obama "Hope" poster.
Wynwood's crop of award-winning restaurants, such as Alter and KYU, have also made the neighborhood a culinary destination for locals and tourists. Though some might argue the recent spate of breweries is an even bigger draw—Wynwood Brewing Company, J. Wakefield Brewing and Concrete Beach Brewery are all within several blocks of one another. For drinks of the caffeinated variety, Panther Coffee remains one of Wynwood's—and Miami's—most celebrated coffee shops. It's just up the street from Salty Donut, the city's hottest doughnut joint. If you see a line outside the door, you know you've come to the right spot.
Your guide to the Design District
Wynwood's northern neighbor, the Design District, has been enjoying its moment as well, attracting the most luxurious retail stores in the world and becoming a shopping destination of epic proportions.
Filling a grid of a mere five streets (NE 36th to NE 41st Streets) by two (NE 2nd Avenue to N Miami Avenue), the Design District is vastly out of proportion with its influence on the arts and culture scene.
The area started as a pineapple grove, and evolved into what became known as Decorators' Row during the building boom of the early 1920s, when home-design stores lined its streets. The neighborhood fell on hard times in the late '80s, when crime drove many businesses north, but its proximity to booming Wynwood has resurrected this once-unpolished part of Miami.
Now you'll find plenty to do other than shopping. For example: eating. Gloria and Emilio's joint, Estefan Kitchen, serves up Cuban classics with a modern twist. OTL is a laid-back coffee shop and cafe that's perfect for a quick lunch or lazy weekend breakfast. Michael Schwartz, perhaps the first Miami chef to recognize the area's culinary potential, still draws crowds to his beloved Michael's Genuine Food and Drink. He also has one of his Harry's Pizzeria locations in the Design District.
Of course, where there's design, there's usually art galleries. The Institute of Contemporary Art (ICA) Miami is a must-see for cutting edge modern art. Plus, admission is free. The de la Cruz Collection also offers free admission and a bevy of educational lectures, workshops and tours. Thanks to developer and art collector Craig Robins, a South Beach pioneer who also owns about 40 percent of the Design District's properties, a good deal of public art (most of it created by locals) is also on display. You can see Robins's 24-foot prototype of Buckminster Fuller's Fly's Eye Dome, which the inventor dubbed an "autonomous dwelling machine," in the heart of Palm Court.
The majestic 1921 Moore Building (4040 NE 2nd Avenue, at NE 40th Street) is the historical heart of the district. Originally a furniture showroom, it's now the retail home to interior designer and potter extraordinaire Jonathan Adler and a rentable space for special events and parties (many of which happen during Art Basel Miami Beach).
For a private Wynwood Street Art and Gallery Tour, click here.