The best Airbnbs in Frankfurt
Experience the German city in style with our pick of the best Airbnbs in Frankfurt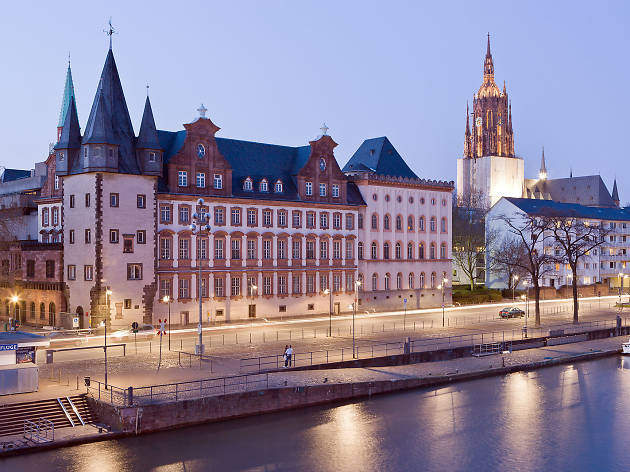 As one of the largest cities in Germany (and the biggest in Hesse), Frankfurt has a huge range of things to do and places to explore. The charming Römerberg square, for instance, in the medieval old town, or the gothic 'cathedral' (in truth a church despite the name), which looms over the River Main. And, of course, no jaunt around Frankfurt would be complete without eating at one of its gorgeous restaurants or tracking down an apple wine tavern, after which you'll probably need somewhere comfy to rest your head. Where better than one of the city's best Airbnbs? We've rounded up a whole bunch of them in central Frankfurt to help you find one that fits your stay perfectly, be that a romantic gettaway, pals on tour, or a family vay-cay.
Recommended: the best hotels in Frankfurt
Frankfurt's best Airbnbs
1
Outstanding industrial design
A spacious three-bed/three-bath industrial loft that sleeps up to eight. The floors are vogueish polished concrete, separated into lounging, dining and cooking areas by wooden platforms. It's all very architecture magazine, so if you're a stickler for style you'll feel right at home here. In fact, it couldn't be sleeker if it tried.
Image ©Airbnb
2
If shopping is your bag, you're going to want to get down to the Zeil. You'll also find this two-bed there, in prime position to reach the markets, stores and eateries. The flat itself is very neat and hotel-like, decked out in calming neutral tones, with all the necessary facilities.
Image ©Airbnb
3
Sweeping sights of the skyline
The best bit about this open-plan studio is the massive floor-to-ceiling window that sweeps across one side of the apartment. This opens up to connect the inside with the equally large terrace that offers lovely views across the city.
Image ©Airbnb
4
This attic studio has the sort of boho-chic vibe that wouldn't feel out of place in a Manhattan loft. Except it's a fraction of the cost and is in the East End of Frankfurt. Suitable for two guests, there's not only a balcony with views of Günthersburgpark but several restaurants are nearby if you get peckish from all the sightseeing.
Image ©Airbnb
5
Located in a swanky block, with an elegant entrance hall, this cosy studio flat provides everything you might need in one space. Bed? Check. Telly? Check. Hob, kettle, table and chairs? Check, check, check! Sure, it's intimate, but if you're with someone you're close to that'll only add to the charm.
Image ©Airbnb
6
If you've got a bunch of pals that all want to stay under one roof, then it can be pretty tricky. Luckily, this yellow villa sleeps over 16 people – perfect for students or for friendly reunions. Sure it might not have the most exciting interior, but the price can't be argued with and it's company that makes the holiday, anyway tbh. Besides, you'll spot it from a mile away (perfect if you're all stumbling home).
Image ©Airbnb
7
Splendid self-contained apartment
This lovely little studio is located around thirty minutes away from Frankfurt. Small yet comfortable, the calm decor gives a very zen vibe that is perfect if you're looking to escape the rush of city life.
Image ©Airbnb
8
Micro attic studio with modern comforts
Proving that good things can come in small packages, this micro-apartment contains everything you need for a speedy trip away. Relaxing after a long day of city-trekking is easy since it's located in Maintal-Hochstadt - a pretty great whereabouts for the affordable price. Plus, when you wake up on the springy double bed, you can roll straight into the adjacent shower. It's a lazy man's/ tired tourists dream.
Image ©Airbnb
9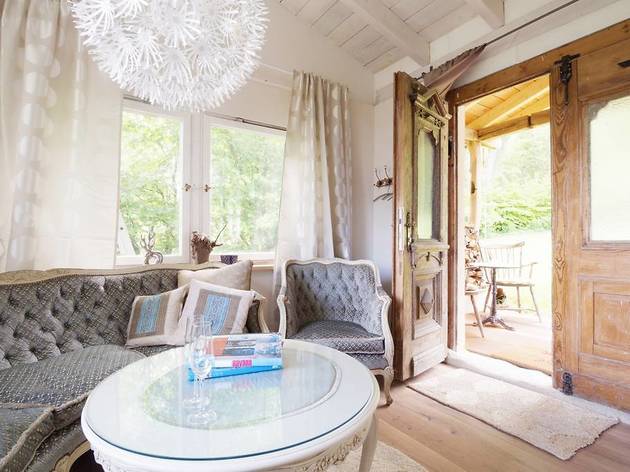 A tranquil summer residence
Willkommen to your new favourite bolt-hole. It's a neat one-bed with a comfy lounge, a well-equipped kitchen and plenty of natural light. Made from natural stone and sporting a traditional wooden fireplace that is great for cooler evenings, grab your cosiest blanket and settle in.
Image ©Airbnb
10
Artfully stylish apartment
Centrally located and dripping in style, this classy one-bed flat provides en vogue refuge for fashionista travellers. For starters, it's located right next to the subway station, so getting around is super easy. Plus, the Berger Strasse spot means that markets, bars and restaurants are at your fingertips. Fancy spending a night in instead? No worries - the spacious layout allows for an enjoyable night of dining and dancing (and washing up, sigh).
Image ©Airbnb
11
Looking for visions of the west-end skyline? Well, this charming apartment has you more than covered. It's also well located that it'd make a great base for anyone who wants to spend time out exploring. When you get home though, make sure to head to the balcony with some vino. It'll make for the most romantic of sights.
Image ©Airbnb
12
Clean, crisp and contemporary, this vast home is great if you're travelling with a group of your best pals. With sleeping space for eight, a private garage and a large, sociable lounge to boot, have no fear about whether everyone will fit in. Based in Wiesbaden, a quiet but incredibly trendy part of town, it's a great choice if you're thinking of splitting the bill. (Oh, and check out that parquet flooring, too).
Image ©Airbnb
13
A tree-house inspired home
One of Frankfurt's more unusual and impressive finds, this wooden home is essentially a live-in spa. Not only does it resemble a sauna, but there's a hot-tub and actual sauna to enjoy. With enough space for six, you can bring the whole family - and kids will love playing in the sandpit too.
Image ©Airbnb
Check out Frankfurt's best things to do
From apple wine-infused tours to scenic strolls, this historic city is full of hidden gems worth exploring.