The 10 best things to do in Hamburg
Experience the coastal city like a local, be it sailing around the harbor or chowing down German fare at the fischmarkt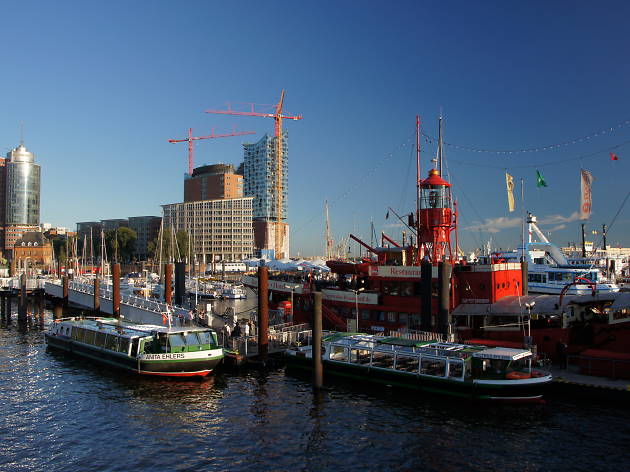 A rich maritime history and proximity to the coast make Germany's second largest city and biggest seaport a unique experience, complemented by delicious seafood and harbor views. In recent years, Hamburg has quietly grown into a cultural mecca, with over 50 museums, 45 theaters and around 100 music venues and clubs. In January 2017, the city celebrated the opening of one of the largest and most acoustically advanced concert halls in the world, the Elbphilharmonie—a major coup. Only in Hamburg can you take a stroll down the infamous Reeperbahn Red Light district, glimpse a miniature world on a gigantic scale and drink a gin basil smash at the bar that claims to have invented it. Find these and more in our list of the very best things to do on a trip to Hamburg.
The best things to do in Hamburg
1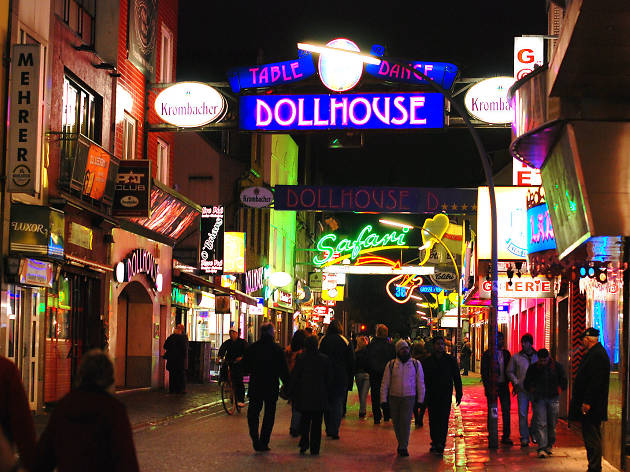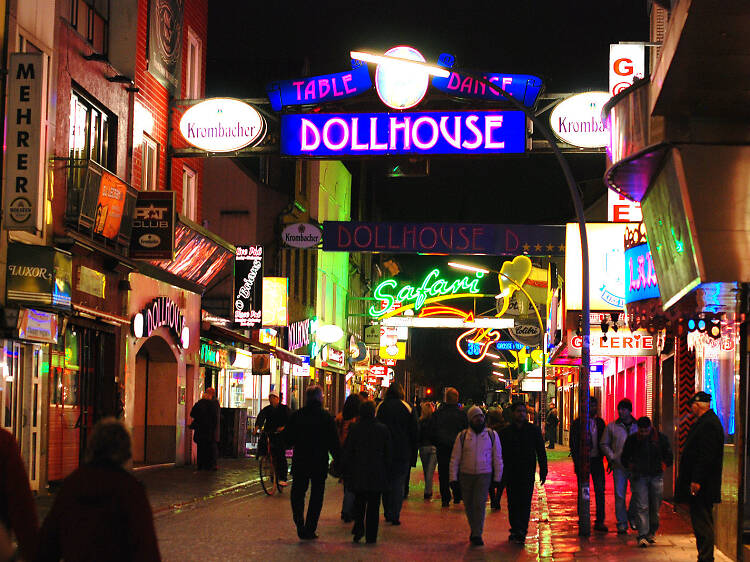 Photograph: IK's World Trip/Flickr
Take a stroll down the Reeperbahn Red Light district
With seedy charm, Hamburg's "most sinful mile" on the Reeperbahn is one of the city's main attractions. However, with lively restaurants, clubs and bars mixed in with the strip clubs, sex shops and brothels, this area in the St. Pauli district is also one of the two centers of Hamburg's nightlife. Prostitutes roam openly on the infamous Herbertstrasse, where women are forbidden—though word is some have slipped through with the right disguise. Around Christmas, you'll find the city's naughtiest Christmas market, the Santa Pauli Market, which features adult-only strip shows, live music, and an adult tent housing some of the more sexy holiday gifts. There are also the traditional Christmas stalls, including an open air art gallery. Gentrification means the erotic playground part of the Reeperbahn might not be around much longer—see it while you still can.
2
Photograph: Courtesy Maritime Circle Line
Hit the harbor and take a boat tour around the Port of Hamburg
Don't expect nature; these boat tours are more about seeing what makes Germany's largest port tick. With 9,000 ship calls per year, almost 300 berths and 27 miles of wharf for seagoing vessels, the Port of Hamburg is a bustling sea superhighway. On a barge tour such as the Maritime Circle line, you'll get closer to the action happening with the container ships. Or flee the constraints of land with a floating techno dance party on the Love Boat. If speed is your thing, try RIB Piraten, the only speedboat operator allowed inside Hamburg Harbor. On the last stretch of this tour, you'll reach top speeds on a rigid inflatable boat which skims the waves at 60 miles per hour.
3
Photograph: su-lin/Flickr
Drink a galão in the Portuguese quarter
Oddly enough—with the obvious exception of Portugal—Hamburg is one of few places in the world where you can have an authentic Portuguese experience. Portuguese and Spanish immigrants have settled in the area around Ditmar-Koel-Strasse in the Neustadt district since the 1960s and '70s, and this scenic area is where the club kids go after a night out for a hot galão (espresso with steamed milk) and pastel de nata (a custard tart). Close to the harbor, this is also a destination for satisfying a craving for fresh seafood. Try a bowl of steamed mussels from one of the dozens of restaurants offering the best Mediterranean food in the city.
Literaturhauscafe is located in a stunning old building that dates back to 1839, but it wasn't always this way. Once it served as a dance school, a home for girls and was then left to deteriorate for years. Thankfully, in 1985, an anonymous philanthropist funded its restoration and now glittering chandeliers hang from intricately stuccoed ceilings above rows of gleaming white tablecloths. Literaturhauscafe may not be the cheapest eat out, but it's perfect for a special occasion or if you just want to treat someone (or yourself). Their menu consists of seasonal and regional dishes.
Things to do, Markets and fairs
The Fish Market is a somewhat misleading name. Ok, so you'll definitely find fresh fish and seafood here, but there's also an array of bric-a-brac, flowers, fruit and veg, meat and clothing. All sorts of things have been traded at Fischmarkt since 1703, so it's well established and very popular every Sunday morning when it opens. If you're looking for something ready to eat, rather than fresh ingredients, you can also get snacks like shrimp rolls here or pop into the adjacent fish auction hall for brunch and a performance from a live jazz or skiffle band.
Things to do, Markets and fairs
For the best retro or vintage souvenirs, head to Flohschanze, considered by many to be the city's best flea market. Every Saturday, hundreds of vendors hold court at the market, which is located in the hip Schanzenviertel district near an old slaughterhouse and has an excellent view of the FC St. Pauli soccer stadium. Just about everything is on offer, from Mid-Century light fixtures to brass candle sticks, used bicycles, clothes, furniture and even car batteries. While you won't find brand new items from local retailers, that's a good thing; it's a flea market in the truest sense, meaning bargains are to be found. Toilets are in a trailer on site, and offer a clean experience for a small charge.
Museums, Specialist interest
Whetehr you have kids or you're a big kid (or a miniatures obsessive), Miniatur Wunderland is quite a sight to behold. Teeny tiny stories unfold all over the small world, so keep a beady eye out for what's going on. Allow at least three hours to get around everything, including the crowds of onlookers hustling for prime position. Miniatur Wunderland in Hamburg is home to the largest model railway in the world (at 50,000 feet) and it runs through various model areas, including Middle Germany, Hamburg, USA, Scandinavia, Knuffingen Airport and Venice. Book in advance to skip the queues and, when it's not too busy, you can even bring your dog along.
This live music club, which proudly calls itself "Hamburg's loudest sauna," has been attracting a wide variety of bands and musicians since 1974—making it one of the city's oldest and most beloved music institutions. The venue was built as a furniture store after World War II, before its transformation into a student restaurant with cheap food and the occasional concert. Slowly, the concerts took over. The 40 years of Das Logo's existence have not been easy; financial dire straits have led to near-closure several times over the years. However, the band plays on—on a 26-by-13 foot stage—and both local and international talent continue to deliver memorable evenings. With a maximum capacity of 450 people, the club is often sold out to music enthusiasts from Hamburg and beyond.
A gathering for creative types and the boating community, Entenwerder1 is a sun-splashed cafe directly on the Elbe River in the Rothenburgsort district. From picnic-style seating outside you can watch the boats go by—or stop, as a docking point makes this an aquatic destination for hungry locals. Inside seating, communal-style, is in two buildings; a boldly colored wall installation in one and the perforated steel facade on the other make both architecturally interesting. Try the fish cakes or the fresh homemade baked goods on the mostly-revolving menu. You'll have to get beyond the surly service to enjoy your meal, but the location can't be beat.
Bars and pubs, Cocktail bars
A green-tinted muddle of basil, gin, lemon juice and sugar, the Gin Basil Smash is a fresh summery drink making the bar circuits worldwide these days. Le Lion makes the case that they invented it—and this claim is boldly stated on the sign outside the speakeasy-style cocktail bar which you'll find brimming with lion accents. True or not, Le Lion is the place to find a very good cocktail in a sultry locale. Head to one of the upholstered bar stools on the second level, and you'll have a good gazing point from which to watch the well-heeled crowd. Small plates of food are also on hand, mostly salami and cheeses. Reservations are recommended; ring the bell to enter.
See more Hamburg sights
Navigate your way through the canal-dotted city for a strong dose of culture, history and no-holds-barred nightlife