Heads up! We're working hard to be accurate – but these are unusual times, so please always check before heading out.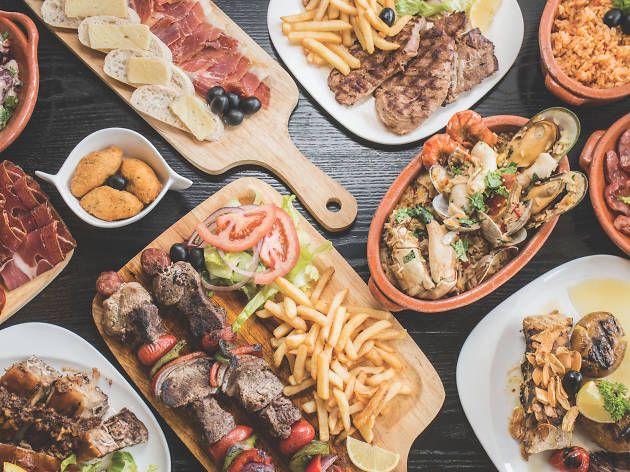 Off the eaten path: The best restaurants in Macao outside the casinos
There's more to our sister SAR than the big name restaurants
Whether comparing Michelin stars or the cities' food scenes in general, Macao often comes across as the poor relation compared to Hong Kong. But the truth is, our sister SAR is full of great eateries – you just have to know where to find them. We sidestep the entertainment complexes and present the best places to eat like a local in Macao.


RECOMMENDED: Apart from Macao, there are still many great day trips you can take in Hong Kong. If you're not in the mood to travel, we have some great cheap street eats right here too.


The best places to eat in Macao
This charming canteen is part diner, part social initiative and home to the Civil Servants' Retired Association dining room, which is open to the public and popular with both the young and the young-at-heart. Drop by for hearty homestyle Macanese fare and a menu of all-time favourites like oxtail stew, grilled prawns, stingray stew and roast chicken.

49B Avenida de Sidonio Pais, Macao; (853) 2852 4325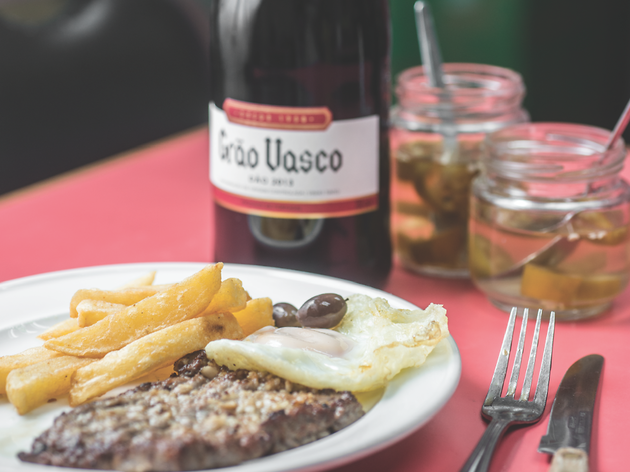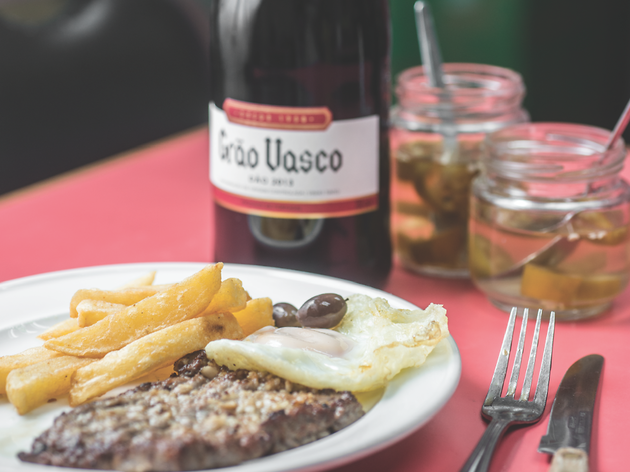 It should come as no surprise that Macao, just like Hong Kong, has its own cha chaan teng culture. Though where ours is decidedly British-inspired, Macao's, naturally, has a Portuguese bent. High rents and decreasing demand have forced many of these old-school restaurants to close but thankfully standing the test of time is A Vencedora. This no-frills spot feels like stepping into a previous age, where servers banter with old Portuguese patrons in patois while serving comfort food like bitoque (garlic-basted steak with fried egg and chunky chips) or staple Macanese dish minchi (minced beef with browned onion, diced potatoes and fried egg on rice).

264 Rua do Campo, Macau; (853) 2835 5460
BIC dishes up southeast Asian noodles down an alleyway that's hidden in plain sight. Just around the corner from the Insta-friendly Portuguese consulate in Macao's historic centre, the wood-panelled exterior of this diner gives way to a welcoming space that's modelled on neighbourhood eateries in France, right down to the black and white tiles. The bistro offers both egg and rice noodles done in a multitude of ways, from pho to tom yum and laksa. There are also a number of beers available on draught and a tidy list of French wines that are perfect to nurse on the leafy front patio after a long day of sightseeing.

The Garden, Patio da Lenha (off Rua de Pedro Nolasco da Silva), (853) 6685 7621
This Taipa spot is, basically, Macao's answer to Central's Mana – minus both the gimmicks and the exorbitant price tag. This cosy takeaway spot delivers hearty, filling vegetarian fare with a focus on locally sourced and organic whole foods. As well as protein-packed rice bowls, salads, wraps, sandwiches, tacos and pasta, the Carrot's extensive menu also includes an excellent all-day breakfast selection and a great range of freshly squeezed juices and superfood smoothies. The offerings more than silence any carnivorous grumblings about no meat meaning no meal. Make sure you don't leave without picking up a slice of the home-made carrot cake either. Easily one of the best anywhere around.

79A Rua de Carlos Eugenio, Taipa, (853) 6298 8433

Open for little more than a year, this restaurant in the port area of Barra has quickly become a popular go-to for its contemporary take on Portuguese comfort food. Macanese siblings José and Vanda Rodrigues' industrial-chic two-storey space showcases ingredients sourced mainly from Ponte de Sor, in central Portugal, from the restaurant's olive oil to its meats. The dishes and even the home-ground spices here are all inspired by family recipes. A standout on the farm-to-table menu is the incredibly moreish bacalhau à brás, a classic Portuguese dish in which shredded salted cod is combined with onions, potatoes and scrambled eggs and served here with crispy, well-seasoned fries. Other highlights include juicy Portuguese grilled chicken served whole and the slow-cooked porco preto (black pork), available as either grilled ribs or slow-cooked neck loin. Props to the tomato rice, too. It's fragrant, perfectly balanced and the ideal accompaniment to any of the mains.

310 Rua do Almirante Sérgio, Macao, (853) 2896 6313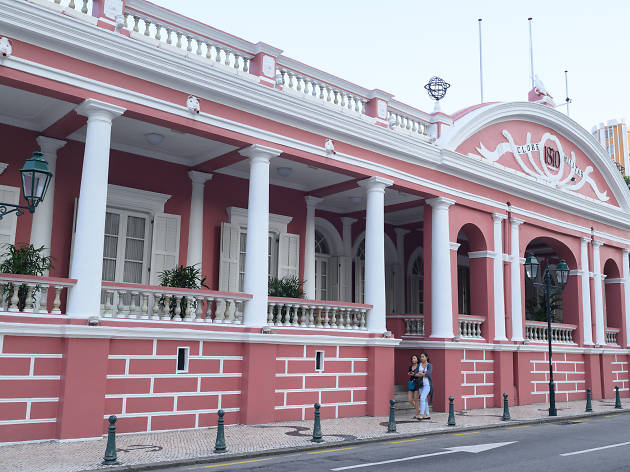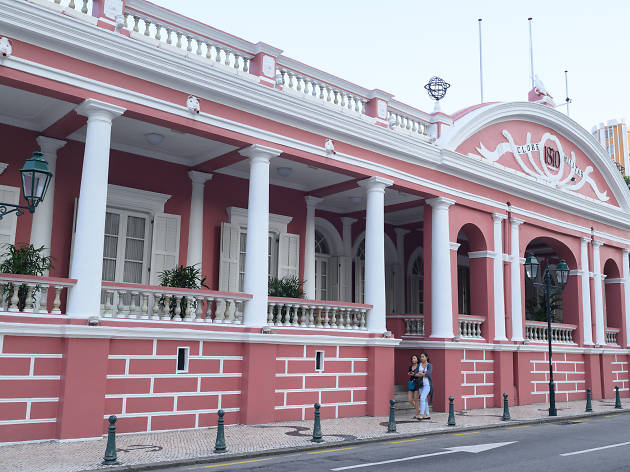 CS
The Clube Militar de Macau is one of the most iconic buildings in Macao and it houses one of the city's best restaurants. It's hard to miss the flamingo pink colonial structure right behind the Grand Lisboa and it's definitely worth stopping by for more than just a selfie in front of the nearly 150-year-old building. The menu within reads like a list of Portuguese greatest hits with signature dishes such as Portuguese duck rice, sautéed clams Portuguese-style and codfish croquettes with black eye bean salad making up the numbers. For a spot of afternoon indulgence, the lunch buffet is one of the best deals in town.
975 Avenida da Praia Grande, Macao, (853) 2871 4004
This Taipa Village stalwart might have the appearance of a made-for-tourists dining room but the food proves that it's anything but. Serving classic dishes in a lively setting, the 120-seater is a charming slice of old Portugal. Try the African chicken – the thick sauce of coconut milk, garlic, butter and paprika might just be the best in town. Wash it down with a large jug of sangria and you've got yourself a great night out.

53-57 Rua do Regedor, Taipa, (853) 2882 5255
Bust out your best fur and dust off your babushka dolls for this one, kids – we're going to Russia. Nestled in the buzzing neighbourhood of Costa, the spacious, dark-hued Friendmily (a portmanteau of 'friend' and 'family') serves up classic dishes from the land of the Soviets like roasted grilled pork rib, Moscow-style grilled lamb rack and roast salmon in a Russian-style red sauce. There's also an excellent selection of Russian beer and, naturally, vodka. And just in case the food and drink aren't enough to remind you of the cuisine you're in for, the large portrait of Lenin overlooking the dining room most certainly will. Just like the rezidentura.

78 Rua da Barca, Macao, (853) 2835 0822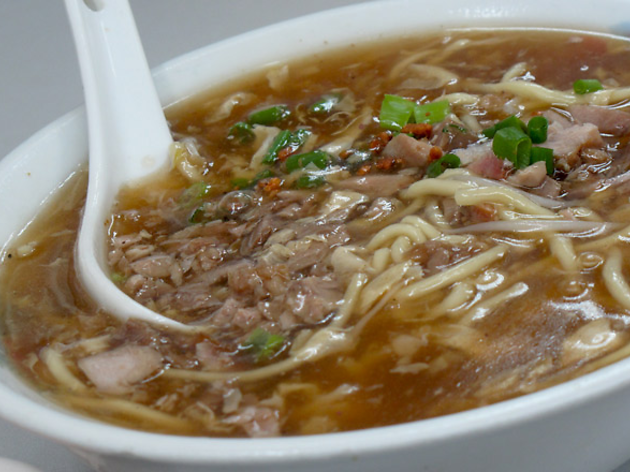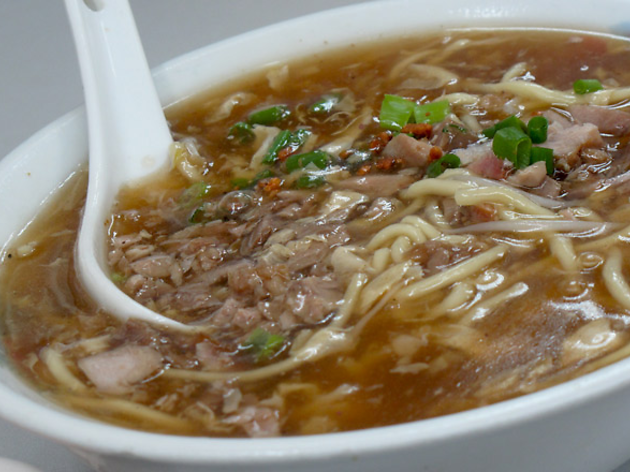 Here's a random fact: Burmese food is very much a thing in Macao. In fact, the locals love it so much that there's a small pocket of town in the peninsula's Three Lamp district that's famous for its various Myanmar-inspired eateries. While the restaurants enjoy a friendly rivalry and regulars have their tried and tested faves, we can't get enough of Hin Kei. While not much to look at, the dishes here are a knockout, whether it's the crunchy deep-fried intestines, the deceptively complex dry egg noodles with shredded chicken or the surprisingly wide selection of traditional Burmese soups like the thick mohinga fish soup and coconut chicken soup. With friendly service, bargain prices and an authentic cuisine hard to find on our own shores, this is one restaurant worth venturing off the beaten path to find.

3 Estrada de Adolfo Loureiro, Macao, (853) 2853 0321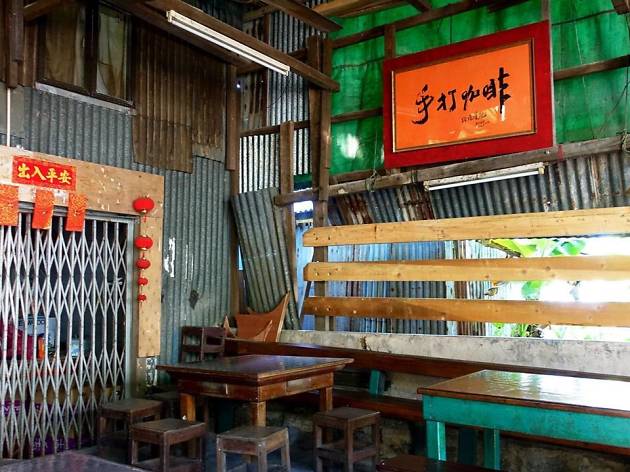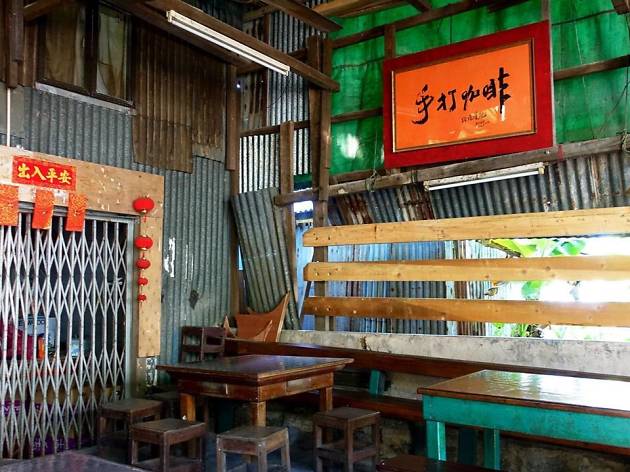 There are some dining experiences that stay with you long after you've left. Coloane's Hon Kee Coffee is one such experience. The open-air cha chaan teng is the very definition of a hidden gem – it's well off a main road amid Macao's former shipyards, eerie rusted remnants of which are still strewn about the ground. Grab a seat at one of the communal tables under the canopy and enjoy comfort dishes like the luncheon meat with instant noodles or the more Macanese chilli sardine version. The star of the show, however, is the hand-beaten sweet coffee. Still made by the café's owner (and former kung fu master) Ah Hon, the secret is not in the bean (tins of Nescafé line the walls) but rather the making – each cup is hand-whipped around 400 times to creamy, frothy perfection.

Estrada de Lai Chi Vun, Coloane, (853) 2888 2310
Proving that excellent fine dining experiences can be had outside of Macao's hotel complexes is relative newcomer Japas. Located down a backstreet in the peninsula's northern industrial reaches, the airy dining room is the brainchild of chef Anthony Sousa Tam, whose highly impressive CV includes stints at Noma, Nobu and Hakkasan. The Macao native has brought his world of experience back home to create this very special space. Offering only set menus, the clue is in the name at Japas, which serves contemporary Japanese and Spanish-inspired cuisine based on the freshest produce available on the day. Dishes might include unagi foie gras and seaweed rice, lobster in liquid watercress and yuzu vinaigrette and olive-oil poached salmon with ikura and ginger.

165 Rua Do Padre Eugenio Taverna, Macao, (853) 2852 1199

This one may not be a restaurant but no foodie tour of Macao is complete without a visit. Opening its doors earlier this year, Centro spot Loja das Conservas brings to Macao one of Portugal's most famous food traditions for, surprisingly, the first time: canned fish. Tinned goods are taken pretty seriously in Lusitania and the products in this colourful new store are proof as to why, with a fab range of some of the best you can get. The store itself comes straight from Lisbon and is Macao's first and thus far only one-stop-shop for the best of its kind.

9 Travessa do Aterro Novo, Macao, (853) 6571 8214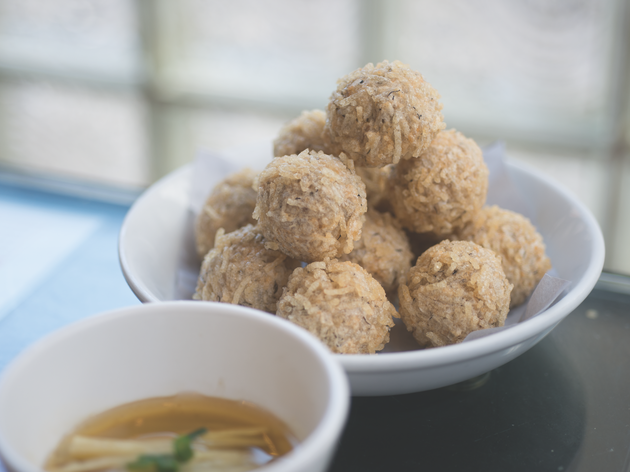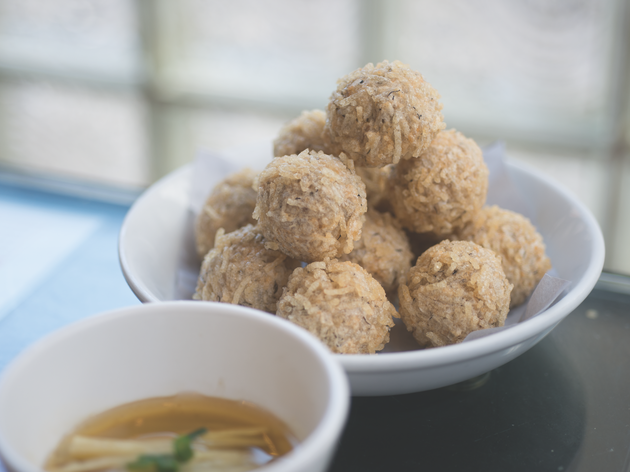 Michelin-recommended Ngao Kei may look unassuming from the outside but it's proof that appearances can be deceiving. This modest noodle and congee house is a popular haunt for its crab dishes, specifically the hearty and generously portioned crab congee and the creamy, indulgent crab roe dry noodles. If you're not craving crustacean, the fiery beef brisket curry with noodles is also a reliable winner. The best part is that it's open until 2am – because, let's be honest, if you're on a cheeky late-night food run, you can and should do much better than McDonalds or Tsui Wah.

1 Rua de Cinco de Outubro, Avenida de Almeida Ribero, Macao, (853) 2895 6129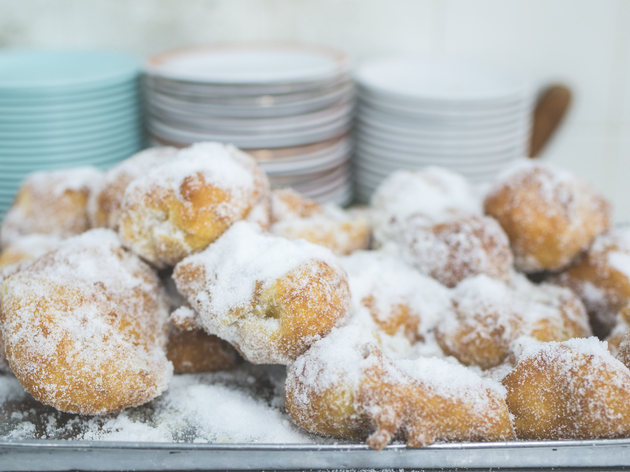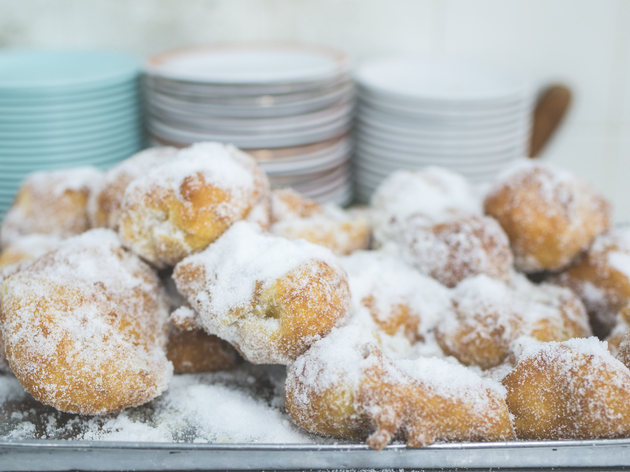 Tucked away in the labyrinthine streets between the Ruins of St Paul's and the China-facing ports is this little piece of history. Charming cha chaan teng Nam Peng Café looks like something straight out of a Wes Anderson movie – except it existed before Wes Anderson movies were even a thing. The menu won't be unfamiliar to anyone who's at all familiar with the ways of CCTs but it's the vibe of the place alone that makes this one stand out. Order a signature char siu and scrambled egg sandwich, filled with generous amounts of both, and follow it up with one of the excellent house-made pastries like the egg tart, sa yung (egg puff pastry – think a Macanese beignet) or coconut tart.

85 Rua de Cinco de Outubro, Macao, (853) 2892 1205
Located in the gridded area of Nape in the peninsula's south, charming Carlos is the perfect option for authentic Macanese and Portuguese fare with a low-key vibe. Whet the appetite with reliable favourites like the cod croquettes with chorizo and the Portuguese-style chicken in turmeric and coconut sauce, but make sure you save room for the excellent suckling pig. This textural and flavour-packed showstopper pairs perfectly with the fluffy aromatic rice which it sits atop and is further enhanced by a carafe of the lovely house wine.

432-438 Rua Cidade de Braga, Alameda Dutor Carlos d'Assumpção, (853) 2875 1838
Pork chop buns are often top of the list when making a food pilgrimage to Macao and they don't come much better than the ones at Sai Kee. The famly-run spot, around for more than half-a-century, has now expanded to three locations and keeps the crowds coming back for the tender and beautifully marinated pork chop encased in a crispy, freshly made bun. Just as coveted as the food are the superior home-brewed coffee and tea. The former is roasted in a claypot over charcoal for a toastiness that you won't find in any other blend, while the tea is strained through a stocking, old-school style. Have the best of both worlds with a bottled cold yuanyang, also made fresh daily.

Various locations inc 1 Largo dos Bombeiros, Taipa, (853) 6569 1214

Tacos is something of an institution among the hip Taipa crowd. Located smack in the middle of old Taipa Village, this lively hole-in-the-wall Mexican eatery dishes up delicious Tex-Mex plates like avocado soup, burritos, egg-filled enchiladas and, of course, a wide selection of tacos. There's live music on some nights to enhance the south-of-the-border vibes, though if that doesn't do it for you, we dare say that the oversized bottle of Tabasco that greets you at the entrance just might.

38 Rua das Virtudes, Taipa, (853) 2875 0151

Looking for more eats?