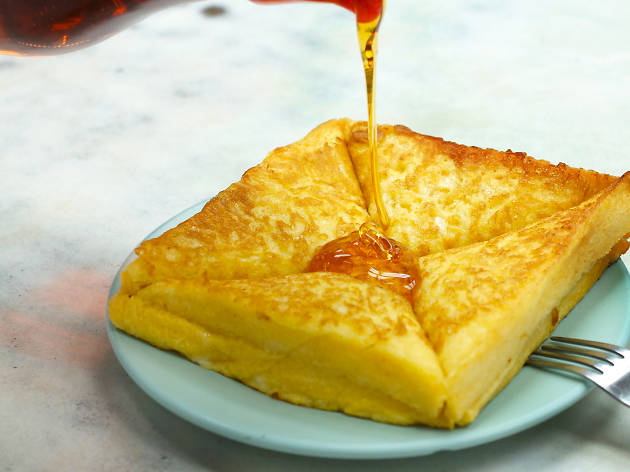 Hong Kong's best cheap eats
Fuel up with our guide to the best dishes and snacks in Hong Kong for $50 or less
Rice and noods
Out in Sai Wan Ho, this small shop serves some of the cheapest chicken rice this side of Bangkok. Though it may be pocket-friendly, the poultry doesn't lack flavour or quality, which is pretty remarkable all things considered. If you want the classic, it will set you back just $38.
If you want to feel the lively pulse of old Hong Kong, you need to head to Lim Kee Bing Sutt which has more than 40 years of history. It's always buzzing with customers and a group of regulars from the neighbourhood sipping milk tea and chatting. Plus, the satay beef noodles are unforgettably good. The beef is soft and smooth, the homemade satay sauce is thick and slightly spicy, and the taste is on point with instant noodles that are cooked just right. You can also try some of the classic bing sutt drinks such as raw egg in hot water or cocoa.
This no-frills noodle joint has been lauded by no less than the Michelin Guide. And deservedly so. The noodles are made fresh every day with duck eggs, giving them a light, springy texture, and the wonton wrappers are so wafer-thin you can see the shrimp almost bursting through them. The soup is boiled for five hours, too, imparting some extra flavour via the broth.
Step into this 70s vibe eatery for a taste of their boat noodles. There are seven variations to tuck into, all as authentic as any stalls from Thailand. The soup base of the boat noodles here is brewed using fresh pork bone to give it its rich flavour (and it's not overly salty). They're not skint with ingredients either where their signature pork boat noodles come with pig liver, pork belly and tons of other herbs. The curry brisket noodles and Hainanese chicken rice ain't shabby either.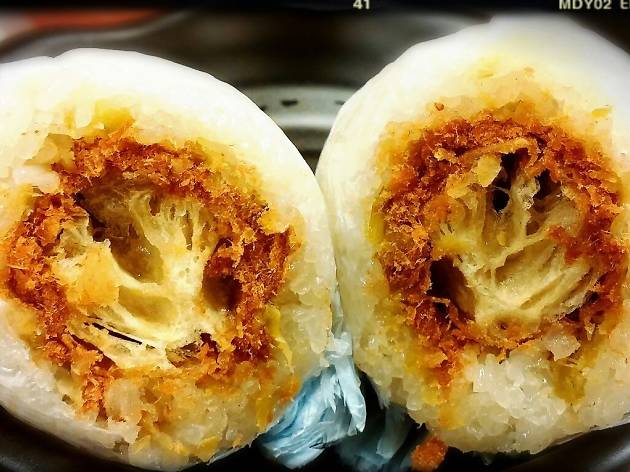 Photograph: Courtesy 豆漿大王新蒲崗店
Shanghai-style steamed sticky rice at King of Soyabeans – $16
Loyal patrons of the King of Soyabeans hail its Shanghai-style steamed sticky rice as one of the best in town. It might look ordinary, but the hand-rolled sticky rice has the perfect bite, and the deep-fried dough has amazing crunch, too. Throw in some pork floss and preserved turnips, and you have a royally delicious combo here. Bonus: it's all made to order.
This old-school cha chaan teng in Sheung Wan takes luncheon meat on rice to the next level, loading it up with three eggs rather than the standard two. Creamy egg yolk spreads over the steaming-hot rice with the poke of a fork, and the flavour is enhanced by soy sauce. Not a fan of spam? Cha siu is actually the norm, but ham is another equally popular choice.
A popular neighbourhood cafe, Wai Kee is famous for its pork liver noodles. The pork liver tastes fresh, and the soup is sweet with plenty of ginger. If pork liver is not for you, there is also fresh beef, ham, fried eggs or sausages to go with the noodles. Or if you have a sweet tooth, try their kaya toast.
The homemade glass sheets here are smoother than silk. But the real star is the spicy sauce, made with the holy trinity of chilli oil, garlic and vinegar – it's equal parts spicy and numbing. Cucumber strips, coriander, dried tofu and peanuts provide cooling elements and textural contrast, taking this snack to another echelon.
Nasi campur is a beautiful thing – just white rice served with the curries of the day and maybe a skewer or two, all of which change depending on location and culinary influence. Pandan Leaf whips up a pretty mean and filling version of this omnipresent Indo dish, with sambal eggs, beef rendang and stewed veggies set around a mound of rice, which is garnished with fried shallots.
Taiwanese street food specialist Yuan is Here delivers the best of the best from old Formosa. Go for the lu rou fan, or fatty minced pork on rice. The pork has just the right amount of grease to satisfy your cravings without overwhelming your palate. And for just $42, you can afford to try some of the other cheap eats on the menu including the salted chicken and fried oysters for a little over $30.
Local eats
Your deep-fried bird comes in a range of unusual flavours here – rose, wasabi and lime, and salted lemonade being just a few of the different sauces in which this restaurant dresses its chicken wings. Sure, some of them might sound weird, but they work well as a contrast to the crispy wings. Our pick? That classic Hong Kong flavour combo: black truffle and garlic.
Touting itself as a Hong Kong legend, this bakery serves over 30 types of fresh-out-the-oven pastries throughout the day. While offering a wide range of western options, such as croissants, biscuits, and cakes, the highlight remains their egg tart. The crust is buttery but light, and the filling is not too sweet. Be sure to check out their other flavour variations on this local icon.
Although mostly known for its star-patterned eggettes, this shop offers so much more than gimmicky treats. There are tons of flavours to choose from, including some unconventional options like candied pineapple and corn with pork floss. To make the most waves on social media, order the 'taro starry', a sweet purple and gold eggette with awesome texture.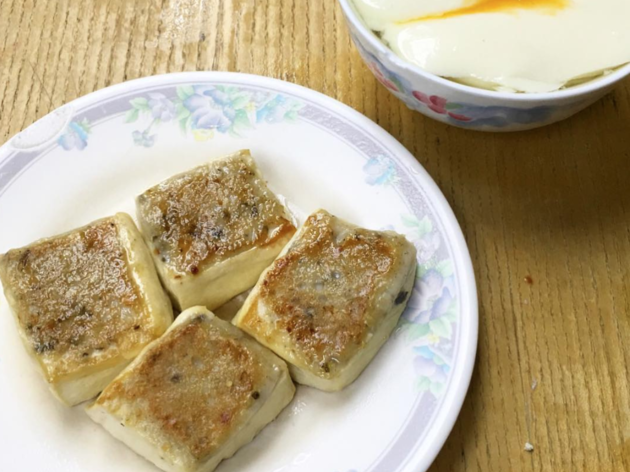 Photograph: @tocoffee
Fried stuffed tofu at Shun Hing Tofu Factory – $12 for four pieces
The prized treasure at this delightfully unchanged Cheung Sha Wan institution is the decades-old stone mill. This anachronistic piece of equipment is used to produce everything from tofu to tofu skin to soymilk. Want to try a finished product? Get the fried stuffed tofu, which comes topped with a thin slice of fish meat, and pair it with a glass of cold soymilk for a perfect snack.
Spam is a Pacific Island staple, and one of the most classic dishes featuring it is without a question the humble Spam musubi. Take a slice of what is clearly the most natural meat product on Earth, put it on top of sushi rice seasoned with some soy sauce, wrap it all in toasted seaweed and you've got yourself a oneway ticket to Flavour Town.
Best selling Time Out Offers