Grub City: The Best Restaurants in Tel Aviv's Culinary Scene
This is where to eat if you are in the mood for local delights, a fancy chef meal, Asian or Italian fare, and some hearty bistro offerings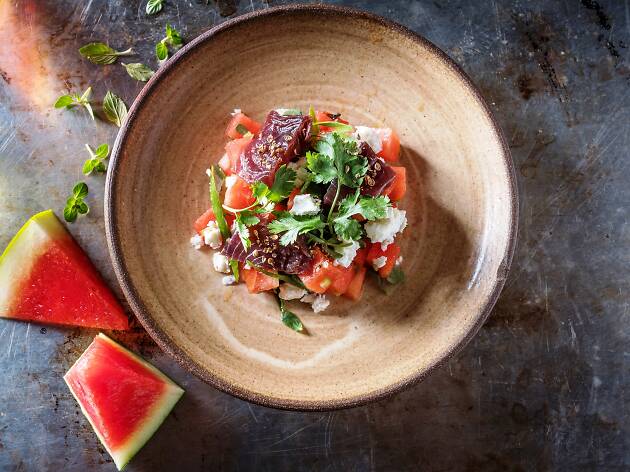 Tel Aviv's culinary landscape has undergone a major facelift in recent years and the result has the city tasting finer than fine. Unexpected combinations, a bounty of raw ingredients, innovative chefs and a pure love of food make up the city's gastro-scene. This is where to eat if you are in the mood for local delights, a fancy chef meal, Asian or Italian fare, and some hearty bistro offerings.
Italian
Comforting and delicious Italian food in Shuk HaPishpeshim
Located in the heart of Shuk HaPishpeshim (Jaffa Flea Market) is this charming Italian restaurant with a warm and lively presence. Tables with bright and colorful gingham tablecloths line the cobblestone road outside. Everything is handmade, from the artisan breads and pizzas to the lip-smacking pastas and the melt-in-your mouth gnocchi. Staff provide excellent service, and an extensive wine list with generous options by the glass make this an ideal spot for a comforting lunch, a romantic date, or dinner with friends.
Imaginative Italian food with the best seasonal and raw ingredients
From the kitchen of young and acclaimed Chef David Frankel, Pronto's dedication to seasonal ingredients, homemade pastas and inspirational elements in every dish make this place stand out. Nestled behind Rothschild Blvd, the pleasant aromas of marinara and fresh parmigiano will tantalize your senses. Step out of Israel for the evening and into an Italian home kitchen where Frankel's attention to detail is apparent in his regular menu and creative seasonal and dinner menus.
Under the leadership of Aviv Moshe, Quattro gives a modern twist to classic Italian food
Quattro's modern interpretation of Italian cuisine pairs perfectly with its electric and extraordinary interior. Guests at the restaurant will instantly find themselves in the presence of fine food, sublime service, and a menu that features a wide range of Italian options. Focusing on light, innovative plates, Quattro puts a modern Mediterranean spin on the classic Italian meal. With an extensive wine list, full bar, and daily specials, first timers will find themselves coming back again and again. Come for the stunning ambiance, stay for the fantastic pasta, and leave when the bar closes after a few fabulous cocktails.