Seven white dishes to rock your Shavuot
Celebrate the harvest holiday with all the white cheesecake, cauliflower, and Malabi in the world...or at least Tel Aviv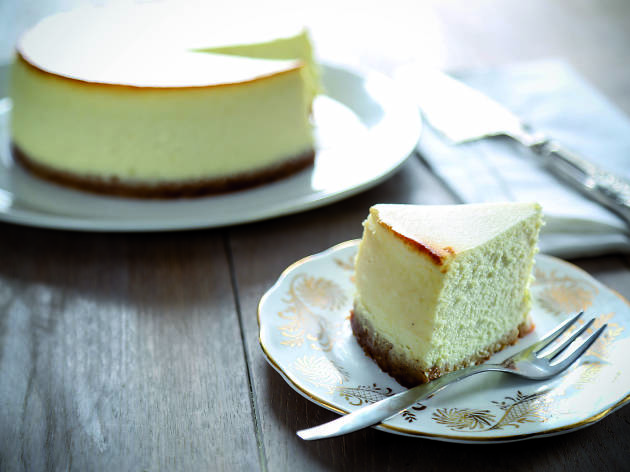 One of the perks of being in Israel around the holiday of Shavuot is the endless opportunities to stuff your face with melted cheese, quiches, and all the cheesecake imaginable. Don't mean to be "cheesy," but we are the land of milk and honey after all. In honor of the harvest holiday, we've rounded up seven white dishes that you have to try, and don't worry brie-gans, not all of them are dairy.
White dishes in the White City
Eyal Shani, one of Israel's celebrity chefs, knows how to go big – on cauliflower, that is. The beauty of his food is not only in the finesse, but also in his wholehearted love of showcasing vegetables in their simplest, yet tastiest forms. This roasted treat has become a local staple, proving that sometimes the meatiest of foods are actually meatless. It has also made guest appearances overseas, winning over hungry diners in Australia, Austria, and most recently, New York's Chelsea Market. Watch out broccoli, there's a new kid in town.
This creamy custard, infused with rosewater, is the perfect base for seemingly endless toppings from candied cookie bits to chopped peanuts and coconut. At HaMalabia, 10 shekels goes a long way, granting you more than a velvety dessert, but also hip music, Shesh Besh (backgammon), and the perfect atmosphere to hang out with friends right at tip of the Carmel Market chaos. Plus, their vegan version tastes just like the real thing. One bite and you'll have rose-colored glasses for this traditional desert.
Restaurants, Mediterranean
Brothers Assaf and Yotam Doktor promised to use only local ingredients in their Dok restaurant. The coal-roasted kohlrabi dish is the most spectacular realization of this promise. The kohlrabi is roasted in a charcoal oven, scorched a little from the outside to get that sweet caramelized finish, then immersed in quality olive oil, and served with Hame'iri cheese, poppy seeds, thyme, and a little hot pepper. No other kohlrabi is as famous in this city.
Venture to the fancy G-Mall to find nothing less than a madeleine, a tiny sponge cake in a delicate, shell shape covered in ridges. This version is dipped in quality white chocolate, then infused with chai-like spices, making it the perfect decadence to compliment your tea. Take your cue from Proust, who, after having a bite of a madeleine, proved that the taste evokes memories of a past buried deep in your subconscious.
On Shavuot, cheesecake is a rite of passage. Ask anybody about the best cheesecake in the White City, and you'll immediately notice a pattern: CoffeeBar knows how to make a cheesecake memorable. With its perfect blend of richness and creaminess without being overly sweet, there is no reason to go anywhere else, despite what The Cheesecake Factory hype might tell you. Enjoy top-notch service, stunning decorative floral bouquets, and a true Tel Avivian vibe.
Deep in the heart of the Carmel Market, amongst the hustle and bustle of shoppers, tourists and exotic characters, you'll find a little hub of Venezuelan cuisine. This no-frills is consistently buzzing with melt-in-your-mouth Arepas, a traditional Venezuelan roadside treat. The soft bun, made of ground maize dough (corn), is stuffed with fillings like chicken, shredded beef, guacamole, and black beans. Another nice, white, and extra-cheesy treat is the Cachapa, a huge corn pancake stuffed with melted cheese then grilled on the spot.
Old-School Hungarian Rakott Krumpli at Tulip
It's easy to get wrapped up in eating at the newest, hottest spots in town, but there is a lot to say about old-school spots that serve authentic comfort food. We found carb-love at this blintzes joint with Rakott Krumpli – a layered, creamy potato dish, loaded with sour cream and eggs too. Be sure to stop in on a night when you are ready for some serious comfort food!
52 Yehuda Halevi St, Tel Aviv
See more restaurants in Tel Aviv